Girl, Best Friend and Family Killed During Sleepover, Community Rallies Around Families
A small town in England is joining together to support the families of four victims killed at a home in Killamarsh Sunday morning. Police arrested the suspect today and the community is continuing to rally around the families.
Early Sunday morning, police were called to the scene to check on the safety of a man in the town of Killamarsh located in Derbyshire County, England. Inside the home, police found the bodies of Terri Harris, 35, her two children, Lacey Bennet, 11, and John Paul Bennet, 13, and Lacey's best friend Connie Gent, 11.
Gent was allegedly staying over at the family's house for a sleepover that night. She and her family are from a neighboring town called Sheffield.
"This has been an understandably shocking event that has deeply affected the local community in Killamarsh, as well as Connie's family and friends in Sheffield," Derbyshire Constabulary said in a statement Monday. "Our thoughts are also with them."
Police believed the murder was committed by someone familiar to the family and told the public there was no ongoing threat to the area. Earlier today, detectives announced that a 31-year-old man named Damien Bendall was arrested and charged with four counts of murder.
Bendall, a Killamarsh resident, was located at the property on Sunday with self-inflicted minor injuries and was held in police custody until being charged with the four murders this morning. Some reports alleged Bendall was in a relationship with Harris, The Telegraph reported.
"The loss of Terri, John Paul, Lacey, and Connie has deeply impacted the whole community of Killamarsh and beyond," Chief Constable Rachel Swann said in a statement today. All three children were students at Outwood Academy City in Sheffield.
The children's school remained closed Monday in honor of the students. On Tuesday the school put out a public statement describing the young victims.
"Our hearts are broken after this weekend's tragic news," the statement said. "Lacey and Connie had just embarked on their secondary school journey with us and already made a positive impression on everyone they came into contact with. John Paul was a popular and polite young man, well liked by staff and with a close-knit group of friends. It is difficult to process the news, but the memories we have of John Paul, Lacey and Connie will live on forever at the school."
Connie's father, Charlie Gent, wrote an emotional post on Facebook Monday morning.
"I've learnt the hard way like most things in life and it's too late and I don't want anyone to ever go through what I am going through right now," the post read. "My little girl has gone, I can't even put into words or even how to feel or react right now. I shouldn't even be writing this, now I have to live with the fact I was helpless to protect her as I always promised and she's gone."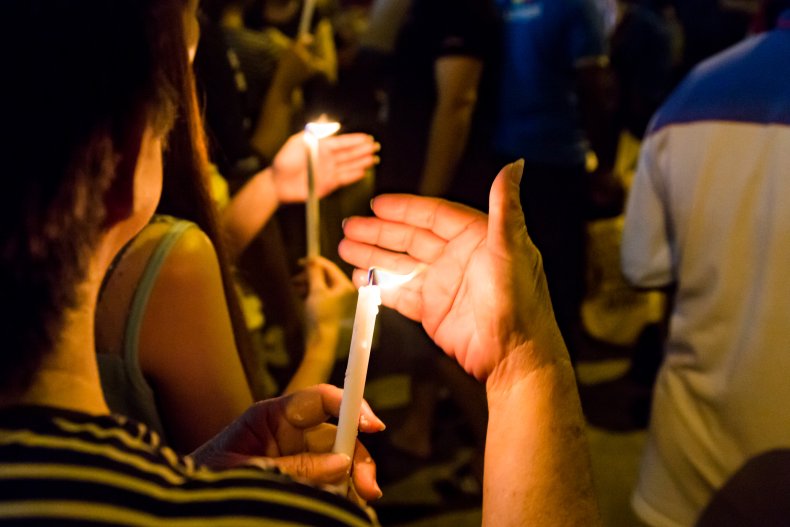 The father of John Paul and Lacey took to social media to say that the country should bring back the death penalty for crimes as violent as this. The death penalty was abolished in England back in 1965 and was replaced by a mandatory life sentence in prison.
A British Social Attitudes Study published by Nat Cen in 2014 found that 48 percent of the 2,878 people surveyed were in favor of reinstating capital punishment in England. In 1983, a similar survey found that approximately 78 percent were in favor, BBC reported.
Over 300 attended the vigil for Connie, Lacey, her brother John, and mother, Terri held on Monday evening near where the tragedy occurred. Many of the vigil attendees brought flowers and teddy bears to lay nearby. Candles were lit to honor the victims and family and friends talked about the four victim's lives.
A stranger also set up a GoFund Me for the families of the victims to help pay for funeral and memorial costs. The fundraiser has already raised over $31,600 since being created two days ago.
Bendall is due to appear in court on Friday.