Two people in Texas have been charged with capital murder in the death of an 8-year-old girl, who they allegedly punished by denying her water and forcing her to jump on a trampoline on an extremely hot summer day.
Daniel Schwarz, 44, and Ashley Schwarz, 34, were both arrested and charged with capital murder, a capital felony, on Monday in connection with the girl's death in August.
The Odessa Police Department said officers responded to a residence on the 4300 block of Locust Avenue in Odessa for a medical call at around 1.50 p.m. on August 29.
When they arrived, they found the 8-year-old girl, who was later pronounced dead at the scene.
Police did not identify the girl, but officials confirmed to Newsweek that her name was Jaylin and that Daniel and Ashley Schwarz were her relatives and "court-appointed legal guardians."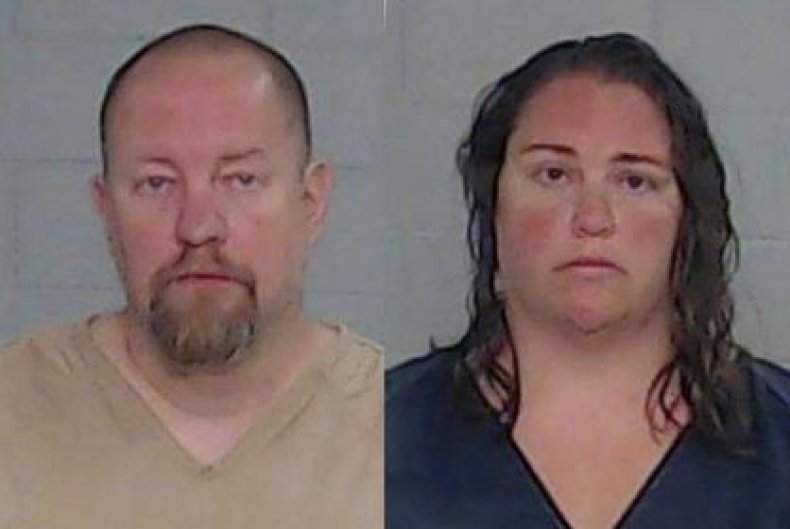 Odessa Police said their investigation revealed the girl had been punished by Daniel and Ashley Schwarz prior to her death.
She was "not allowed to eat breakfast and was required to jump on the trampoline without stopping for an extended period of time," police said. "Further investigation revealed that the 8-year-old child was not allowed to drink any water because she was not jumping."
After a search warrant was obtained, police said they learned that the temperature of the trampoline at the time was approximately 110 F. The ground was around 150 F, police added.
The final autopsy report, which was received by the police department last week, listed the manner of the girl's death as homicide. Her cause of death was dehydration, the report said.
Police said capital murder warrants were obtained for both Daniel and Ashley Schwarz "based on the facts and circumstances presented during the investigation."
A spokesperson for the Texas Department of Family and Protective Services (DFPS) told Newsweek that the agency is investigating Jaylin's death.
"Jaylin and her younger sister were living with relatives who were her court-appointed legal guardians. They are not foster parents," the spokesperson said.
Jaylin's 7-year-old sister was removed from the home and placed in foster care after Jaylin's death, the spokesperson said.
The spokesperson added that after the investigation into Jaylin's death is complete, a public report will be available that "will contain more information about the case and the family's involvement with DFPS."
Daniel and Ashley Schwarz were booked into the Ector County Law Enforcement Center after their arrest on Monday. If convicted of capital murder, they face life in prison or the death penalty under Texas law.
The Odessa Police Department has been contacted for comment.
This article has been updated with information and comments from the Texas Department of Family and Protective Services.