A father has recalled the horror of seeing his daughter's hands turn to "black claws" after stomach flu complications turned almost deadly, causing her to have parts of her limbs amputated.
On Friday 13, October 2017, Mia Wilkinson from Australia spent the morning playing with her cousins, but complained of a stomach ache in the afternoon. A few hours later, around dinner time, she vomited. She also had diarrhea overnight.
Mia's mother Amy Wilkinson told Australia's Sunday Night: "About 5 p.m. she threw up.
"So okay, looks like [gastric flu], we've seen this before so let's not worry about dinner, put her to bed. She threw up through the night, had a temperature."
The next day Mia was "sicker than we'd ever seen her," her parents wrote on a website they set up for their daughter. Her doctor diagnosed her with a gastrointestinal bug.
After Mia became "incoherent and disorientated," her parents rushed her to the ER. At the hospital, she complained of severe pain in her legs, which meant she couldn't put weight on them. Doctors diagnosed her with Influenza B and Viral Myositis and told her parents to take her home so she could rest.
On Sunday afternoon, a purple rash appeared on her legs, and her worried parents took her back to hospital.
"Our hearts dropped when Mia was quickly admitted and surrounded by medical staff. We'll never forget that scene," the parents wrote.
Her father Peter Wilkinson told Sunday Night: "There are doctors everywhere. There are nurses everywhere. And Mia's crying out because she's in pain. There's nothing that we can do."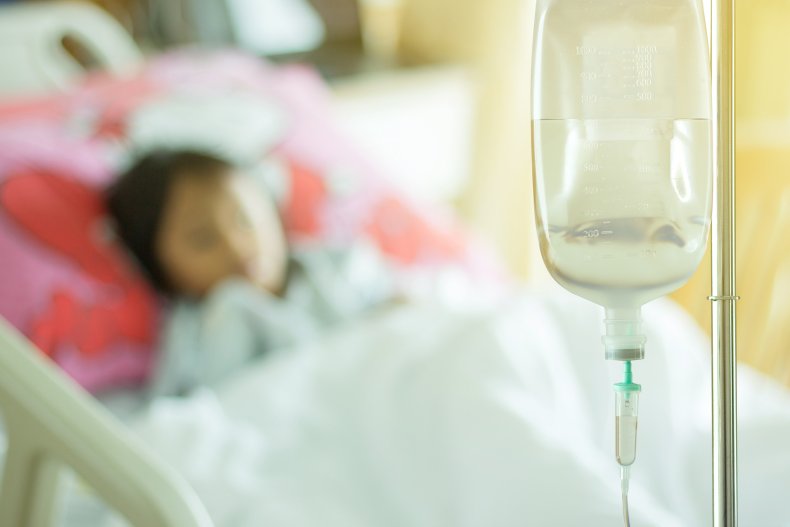 Mia had sepsis: a condition the U.S. Centers for Disease Control and Prevention describes as "the body's extreme response to an infection."
"Sepsis happens when an infection you already have—in your skin, lungs, urinary tract, or somewhere else—triggers a chain reaction throughout your body," the health institute states.
The World Health Organization estimates 1.2 million children develop the condition annually. Some 6 million people die of sepsis each year.
Symptoms include shivering, fever, or feeling very cold; high heart rate; confusion; short breath; sweaty skin; and extreme pain, according to the CDC. If left untreated, sepsis can quickly cause organ failure and death.
Dr. Luregn Schlapbach, a sepsis expert at Queensland Children's Hospital, told Sunday Night: "She had what we call septic shock... when sepsis is so strong, that the heart actually struggles to pump enough blood to the different organs."
Mia's organs began to shut down. Doctors hooked Mia up to drips and a machine to help her breathe after her heart stopped. The next day, her hands and feet were darker.
A doctor told her parents her blood pressure was dangerously low. Medics prescribed drugs to restrict her blood vessels so her blood pressure stayed high enough for the vital organs to work and keep her alive. However, this cut off most of the blood to her arms and legs.
"Mia's hands and feet continued to darken but her vital signs remained too poor to consider reducing the drugs that were keeping her alive," her parents explained.
Thanks to her doctors, Mia survived. However, after briefly improving, her hands and feet became shriveled and blackened and started to die away. A test confirmed blood had stopped circulating past the midsections of her arms and calves.
Surgeons amputated Mia's arms below her elbow on November 10, 2017, and she had her legs amputated below the knee on January 3, 2018.
Her father told Sunday Night her hands became "black claws" after turning purple. "They turned into something like a horror movie," he said.
When her parents told Mia she might lose parts of her limbs, she said: "I don't want them to take my hands."
Since the amputations, Mia has learned how to walk using prosthetic legs. She can also draw and write, and is learning how to use prosthetic arms. In 2018, she started school.
"If she wasn't OK, I don't think we'd survive," Peter told Sunday Night according to News.com.au. "But she is, and, you know, to hear that laughter, to see that smile—we're so lucky to still... still have her."
Mia's parents urged others to educate themselves about the dangers of sepsis.
"We strongly encourage everyone to learn about Sepsis and to encourage their families and friends to do the same," her parents wrote on their website. "Had we known about Sepsis, we could have asked: 'could it be sepsis?'"
Correction: This story has been updated to correct the family's surname.