'The Girl From Plainville' Release Date, Cast, Trailer, Plot—All We Know So Far
The heartbreaking true story of Conrad Roy is being brought to the small-screen via Hulu's The Girl From Plainville. The series is an adaption of the Esquire article titled "The Girl From Plainville" and tells the story of Conrad Roy III, who died by suicide in 2014, and his relationship with his girlfriend, Michelle Carter.
Elle Fanning takes on the role of Carter, who was found guilty of involuntary manslaughter in relation to Roy's death.
The series will also take a look at her highly-publicized trial and conviction, which divided people across the world and posed questions about U.S. law and suicide.
Newsweek has everything you need to know about The Girl From Plainville including release date, cast, trailer, plot, and more.
When Is The Girl From Plainville Out?
The Girl From Plainville has finally been given an exact release date by Hulu, just weeks after some first-look images dropped of the series.
In the photos, Elle Fanning looks unrecognizable as Carter as she stands in the courtroom. In the images, Fanning has the same dark eyebrows and brushed-back blonde hair as Carter did in 2017.
The good news is, The Girl From Plainville is coming to screens very soon. The show will premiere on Tuesday, March 29 on Hulu.
You must be a Hulu customer to watch The Girl From Plainville. You can sign up now for $6.99 per month.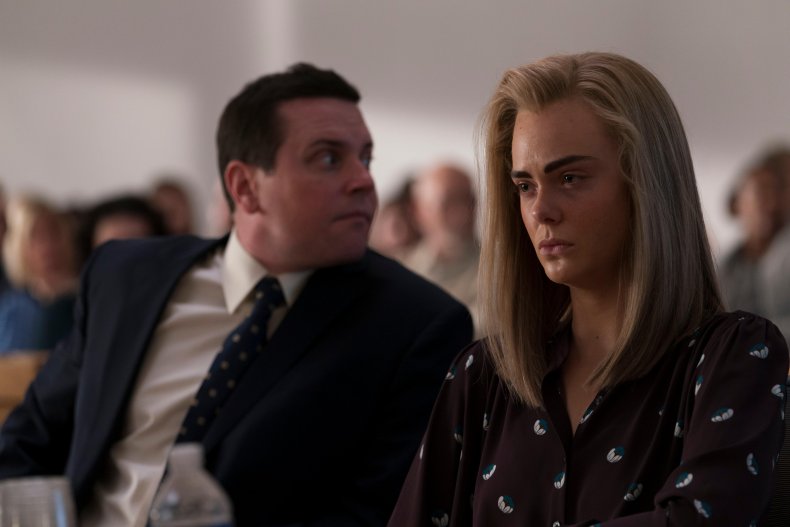 What Is The Girl From Plainville About?
Conrad Roy and Michelle Carter met in Florida in 2012 and began dating.
However, throughout their two-year relationship, they only saw each other several times, instead communicating frequently over text, phone and emails.
Their communication would make up 317 pages as part of the police investigation and court records.
Both Roy and Carter suffered from mental health issues and Roy spoke frequently about committing suicide; Carter often talked him out of it, until the end of June 2014 when she changed her approach.
Instead, Carter began encouraging Roy to take his own life and even suggested methods he could use, including the one he used to take his own life.
On July 13, 2014, Roy was found dead in the parking lot of a Kmart.
As reported in the Esquire article, two months after Roy's death Cater texted her friend Samantha: "I could have stopped him. I was on the phone with him and he got out of the car because it was working and he got scared and I f***** told him to get back in. I could of stopped him but I f****** didn't. All I had to say was I love you."
In February 2015, she was indicted for involuntary manslaughter, a charge which could carry up to 20 years in prison. She waivered her right to a jury trial, leaving the decision in the hands of Judge Lawrence Moniz. Carter was convicted of involuntary manslaughter and sentenced to two and a half years in prison, ultimately serving a 15-month reduced sentence.
The Post writer Liz Hannah and Dr. Death executive producer Patrick McManus serve as co-showrunners and executive producers on the series and Jesse Barron, the author of the Esquire article on which the show is based serves as a consulting producer.
Erin Lee Carr, who was the director of I Love You, Now Die, also serves as a consulting producer.
Who Is In The Cast of The Girl From Plainville?
Elle Fanning will portray Michelle Carter in The Girl From Plainville.
Fanning is an award-winning actress, best known for appearing in the films Super 8, A Rainy Day in New York, Maleficent, and The Roads Not Taken.
She currently stars as Catherine the Great in Hulu's The Great, receiving a Golden Globe nomination for Best Actress and winning the Satellite Award for Best Actress.
Dear Evan Hansen star Colton Ryan portrays the late Conrad Roy and Big Love's Chloë Sevigny takes on the role of his mother, Lynn Roy. Bloodline's Norbert Leo Butz portrays his father, Conrad Roy II.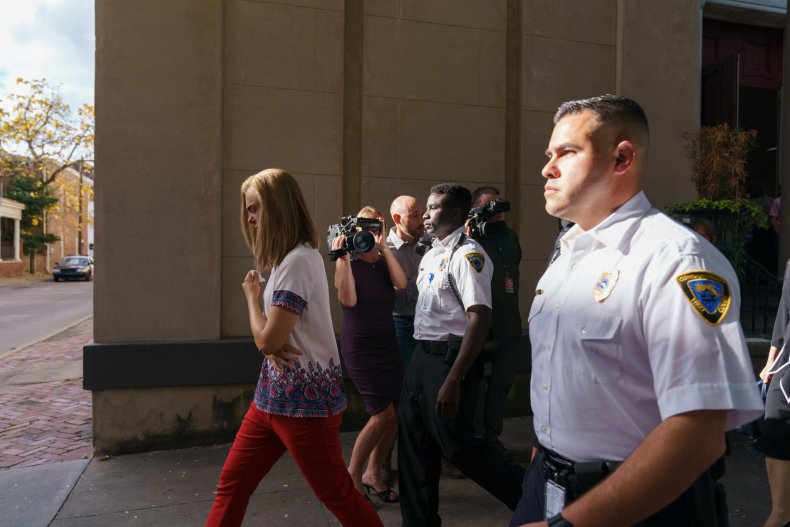 Stranger Things star Cara Buono and Beginners actor Kai Lennox appear opposite as Michelle's parents Gail and David Carter. Perry Mason's Ella Kennedy Davis stars as Sydney Roy, Conrad's younger sister.
Sirens star Michael Mosley plays Joseph Cataldo, the attorney who represented Michelle Carter.
Outcast's Callie Brook McClincy plays the role of Hayden Carter and The Irishman's J.C. Mackenzie portrays Judge Moniz.
Girl in the Woods star Kylie Liya Page plays Cassie Williams, a student at Michelle's school and former friend and Dora and the Lost City of Gold's Jeff Wahlberg plays Carter's best friend Rob Mahoney.
Also starring in The Girl From Plainville is Andrew Dicostanzo as Chris, Melissa Ponzio as Carolyn, Craig Anton as Samuel, Robert Larriviere as David, Scott William Winters as Eric.
Is There A Trailer For The Girl From Plainville?
Yes, there is finally a short trailer for The Girl From Plainville and Elle Fanning is an uncanny match for Michelle Carter.
The intense trailer begins with Fanning as Carter, crying to her parents "Conrad's dead" with her mother responding, "Who is Conrad?"
Next, the trailer flashes through screeds of text messages exchanged between Carter and Conrad (Colton Ryan), where Carter is seen asking him if he is going to take his own life.
The trailer then comes to an end with Carter in court. Fanning's voice can be heard saying "I don't get it...this is our love story."
In the meantime, you can learn more about the story of Conrad Roy and Michelle Carter via HBO's documentary I Love You, Now Die, streaming on HBO Max now, and Lifetime's movie Conrad & Michelle: If Words Could Kill.
The Girl From Plainville is coming soon to Hulu.
If you have thoughts of suicide, confidential help is available for free at the National Suicide Prevention Lifeline. Call 1-800-273-8255. The line is available 24 hours, every day.
Update 02/09/22 at 3:15 a.m. ET: This article was updated to include more information on The Girl From Plainville's release date.