Girl Scout Cookies Are Now Available Online So You Can Drown Your Quarantine Sorrows in Thin Mints
Finding a Girl Scout to buy cookies from can be a terribly trying process. If you don't have a small cousin or a boss with a Girl Scout daughter, chances are you're stuck frequenting your local grocery store on Saturday or Sunday with the hopes that a table of kind cookie sellers will be waiting by the exit.
Unfortunately, the current pandemic doesn't help your chances. Social distancing requires people to avoid public places, like stores. Even if you make your way out for a grocery run, the Girl Scouts have already halted their in-person sales.
We have great news for you. If you're already craving Thin Mints, or know a peanut butter cup can't compare to a heavenly Tagalong, it's time to connect to WiFi and order some cookies directly to your home.
That's right. The Girl Scouts are selling cookies online to help ease your coronavirus cravings.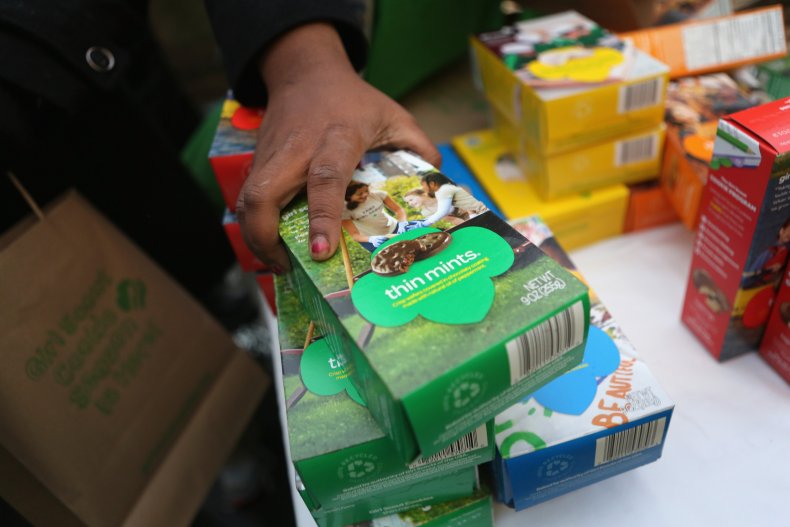 You can buy any type of Girl Scout cookies online now, and the money will benefit a council of your choice.
The first step is to visit the Girl Scout website here. Then simply enter your zip code to see a list of local options. It seems it may be an individual council's choice whether or not to participate in the online process. When searching for a Chicago-area code, most options were in Southern Illinois, Iowa or Wisconsin.
Boxes are $5 apiece and will be shipped directly to your home. Each troop also has an expected cookie arrival date, so pay attention to when your cookies will arrive if you want them sooner, or even want to delay their arrival so your rations last further into the year.
In addition, you can donate boxes to benefit those fighting coronavirus head-on. The website explains if you choose to donate, they'll be gifted to "first responders, frontline volunteers, and local causes."
Before the recent update, cookies could be ordered online, but only through a link provided by an in-person Girl Scout, according to Twitter users. Many online comments address the inconvenience of trying to meet someone with a Girl Scout connection in time to get cookies each year.
The Girl Scouts are a national organization that allows young girls to learn life skills along with form troop-wide friendships. The mission statement reads: "Girl Scouting builds girls of courage, confidence, and character, who make the world a better place."
Girl Scouts began in 1912 in Savannah, Georgia. They've been selling cookies since 1917.
This article was updated on March 30 to include that the Girl Scouts have halted in-person cookie sales and that online patrons can select which council they'd like to purchase from. A former version of this article said buyers could select an individual troop.