Girl Scouts Cookies 2020: New Lemon-Ups Cookie Released in Selected Areas of the U.S.
Prepare for a new delicious treat to land on your doorstep—the Girl Scouts of the USA (GSUSA) is launching a new lemon cookie in selected areas of America.
The new Girl Scout Cookie is Lemon-Ups, a crispy lemon cookie baked with messages inspired by Girl Scout entrepreneurs, according a press release issued by GSUSA. Phrases such as "I am a go-getter" and "I am an innovator" are among the eight that bring the experience of Girl Scouting to life. Unfortunately, this means that the Savannah Smiles cookie will be replaced in the markets where it was offered.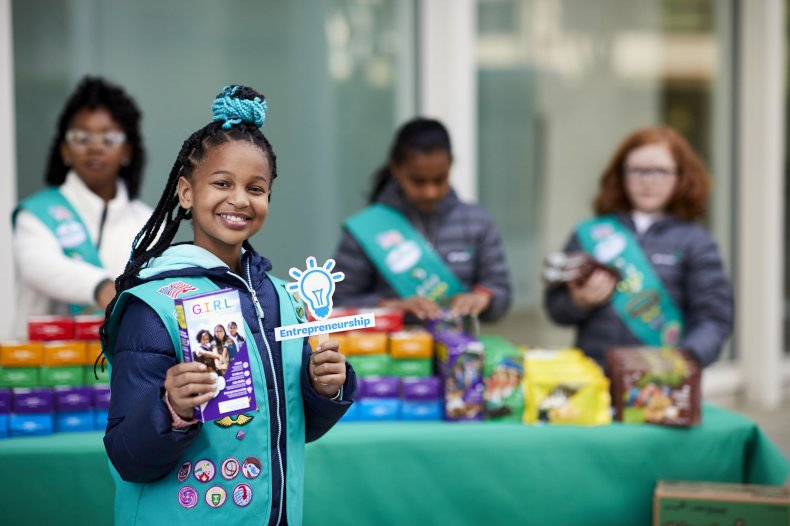 "Everyone loves Girl Scout Cookies—but the program is about so much more than cookies," says GSUSA CEO, Sylvia Acevedo. "Girls learn about entrepreneurship as they run their own cookie businesses. The important business and financial literacy skills girls learn through the program are proven to build their leadership skills and position them for success in the future."
Founded in 1912 by Juliette Gordon Low, the organization prepares girls to meet "their world with courage, confidence and character." Gordon Low, who was also known as Daisy by family and close friends, gathered 18 girls in her hometown of Savannah, Georgia, to teach them about her experiences abroad and gave birth to the Girl Scout Movement. These first Girl Scouts have now evolved into a global movement that includes 2.6 million Girl Scouts (1.8 million girls and 800,000 adults) in 92 countries, according to the organization's website.
The Girl Scout Cookie Program teaches girls about entrepreneurship as they have fun learning essential skills like money management, public speaking, and decision making, which can set them up for a lifetime of success. Nine in ten Girl Scouts say the cookie program has built their entrepreneurship skills and their interest in pursuing entrepreneurship as a career path, showing that every cookie purchase is an investment in potential business leaders of tomorrow.
As well as the launch of a new cookie flavor, the organization has refreshed the packaging, emphasizing what the program is about. It features updated images of current Girl Scouts taking part in a wide range of experiences available to them such as camping, canoeing, exploring space science, designing robots and taking action to improve their communities.
"When you purchase cookies you are helping girls power their Girl Scout experience and you're supporting female entrepreneurs," explains Acevedo.
Girl Scout Cookies can only be purchased from a registered Girl Scout. To find Girl Scouts selling cookies near to you, visit www.girlscoutcookies.org or use the official Girl Scout Cookie Finder app, free on iOS and Android devices.
Newsweek has affiliate partnerships, so if you make a purchase using our links we may earn a share of the sale.
Girl Scouts Cookies 2020: New Lemon-Ups Cookie Released in Selected Areas of the U.S. | U.S.