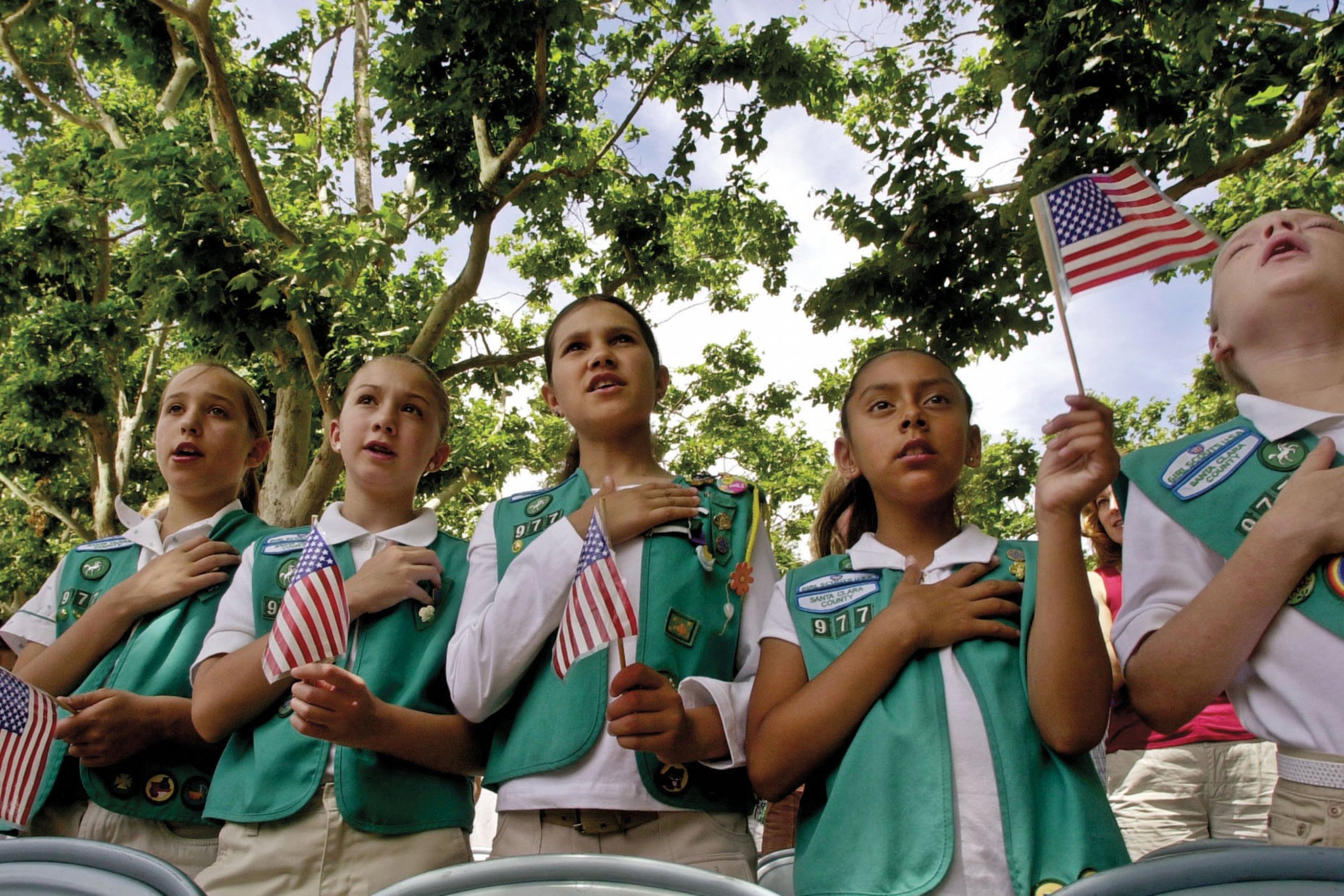 The Girl Scouts of the USA has come under fire from conservative religious groups recently for its long-standing policy of inclusion when it comes to transgender girls.
On May 13, the American Family Association posted an online petition asking the youth organization to restrict its membership to "biological girls."
"Boys in skirts, boys in make-up and boys in tents will become a part of the program. This change will put young innocent girls at risk," the association wrote on the petition, which had more than 38,600 supporters by Thursday afternoon. The Southern Poverty Law Center, which tracks extremist groups, has deemed the association an anti-LGBT group.
A day later, Andrea Bastiani Archibald, chief girl expert at the Girl Scouts, responded in a blog post, saying councils and troops within the organization value diversity and inclusivity.
In an email to Newsweek, she says, "Our mission to build 'girls of courage, confidence, and character who make the world a better place' extends to all girls. Inclusion of transgender girls is handled at a council level on a case-by-case basis, with the welfare and best interests of all members as a top priority."
She adds, "If a girl is recognized by her family, school and community as a girl and lives culturally as a girl, Girl Scouts is an organization that can serve her in a setting that is both emotionally and physically safe."
The Girl Scouts had "no further comment" about when the organization's policy on transgender girls was established, nor how the blog post changes or advances those rules. According to some media reports, the policy was established four years ago.
Since Juliette Gordon Low founded the Girl Scouts in 1912, the group's focus has been on helping girls reach their full potential in what Bastiani Archibald called a "complex and rapidly changing" time.
There are 2 million girl members and 800,000 adults working primarily as volunteers in the organization worldwide, according to its website.
This isn't the first time the Girl Scouts has faced a backlash. Last year, a 13-year-old member in California made headlines when she suggested selling Girl Scout cookies near a medical marijuana dispensary. The young entrepreneur sold 117 boxes in just two hours.
Meanwhile, the president of the Boy Scouts of America, Robert Gates, is calling for a change to the organization's current ban on gay leaders.
"We cannot ignore growing internal challenges to our current membership policy, from some councils—like the Greater New York Council, the Denver Area Council and others—in open defiance of the policy, to more and more councils taking a position in their mission statements and public documents contrary to national policy," he said Thursday at the organization's business meeting.
In 2013, the Boy Scouts of America changed its regulations to welcome openly gay youth as Scouts but not adults as leaders.