The Girlboss is Dead. Say Hello to the Crypto Queen | Opinion
Reese Witherspoon knows her audience. While Matt Damon growled "fortune favors the brave" in a hyper-masculine video for Crypto.com, Witherspoon, who has spun gold out of book clubs and other women-centered media, took to Twitter with her own message: "Avatars, crypto wallets, digital goods will be the norm. Are you planning for this?"
She's talking about cryptocurrency, or "Web3": a broad vision for the internet where individuals own virtual goods and property, verified by energy-hungry algorithms or by randomly selected individuals. The label "girlboss" for Witherspoon's don't-get-left-behind-the-boys warning may have gone out of style, after leaders of empowerment-flavored startups like the Wing and Away publicly crashed and burned. But the tenets of uncritical ambition and representation-first feminism have found an eager host in the latest technocratic trend. Just as Lean In culture distracted from deep-rooted issues of power in corporate structures, the new Crypto Queen story is one of urgent individual enrichment rather than the systemic transformation of wealth structures.
As a woman who has worked in emerging tech such as AI and VR for the past decade, I'm not surprised. Inevitability and individualism have always been the wide overlap between the Venn diagrams of girlboss culture and hawkish techno-optimism. The future is already here—no matter if it's sleek luggage, digital coins, or the corner office—and the only choice is to buy in or get out. But who will ultimately win if "avatars, crypto wallets, digital goods" become the norm? And who can afford the risks required to play?
Because digital tokens have no inherent value and are not backed by any other asset, hype is crypto's product and those with the most to lose are in the worst positions. As more individuals take on risk in an unregulated space by buying and minting, the base expands and the players at the very top get richer—a cast that includes the usual (male) VC suspects like Andreessen Horowitz, Mark Cuban and Elon Musk. There's a name for a structure like this: a pyramid scheme. Crypto fraud cost a reported $14 Billion in 2021, over a 500 percent increase from the year before. The nascent field is littered with scams like virtual Fyre Fest Cryptoland and NFTs of one woman's real-life farts in a jar. The owner of the stolen Bored Apes NFT series lost over a million dollars, and one trader accidentally sold a $300,000 NFT for $3,000 after misplacing a decimal point.
Witherspoon isn't alone in pushing crypto to women using the girlboss playbook. In December, Gwyneth Paltrow announced a partnership with Cash App on a holiday Bitcoin giveaway, with her own tweet trumpeting the leading cryptocurrency's efforts to "democratize" participation. This January, Brit Morin, who made her name with Brit + Co, a buzzy digital brand for the DIY millennial era, launched a new company cleverly called BFF. The company's "Founding BFFs" include Paltrow, as well a co-founder of the Wing and an employee at crypto company Coinbase, whose (male) CEO made headlines in 2020 for arguing that internal social justice efforts distracted from the startup's core mission.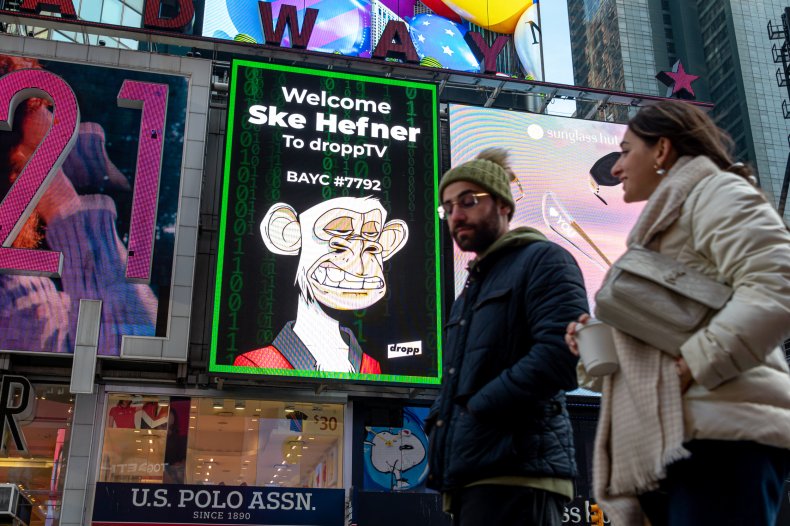 Efforts like these and new funds dedicated to investing in women-founded crypto companies like Komorebi Collective are repackaging the pitch that if the industry looks more gender-diverse it will be more equitable. They promise that success for one woman, whomever she is, equals advancement for all underrepresented groups. But if the cultural fall of the girlboss taught us anything, it's that this premise does not prove out. Women can be terrible bosses too. They can run elaborate and costly scams, and—critically for people searching for the "community" that crypto enthusiasts call the industry—diversity does not ensure belonging. In the era of "The Great Resignation," we finally recognize that work is not family. A community based on commerce will never love you back either.
If we recall back to the late 1990s and early 2000s, "Web2" was touted as a force for democratization too. Whereas complicated technological gatekeepers were the hallmarks of the early web, user-generated content was the innovation of Al Gore's internet: platforms like Tumblr and Flickr with easy-to-use interfaces allowed anyone with a computer to participate in "the social web." But without significant regulation—and under cover of naïve techno-optimism—the platforms turned into (or were absorbed by) gigantic corporations, wresting control. What prevents Web3 from ending the same way? The big guys certainly aren't sitting this one out. Square, Jack Dorsey's fintech focus since stepping down from Twitter, recently changed their name to Block, signaling a new chapter. Last year, Amazon Web Services expanded their Amazon Managed Blockchain offering to support Ethereum.
"Web3" proponents argue that the technology is designed to limit power, enforcing scarcity through the blockchain and controlling the unruly growth that has come to characterize Web2. But we are all too familiar in our physical world with how scarce resources have led to deeper disenfranchisement. The housing market, rife with corporate speculation, is squeezing out the middle class. Even beyond economics, large companies are contributing to climate change at a dizzying rate. Without stringent regulation, the same hoarding will be endemic in a Web3 internet. In fact, crypto is already a concerning climate threat: Bitcoin transactions last year undid all energy gains from electric cars.
The Crypto Queen narrative may be compelling at a time when women-founded companies only claimed 2.3 percent of VC funding in 2020, and #MeToo stories still pour out regularly. It can't be denied: The world is not fair or equitable for women. When caregivers, and mothers in particular, have been screaming for help from the government and employers in this pandemic to little avail, new communities are a promising path to fulfillment. But a future that is truly gender and racially just with opportunities for all, one where collective action reshapes power structures and breaks generational patterns, cannot be built by the same cast of characters using the same tired script. Crypto is a familiar old wolf, and Crypto Queen feminism is his recycled pair of sheepskin clogs. Buyer beware.
Rebecca Ackermann is a designer, writer and artist in San Francisco. She's worked in the tech industry on efforts like AI for health care, financial literacy tools and VR for education. Her writing has appeared in The New York Times, Gloria and other publications.
The views expressed in this article are the writer's own.