Girls Allegedly Shot by Each Other's Road Raging Dads: 'Dumb and Dumber'
A 5-year-old and 14-year-old girl are injured after their fathers, overcome with road rage, allegedly shot at each other's cars on Saturday.
William Joseph Hale, 35, and Frank Gilliard Allison, 43, were both driving with their families when the chaos broke out on U.S. 1 in Callahan, Florida. Hale drove a Dodge Ram with five occupants and Allison drove a Nissan Murano with three people inside, according to Nassau County Sheriff Bill Leeper.
Aggressive driving is familiar to most Americans on the road—85 percent of drivers have experienced at least one form of road rage, according to a Forbes Advisor survey in September. But the presence of a gun can turn an angry driver into a killer. 2021 was the worst year on record for road rage shootings, with more than 500 people wounded or killed in over 700 incidents, according to Everytown Research and Policy.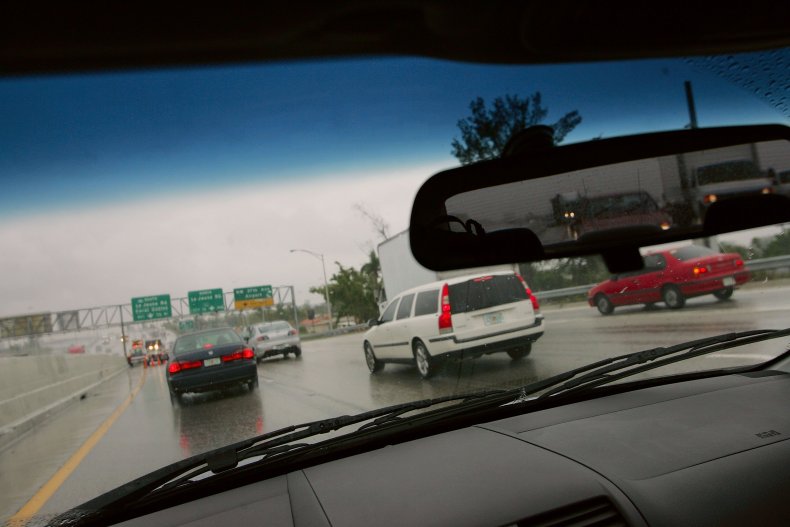 'Dumb and Dumber'
"They were both speeding and driving recklessly northbound in Jacksonville and then into Nassau County on U.S. 1, brake checking and trying to cut each other off," Leeper told Newsweek. "They obviously didn't like the way the other one was driving so they were both acting like idiots."
In arrest reports for the two drivers, witness Roger Harvey described the scene as a "cat and mouse" game. Harvey called 911, saying Hale and Allison were driving so erratically that he "knew something bad was going to happen."
Hale told police that he rolled down his front passenger window and yelled at Allison to pull over. In response, Allison said his wife "flicked off" the other car with her middle finger. The next moment, a plastic water bottle was thrown into Allison's car.
At that point, Allison grabbed his Sig Saur 45-caliber handgun and fired at the back of the Dodge Ram before speeding away. His shot entered the back passenger door and struck Hale's 5-year-old daughter in the leg.
When Hale realized his daughter was shot, he chased after the Nissan Murano and fired several rounds from a Glock 9-millimeter gun. Three rounds hit the Nissan and one ripped through the rear of the car, hitting Allison's 14-year-old girl in the back and causing her lung to collapse.
Both men pulled over when a sheriff's deputy arrived. They argued with each other and started fighting until the deputy broke them up, said Leeper. Hale and Allison have each been charged with one count of attempted second-degree murder.
"I thought of the movie Dumb and Dumber," said the sheriff. "How stupid could two people be to endanger their children, not only by driving recklessly, but by shooting a gun at another vehicle while engaged in a road rage incident is just insane."
The two children were transported to a hospital in Jacksonville. The 5-year-old had non-life-threatening injuries and the 14-year-old initially had critical injuries but is expected to survive.
"Thankfully, no one was killed in this incident, but it could have very easily turned out that way," Leeper said. "There could have been two dead kids because of two stupid grown men."