Mariam's eyes belie her tender age. She may be only 13, but she has witnessed enough violence and horrors to last a lifetime.
Mariam is from a village in the Kasai region of the Democratic Republic of Congo (DRC), the latest deadly hotspot in the vast central African country that has been wracked by violence for decades.
Most recently, fighting erupted here in 2016, killing thousands and uprooting entire communities and families.
When it began, village leaders banded together to form militias to protect their clans against other armed groups. They used various methods to persuade recruits to join up—including, we are told, "charms and rituals steeped in dark magic."
Mariam's village chief told her that joining the militia was a matter of life or death, convincing her that fighting was the only way to protect her family. But Mariam, who was just 11 at the time, soon discovered this was a lie.
She watched many people die—including other children she fought alongside—and when the army killed her parents, Mariam decided to flee with the few belongings she was able to gather. After walking for days, she reached a sanctuary where children who fled the militias were living.
Although she now has a roof over her head and food to eat, Mariam remains deeply disturbed by her experiences and still has nightmares about the dead bodies she saw during the fighting.
Helping children recover from war
Mariam's story is not unique in the Kasai provinces of the DRC: the majority of militia members—or as many as three-in-five—are believed to be under 18 years of age. Of these, more than half are under the age of 15.
We spoke to sixteen girls who were coerced into joining the militias in the same way as Miriam. The girls say they were forced to take part in initiation rituals and were given rules to follow which "would make them immune to bullets" when in battle.
Most escaped after witnessing the army killing their parents, and now live in fear of being discovered by the authorities. Although the law in DRC prohibits the recruitment of children and recognizes that child soldiers should be seen as victims of a crime and not criminals, the police and the army are actively hunting for current and former militia members, including children.
The total number of children being used by armed groups in Kasai and the rest of DRC is unknown, but UNICEF estimated in 2006 that it stood at 30,000. The organization also says that militias and armed groups recruited more than 3,000 children last year alone. Part of the reason these figures cannot be corroborated is because many children are still living in hiding.
What we do know is that the situation in the Kasai provinces is one of the worst child protection crises in the world.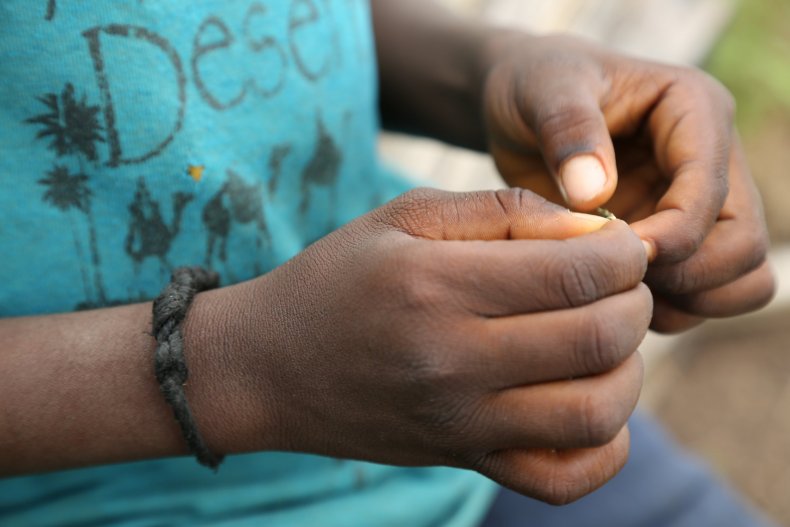 June 12, 2018, marks the International Day Against Child Labour, one of the worst forms of which is the recruitment of child soldiers.
Children living in conflict-ridden countries are often targeted as they are easily manipulated, cost less to feed, follow orders more readily and have a less developed sense of right and wrong. They tend to believe what they are told: that they can protect others by fighting and that they will be immune from death. Families may encourage children to fight alongside adults to defend their communities.
But children are not only recruited into militias or armies as fighters, they also serve as spies, cooks and porters. In many conflicts, girls are used as sex slaves for older male fighters, but in the Kasai we were told they are preferred to boys in conflict roles because they are perceived as being better able to follow 'rules' and rituals.
Out of the 45 escaped children who now live alongside Mariam in the shelter in the Kasais, 25 are girls.
World Vision is working with community partners to run eight child friendly spaces in the Kasais, including one near where Mariam now lives. These programs focus on education, enabling children to go back to formal schooling, as well as providing psycho-social support they desperately need.
But this alone is not enough. Tackling root causes of child recruitment and working with communities to reduce stigma around child soldiers is essential to break these cycles of violence and protect children from recruitment and all form of abuses.
Unless leaders put an end to conflicts, violence against children is likely to continue in the Kasais and many other areas of DRC, which is witnessing one of the most complex and long-standing humanitarian crises in the world.
Despite a growing humanitarian need, the Kasai and the rest of DRC are often forgotten by the international community. The tragedies Congolese children go through every day fail to make headlines.
At World Vision, we want to use this day to call on the international community to do more to protect children from all form of abuses and work together to create a world where children can thrive and live their life to the fullest, without fear of having to take up arms to defend themselves and their loved ones.
This means making long-term funding commitments that specifically target the protection of children. It also means shifting the dialogue to include children in the conversation—providing forums for them to be heard and actively participate in building peace in their communities.
Erica Hall, Technical Policy Lead and Sarah Pickwick, Senior Conflict Adviser at World Vision UK.
Mariam's name has been changed to protect her identity.