Why Wasn't Tiffany Haddish Nominated for a Golden Globe? Jada Pinkett Smith Says HFPA Didn't Even See 'Girls Trip'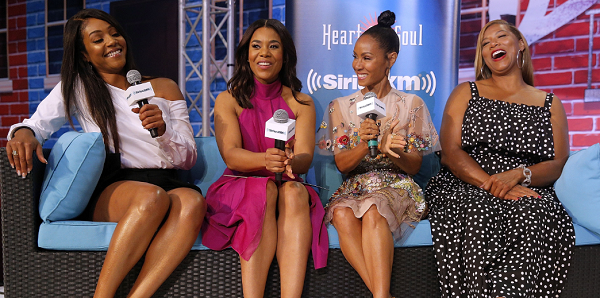 Despite the rave reviews, booming box office ticket sales and stellar cast, Girls Trip was sorely missed on Monday when the the 2018 Golden Globe nominations were announced. Also shockingly missing—particularly in the Best Supporting Actress category—was breakout star Tiffany Haddish, who became an instant superstar after appearing as Dina in the Malcolm D. Lee-directed film.
Instead, the Hollywood Foreign Press Association (HFPA) offered Best Performance by an Actress in a Supporting Role nominations to Mary J. Blige (Mudboud), Hong Chau (Downsizing), Allison Janney (I, Tonya), Laurie Metcalf (Lady Bird) and Octavia Spencer (The Shape of Water).
The HFPA's oversight on Girls Trip, which was the first comedy in 2017 to gross over $100 million, didn't go unnoticed by angry fans—or the movie's leading lady, Jada Pinkett Smith. The actress took to Twitter on Tuesday, claiming the HFPA didn't see the movie.
"Girls Trip was one of the most successful films this summer & Tiff was hands down the funniest person on screen in 2017 and we couldn't get eyes on the film or a press conference. How could a nom happen & how much more critical acclaim must a movie have to simply get a screening?" Pinkett Smith wrote.
Pinkett Smith suggested Hollywood needs to do a better job of expanding "its concepts of race, gender equality and inclusion in regard to its perceptions across the board." She noted the HFPA failed to recognize The Big Sick and said classifying Jordan Peele's Get Out as a comedy "illuminates the depths of the sunken place."
Although Peele submitted Get Out as a Golden Globes' comedy contender, he considered the film to be a social-thriller. "At the end of the day, call 'Get Out' horror, comedy, drama, action or documentary, I don't care. Whatever you call it, just know it's our truth," he wrote in a November op-ed for Deadline.
Following Newsweek's request for comment about viewing Girls Trip, the HFPA simply responded, "There was a screening on July 18." They did not provide further context.