Gisele Bündchen Can't Stop Winning as Tom Brady Flounders Post-Split
Gisele Bündchen is moving onward and upward after her divorce from NFL star Tom Brady, and gracing the cover of Vogue Italia's March 2023 issue is proof that her stock is on the rise. But the former Tampa Bay Buccaneers quarterback seems to be plowing a lonely furrow in the wake of his (second) retirement announcement.
The former Victoria's Secret model, 42, underwent a complete transformation for the magazine shoot, wearing a sheer red Valentino gown along with a scarlet wig and lipstick to match. This follows the Brazilian posting photos of herself enjoying Rio de Janeiro's Carnival with friends.
The Vogue spread has Bündchen "photographed in a new guise," and the pictures show her with different hairstyles and looks, from a platinum blond bob to a jet-black chin-length style.
She also wears different outfits, including a Thom Browne blazer dress, Ludovic de Saint Sernin lingerie and a Givenchy trench coat.
Bündchen started the year by sharing a serene photo of herself taking in the morning sunlight, along with a caption that read: "The quieter you become, the more you can hear." Rumi Wishing you all a joyful and blessed 2023."
It would seem that Bündchen is becoming more vocal as she continues to show that she is enjoying the fun and freedom of being single again.
Meanwhile, Brady has faced criticisms since retiring from the NFL—for good this time. He surprised fans when he posed in just his underwear to settle a bet with a couple of his former teammates, posting the selfie on Instagram to promote his sports clothing brand. And he drew a backlash when he said that Janet Jackson's infamous Super Bowl wardrobe malfunction was "a good thing for the NFL."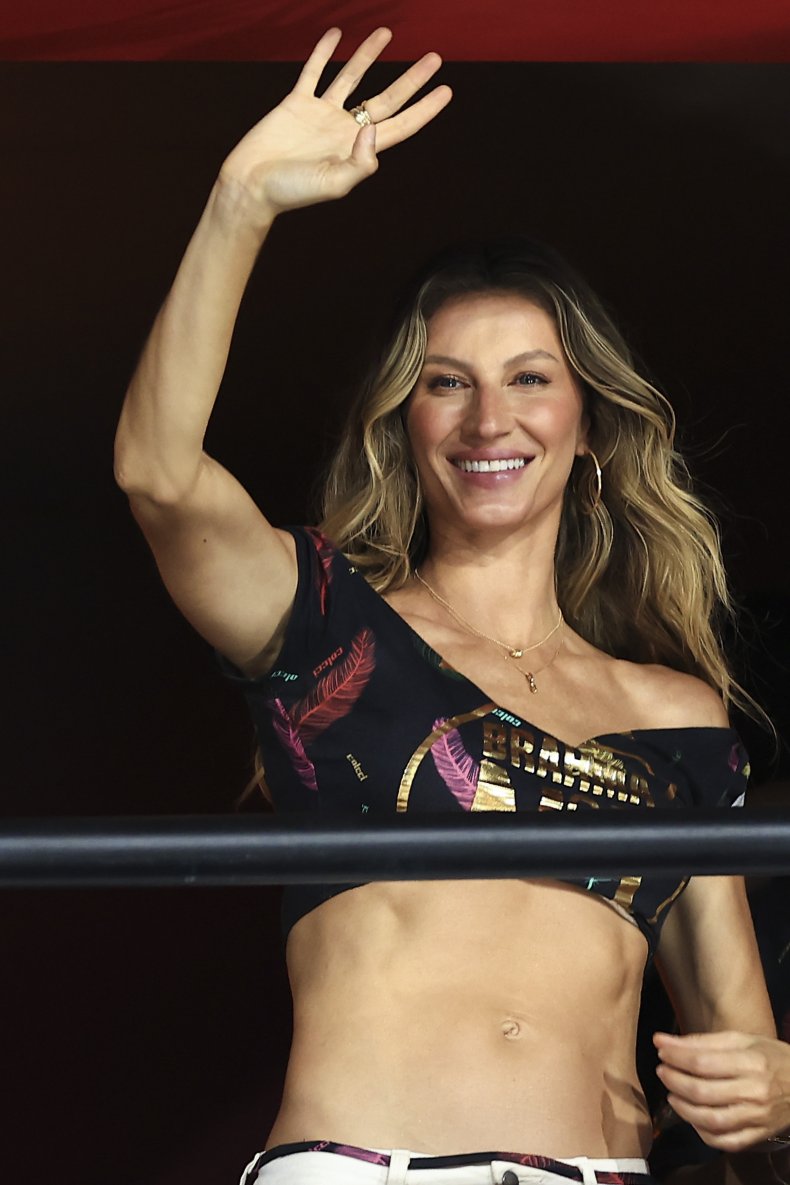 The former quarterback recently reflected on the incident, which occurred during halftime of the Super Bowl in 2004, on his Let's Go podcast along with Larry Fitzgerald and Jim Gray.
He was referring to the moment Justin Timberlake ripped off a piece of material from Jackson's outfit, which exposed part of her breast. CBS was fined by the Federal Communications Commission for the incident, and Jackson and Timberlake apologized for what was often referred to as "Nipplegate."
Brady, 45, won his second Super Bowl that day, leading the New England Patriots to a 32-29 victory over the Carolina Panthers.
Admitting he didn't watch halftime shows when he was involved in a game, Brady reflected on his experience from that day.
"We came off the field, and that was when we had the wardrobe malfunction with Justin Timberlake and Janet Jackson. [The media was] asking me about that. I couldn't even understand what they were telling me about. They said, 'Did you see the halftime show?' and I said, 'I didn't see anything.' I was thinking about the game."
Brady continued: "It took a while for us to figure out exactly what had gone on.... I think in the end it was probably a good thing for the NFL because everyone got to talk about it, and it was just more publicity and more publicity for halftime shows. Is any publicity bad publicity? That's what they say, so who knows?"
Brady was criticized for suggesting that all publicity is good publicity. Jackson has spoken about how that moment brought her a lot of grief and subsequently had a huge impact on her career.
Still, it has not been all bad for Brady since announcing his retirement. He is due to start his 10-year, $375 million broadcasting contract with Fox Sports in 2024.
Do you have a tip on a sports story that Newsweek should be covering? Do you have a question about the NFL? Let us know via entertainment@newsweek.com.