Details Emerge on Plan for Closing Guantánamo Bay Prison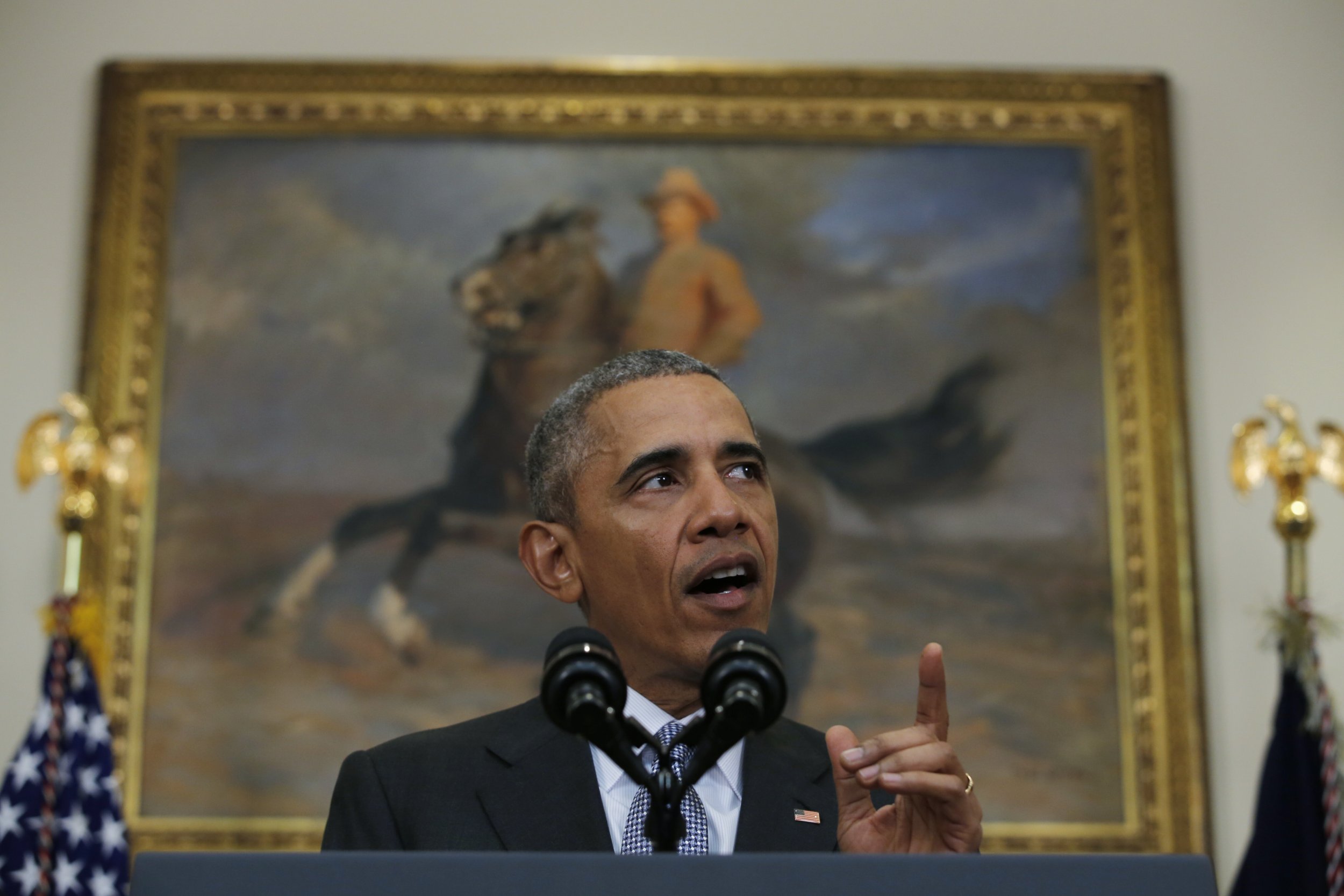 Updated | The U.S. Department of Defense submitted a plan to Congress Tuesday for closing the federal prison in Guantánamo Bay, Cuba.
Speaking Tuesday, President Barack Obama outlined the proposed strategy and said he would continue to make a case for closing the facility "as long as I hold this office."
Obama detailed a four-part plan to close the prison, which he said would involve transferring the less than 100 remaining detainees to facilities in other countries or in the U.S., and would save more than $300 million over a decade.
"When it becomes clear that something is not working as intended, when it does not advance our security, we have to change course," Obama said. "For many years, it's been clear that the detention facility at Guantánamo Bay does not advance our national security. It undermines it."
Obama added that "terrorists...use it as propaganda" and that it "drains military resources."
Ninety-one detainees remain at Guantánamo, Obama said, down from the nearly 800 once held there. Under the proposed strategy, 35 detainees already approved for transfer would go to facilities in other countries; the remaining detainees would either be transferred to other countries upon review or to any of 13 potential sites on U.S. soil. Obama did not identify those facilities or endorse a specific one.
The president has pledged to close the prison and move its detainees since before his election in 2008, but his plans are unlikely to gain traction in Congress, where lawmakers are largely opposed to moving detainees to the U.S.
The prisoners, held at a U.S. naval station in southeastern Cuba, were primarily detained by U.S. troops in Iraq and Afghanistan. Over the years, Guantánamo has come to represent aggressive detention practices that have in the past opened the U.S. to allegations of torture.
Guantánamo transfer and closure costs would be $290 million to $475 million, an official told reporters on a conference call before Obama spoke. Housing remaining detainees in the U.S. would be $65 million to $85 million less than at the Cuban facility, the official said, so costs would be offset in three to five years.
Obama urged Congress to lift its restrictions on transferring prisoners to U.S. soil and expressed hope that the plan would prompt a conversation about that goal. Congress has banned such transfers to the U.S. since 2011. Obama is considering closing the facility by executive order if lawmakers do not back his proposal.
In 2013, Democratic lawmakers said the cost per Guantánamo detainee had climbed to $2.7 million. Senator Dianne Feinstein at the time called it "a massive waste of money."
Republican lawmakers have already voiced opposition to the plan. In a statement, Representative Vern Buchanan of Florida said the plan was a "dangerous, irresponsible and illegal action that will put American lives at risk."
The plan would also involve reconsidering whether individuals detained outside of "military theaters" in the future could be tried in federal court, as opposed to using military commissions, Obama said. He pointed to the federal trials and detainments of shoe bomber Richard Reid and Boston Marathon bomber Dzhokhar Tsarnaev. "We can capture terrorists, protect the American people, and when done right, we can try them and put them in our maximum security prisons and it works just fine," he said.
Obama also said that because he and Vice President Joe Biden are not "on the ballot" in the upcoming election, they could work on closing Guantánamo without having to worry about the politics involved.
"As president, I've spent countless hours dealing with this," Obama said. "I don't want to pass this problem on to the next president, whoever it is. And if as a nation we don't deal with this now, when will we deal with it?"
In a statement, the Department of Defense said Secretary Ashton Carter "supports the president's commitment to bringing a responsible end to detention at Guantánamo."
In a press conference later on Tuesday, Pentagon Press Secretary Peter Cook said closing the Guantánamo facility is "a national security imperative" and should be accomplished before the next administration takes office.
Asked by a reporter if the administration would attempt to close the facility without congressional approval, Cook said, "It will take congressional action for these detention facilities to close in a responsible way.... The Pentagon is prepared to work with Congress to resolve this issue."
Cook also said the plan proposes to close only the detention facility at Guantánamo and not the naval base there.
This article has been updated to include comments from President Barack Obama, the Department of Defense, Pentagon Press Secretary Peter Cook and Representative Vern Buchanan, as well as new details about the plan.