Giuliani Asked Michigan Witness to Remove Mask at Hearing 4 Days Before Testing Positive for COVID-19
President Donald Trump's personal lawyer Rudy Giuliani asked a Detroit poll worker sitting next to him at a Michigan Oversight Committee to remove her mask four days before testing positive for COVID-19 over the weekend.
Trump confirmed Giuliani's infection on Sunday afternoon and wished the 76-year-old former New York City mayor a speedy recovery. "Get better soon Rudy, we will carry on!!!" the president tweeted.
Since Election Day, Giuliani has been traveling through multiple states, leading the Trump campaign's efforts to overturn the results of the 2020 presidential election. The campaign has filed a slew of lawsuits in several battleground states, including Wisconsin, Pennsylvania, Georgia and Arizona, alleging widespread voter fraud and a stolen election.
The contents and claims of the suits have been narrower than Team Trump's public claims of a "rigged" election, and so far, largely unsuccessful in court.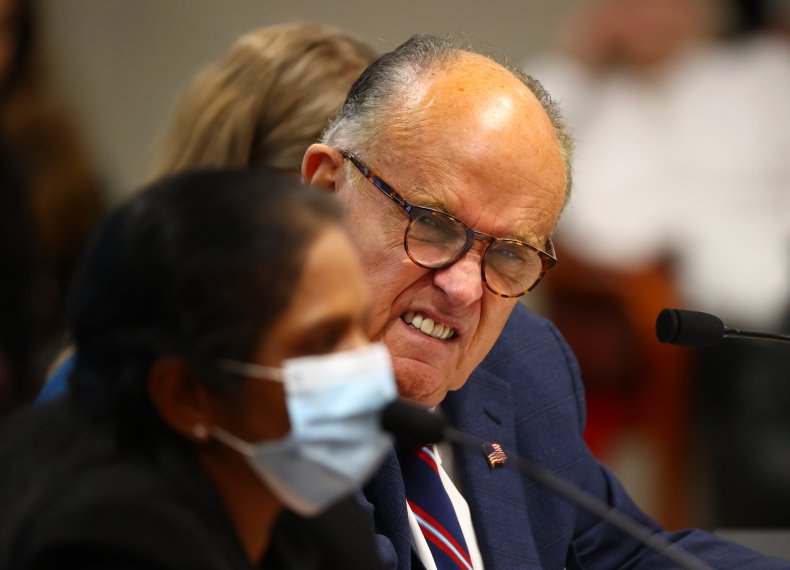 On Wednesday, Giuliani asked Detroit poll worker Jessi Jacobs to remove her mask so people could hear her speak more clearly during an appearance before the Michigan House Oversight Committee.
"Mrs. Jacobs? I don't want you to do this if you feel uncomfortable but would you be comfortable taking your mask off so that people can hear you more clearly?" he asked the witness who was sitting next to him on the bench.
Jacobs hesitated, asked the room if they could hear her clearly, and eventually decided to keep her mask on. Most onlookers at the Michigan legislative committee hearing were Trump supporters, and although the room capacity was limited due to the pandemic, Giuliani and numerous other attendees apparently did not wear masks throughout the four-hour proceeding.
Giuliani has previously been criticized for publicly spreading false claims about the coronavirus and attending a number of events, alongside other members of the Trump campaign, without a mask.
In late November, the attorney attended a hearing in Pennsylvania centered around allegations of voter fraud reportedly maskless, just days after another lawyer from the president's legal team tested positive.
On Thursday, he attended a Georgia state senate election hearing at the Capitol in Atlanta.
Giuliani's infection comes two weeks after his son, Andrew, reportedly tested positive for COVID-19 on November 20. Due to his age, the former mayor is considered at high risk for coronavirus complications.
He is the latest figure in the president's inner circle to contract the virus. In recent months, President Trump, first lady Melania Trump, their sons Donald Jr. and Barron, White House Chief of Staff Mark Meadows, and several other members of the president's family, campaign and White House have tested positive.
Newsweek reached out to Giuliani's representatives for comment.