Giuliani Calls Bolton a 'Classic Backstabber' Over Ukraine Claims, Says He Was a 'Personal Friend' Before He 'Complained'
President Donald Trump's personal attorney Rudy Giuliani called John Bolton a "classic backstabber" after a leaked manuscript revealed that the former national security adviser's upcoming book will claim the existence of a quid pro quo in Trump's dealings with Ukraine.
Senate Republicans have come under increased pressure in recent days after revelations from Bolton's unpublished memoirs further highlighted the importance of having him testify as a witness in the ongoing impeachment trial of Trump.
Bolton reportedly claims in the book that Trump told him last August that he wanted to keep withholding $391 million in military assistance to Ukraine until its officials agreed to help investigate his Democratic rivals, including former Vice President Joe Biden. His account of the exchange challenges assertions of no quid pro quo as made by Trump's legal defense team.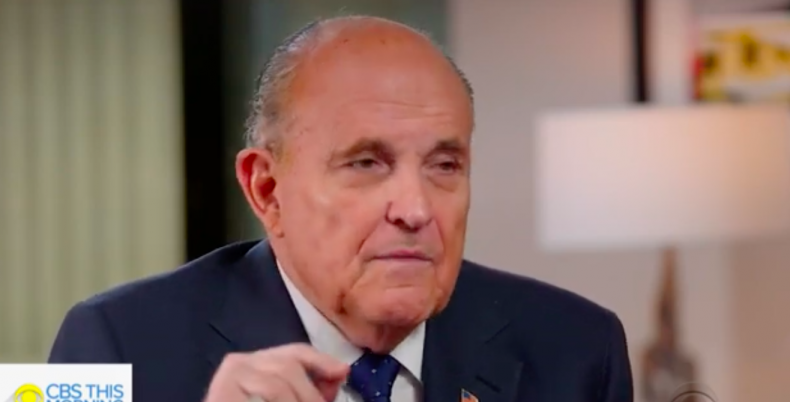 In a preview of an interview with CBS This Morning, set to air on Wednesday morning, Giuliani tells host Catherine Herridge, that Bolton was a close friend before he turned around and complained. He also attempted to discredit the former national security adviser's claims.
"He never said to me 'I got a problem with what you are doing in Ukraine.' Never once. Never winked. Never sent me a little note. He is a personal friend, I thought," he said. "So, here is the only conclusion I can come to and it's a harsh one and I feel very bad about it: He's a backstabber."
"That's a very serious thing," Herridge responded.
"It's not serious, it's true," Giuliani continued, "If your friend was complaining about you behind your back and didn't have the guts to come up to your face and tell you 'I think you're screwing up, Catherine.' That would be a backstabber. That's classic backstabber."
"I feel like I have a swamp character here. I find his testimony about the president pretty close to incredible. I can't imagine that the President of the United States said that to him," he added.
Newsweek reached out to Javelin Literary, Bolton's publishing agent, and Simon & Schuster, the book's publisher, for comment but did not receive a response in time for publication.
Bolton's manuscript and Giuliani's response comes as Democrats and Republicans continue their battle over whether to call for sworn testimony in the Senate impeachment trial. The vote for potential witnesses is expected to take place in the coming days.
Democrats need any four Republicans to vote with them to subpoena Bolton and others to testify. At this point, the GOP faces a few possible defections. Senators Susan Collins and Mitt Romney are among those who have indicated they may support having witnesses in the trial.