Giuliani Calls NY Prosecutors 'Assholes,' 'Idiots' Who Are Motivated by 'Jealousy,' Says 'My Attitude About My Legacy Is F*** It'
Former New York Mayor and President Donald Trump's personal lawyer Rudy Giuliani does not care how others see him currently or historically, according to an interview Monday in the New York Intelligencer.
Giuliani has been conducting his own investigation into the business dealings of former vice president Joe Biden and his son Hunter, both of which are key issues in Trump's impeachment.
Giuliani seemed aware that people around him are concerned that he may be tarnishing his image as "America's Mayor," but Giulini was dismissive of that notion.
"And my attitude about my legacy is F*** it," Giuliani said.
Giuliani also had words about the Southern District of New York (SDNY) courts who have launched an investigation into Giuliani's dealings. Multiple reports said prosecutors are looking into Giuliani's associates, his money and contacts with officials in Ukraine. Giuliani was the United States Attorney for SDNY during the 1980s.
"If they're investigating me, they're assholes," Giuliani said. "They're absolutely assholes if they're investigating me. If they are, they're idiots. Then they really are a Trump-deranged bunch of silly New York liberals."
Newsweek reached out to the SDNY for comment but did not receive a response in time for publication.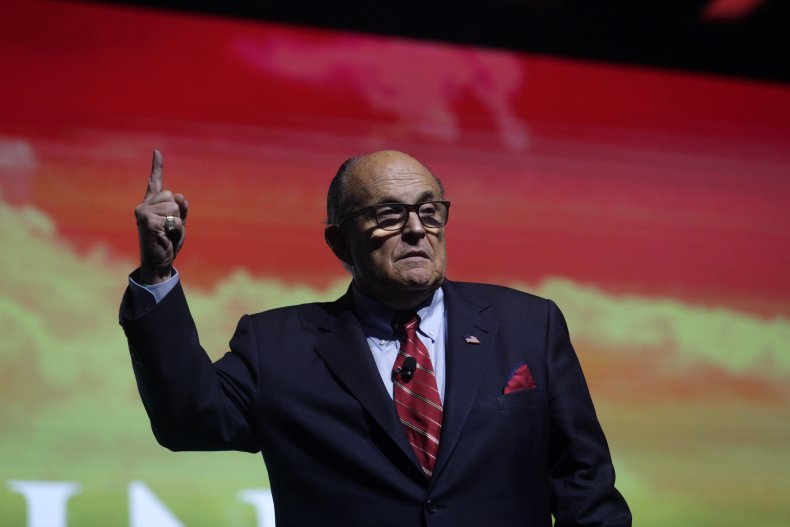 Giuliani said if there is the SDNY is investigating him, that process may be rooted in the fact that "they haven't done an eight years like I did since I left being U.S. Attorney."
"Jealousy, and because I'm of a different political philosophy than they are. They're all knee-jerk, now logically impaired anti-Trump people, including James Comey's daughter, who works there. You don't think she's bitter?"
Giuliani was also critical of philanthropist George Soros, a Holocaust survivor who has found himself at the center of many political conspiracy theories including his alleged level of influence over the FBI and the U.S. State Department.
"Don't tell me I'm anti-Semitic if I oppose him," Giuliani said. "Soros is hardly a Jew. I'm more of a Jew than Soros is. I probably know more about—he doesn't go to church, he doesn't go to religion—synagogue. He doesn't belong to a synagogue, he doesn't support Israel, he's an enemy of Israel. He's elected eight anarchist DA's in the United States. He's a horrible human being."
Giuliani also claimed that Soros installed former Ambassador to Ukraine Marie Yovanovitch. "[Soros] put all four ambassadors there," Giuliani said. "And he's employing the FBI agents."
When asked about his phone calls to Ukraine which were documented in the House Intelligence Committee report, Giuliani said he could not recall whom he spoke with.
"Those calls—I can tell you what they don't have to do with," Giuliani said. "They don't have to do with military aid. I never discussed military aid with them. Never discussed military aid with anyone until it first appeared in the New York Times of late August of 2019. I had no idea we were withholding it if we were."
Giuliani also said he trusted his former associates Lev Parnas and Igor Fruman who were arrested trying to leave the country in October because they looked like "Miami people."
"I know a lot of Miami people that look like that that are perfectly legitimate and act like them. Neither one of them have ever been convicted of a crime. Neith one. And generally that's my cutoff point, because if you do it based on allegations and claims and—you're not gonna work with anybody. Particularly in business," Giuliani said.