Rudy Giuliani Joins Cameo for $199 a Video As He Faces Mountain of Legal Fees
Rudy Giuliani is appealing for people to get in touch with him on Cameo, the social media site where users can pay for a personal message from public figures.
The former personal lawyer of ex-President Donald Trump faces mounting legal costs, including a defamation lawsuit by Dominion Voting Systems for pushing conspiracy theories about its products in the 2020 presidential election.
His law license in Washington, DC was suspended and linked to his role in litigation surrounding the election. Meanwhile, he was suspended in June from practicing law in New York state due to "demonstrably false and misleading" statements against the integrity of the election.
On Tuesday, Giuliani tweeted a link to his Cameo page with the message, "Good news: I want to connect with YOU on Cameo - now taking all Cameo requests!"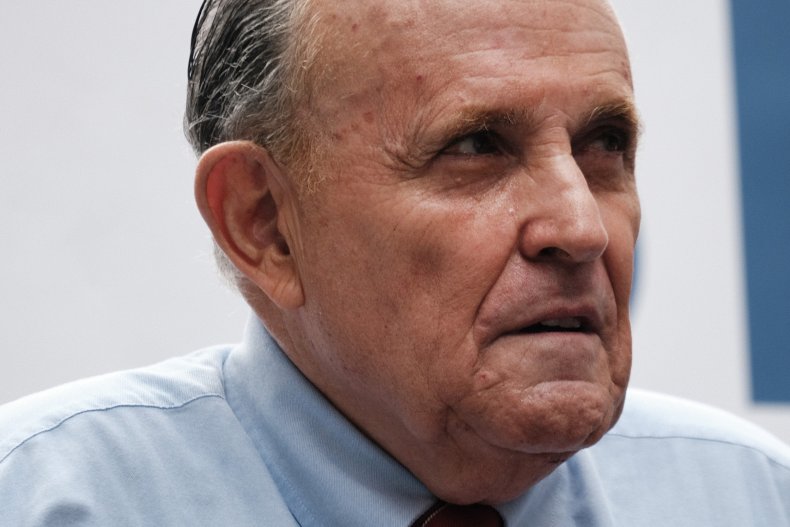 Giuliani's profile touts his positions as the former associate attorney general of the U.S. and ex-mayor of New York City, also stating that he is host of the "Rudy Giuliani Common Sense podcast."
Users are told they should expect a response in a day and can "book now for $199."
Social media sites allow users to interact with their followers but Cameo gives people the opportunity to pay for a bespoke message from the stars.
In a video message, he tells prospective users, "Hi I'm Rudy Giuliani and I'm on Cameo."
"If there is an issue you want to discuss or a story you'd like to hear or share with me, or a greeting that I can bring to someone that would bring happiness to their day, I would be delighted to do it."
"It can be arranged, we can talk through the magic of Cameo, he adds.
Samuel Chatwin, a real estate agent in Auckland, New Zealand, got a prompt response after he sent a Cameo request to Giuliani last week.
In the video message, Giuliani praised Auckland and asked people to contact Chatwin if they wanted to buy or sell property in the South Pacific country's biggest city.
Chatwin has shared the tailored message on his Instagram and Facebook accounts.
"A lot of real estate marketing is very boring, and you see the same things over and over again. I thought, 'why don't I try something that is a little bit different that people aren't really doing,'" Chatwin told Newsweek.
"There were a lot of different people on Cameo," he said, "but I have a lot of respect for Rudy Giuliani as the ex-mayor of one of the biggest cities in the world, and that's why I chose him to do that little piece. It was quite cool."
"The whole point of it was to do something a little bit different, a little bit fun that a lot of people over here haven't really seen," he added.
Newsweek has contacted Giuliani for comment.