Giuliani on 'Hannity' Contradicted Trump and Cohen, the Former Mayor Has a History of Shocking Statements
The revelation Wednesday from Rudy Giuliani, President Donald Trump's new lawyer, that Trump knew about and reimbursed his personal attorney Michael Cohen for a $130,000 payment to adult film star Stormy Daniels sparked a breaking news alert on phones across the country.
Giuliani's comment on Fox News's Hannity directly contradicted earlier statements by Cohen and the president. However, the former New York mayor told The Washington Post Thursday that his words came as no surprise to Trump.
Trump addressed the payment made to Daniels, whose real name is Stephanie Clifford, on Twitter Thursday. It was made shortly before the 2016 election as part of a nondisclosure agreement with Daniels, who claims she had an affair with Trump.
The timing of the payment has led some to call it a possible campaign finance violation—a charge Giuliani and Trump deny.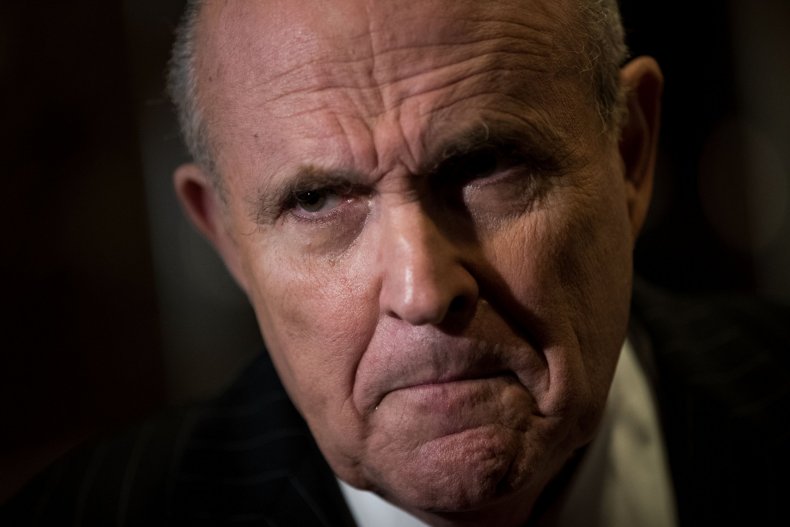 "Shocked. I was surprised," said Stephen Spaulding, a lawyer with the nonprofit watchdog Common Cause, which has filed a complaint with the Federal Election Commission over the payment. "Every time I think it's a nail in the coffin, there are more nails."
This is not the first time Giuliani's words have shocked, however.
In 2000, while mayor of New York, Giuliani announced that he was separating from his second wife of 16 years during a press conference, catching her off-guard.
"[Donna] Hanover did not know that Mr. Giuliani was going to announce their separation at his news conference. Friends said she learned of her husband's remarks immediately after the conclusion of the news conference, which was held on the outdoor balcony of the Bryant Park Grill in Midtown Manhattan. The friends described Ms. Hanover as distraught," The New York Times reported at the time.
More recently, Giuliani was forced to apologize in 2016 for a statement he made about Hillary Clinton. He said he didn't remember Clinton, when she was a senator of New York, being present during aftermath of the September 11 attacks. The comments, made in support of Trump as a presidential candidate, caused an immediate backlash. Clinton, who had not claimed she was there the day of the attacks, was photographed with Giuliani near Ground Zero the next day.
Also on the campaign trail, Giuliani set off a media firestorm for appearing to gloss over the September 11 attacks by saying that terrorism was worse during the presidency of Barack Obama. The statement raised some eyebrows because Giuliani had become known for frequently mentioning 9/11.
Giuliani previously made controversial comments about Obama in 2015. "I do not believe, and I know this is a horrible thing to say, but I do not believe that the president loves America," said Giuliani in a private dinner, according to Politico. "He doesn't love you. And he doesn't love me. He wasn't brought up the way you were brought up and I was brought up through love of this country."
He quickly walked back his comments. "Well, actually, if I could express it more clearly, what I mean is he doesn't express it," Giuliani told Bloomberg.