Giuliani Mocked in 'Crazy Rudy' New York City Subway Ad Offering 'Back-Channel Deals' and 'Unhinged' Cable News Appearances
Rudy Giuliani has been dubbed "crazy" and willing to help clients with "back-channel deals" in a mock New York City subway advert that appeared on Tuesday.
The joke ad, first covered by New York Daily News, also suggested President Donald Trump's personal attorney would "work when drunk" and for free.
"Need a lawyer? Call Crazy Rudy," the advert said alongside a checklist of the fake firms services. It also signposted the Instagram handle of a group called T.G.L NYC.
The web address at the bottom of the subway poster ad leads to a satirical website detailing the services of "Crazy Rudy Law." Advertised services on the website include "back channel deals" and "cable news appearances," as well as the offer to work for free.
A joke snippet under the advertised "cable news appearances" service says: "I will appear on all cable news networks on behalf of my clients. I promise that each appearance will be three things: unhinged, combative and fun."
The website lists the satirical law firm's office hours as 05:15pm to 02:30 am and includes the details of a Washington, D.C. address.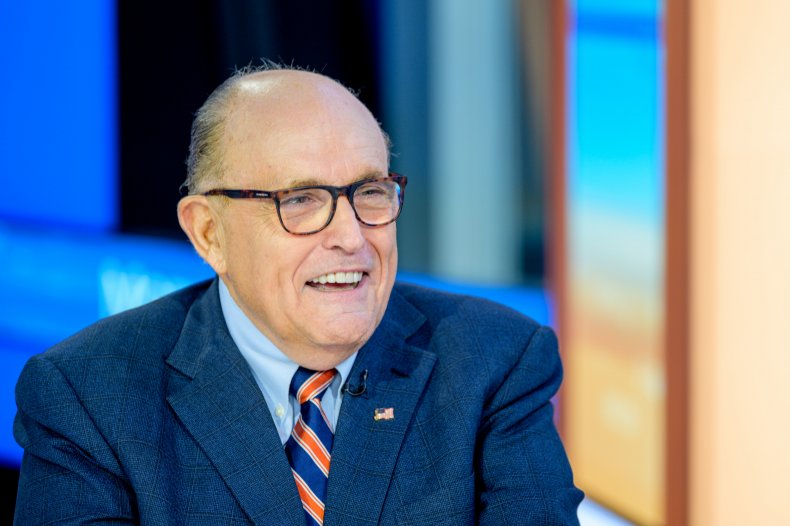 Newsweek called the joke outfits office number, but there was no answer. An automated answering machine message said: "You've called the law offices of Crazy Rudy. We specialise in back-channel deals, cable news appearances and will work when drunk!"
Newsweek has also reached out to Rudy Giuliani for a response to this story but did not receive a response at the time of publication.
The president's lawyer has been at the center of the Ukraine scandal that led the Democrat-led House to launch an impeachment inquiry against Trump on September 24.
Giuliani was subpoenaed by the Foreign Affairs, Intelligence and Oversight Committees on Monday as they sought files related to any involvement he had in helping Trump lean on the Ukrainian President to investigate Joe Biden and his son Hunter Biden. The documents have to be handed over by October 15, but there the lawyer is not required to testify in front of Congress.
Speaking to ABC News' This Week on Sunday, Giuliani said he would not cooperate with the House Intelligence Committee's Ukraine probe until Democratic Rep. Adam Schiff was replaced as chairman of the committee by a "neutral person."
He has also made repeated appearances on news channels to push debunked claims that former Vice President Joe Biden sought to have a Ukrainian prosecutor removed from their post in the interests of Hunter.