Trump Lawyer Rudy Giuliani's Mysterious Ties to Russia and Former Soviet Union Go Back Decades, Experts Argue
While lawyer and former New York Mayor Rudy Giuliani represents President Donald Trump on matters related to the special counsel's investigation into the Trump campaign's alleged collusion with Russia, Giuliani has maintained his own ties to the Kremlin and its allies.
In the month of October, Giuliani traveled to Armenia at the invitation of a Kremlin-linked businessman to participate in a forum for a Russia-led economic union. That same month, the former New York mayor was also named in a criminal complaint because his former law firm allegedly helped Kazakh fugitives launder stolen money. Both Armenia and Kazakhstan were once part of the Soviet Union, and today their governments, security services and intelligence organizations maintain close ties to Moscow.
But experts say Giuliani's ties to individuals from the former Soviet Union go back decades—and his lucrative connections to the region have occasionally been intertwined with Trump's.
"One of Giuliani's earliest associations was with Semyon 'Sam' Kislin, who donated money to both his 1993 and 1997 campaigns [for mayor] and was appointed by Giuliani to serve on the New York City Mayor's Council of Economic Advisors," Olga Lautman, an investigative reporter who spent three years tracking ties between the Russian mafia and Trump's associates, told Newsweek.
Kislin's website details that the Russian was an active member of the mayor's council until Giuliani left office in 2001.
"According to FBI and Interpol reports, Kislin, a wealthy commodities trader, was using his company to launder money from Russia to the U.S.," Lautman added.
Giuliani and his representatives did not respond to numerous requests for comment from Newsweek.
Giuliani's former law firm also has longstanding ties to a couple from Kazakhstan who fled their country after being accused of stealing millions.
On October 8, Viktor Khrapunov, the former mayor of the Kazakh city of Almaty, and his wife, Leila Khrapunova, were found guilty of financial fraud, taking bribes and running a criminal organization. They were sentenced to 17 and 14 years in jail respectively. Law enforcement officials say the couple helped launder around $10 billion stolen from their country.
It is unlikely, however, that the Khrapunovs will go to prison anytime soon. The couple is avoiding jail time in Switzerland, where it is exceptionally difficult to get an extradition request approved. Lawyers representing the city of Almaty argue that the couple successfully laundered billions of dollars stolen from Kazakhstan in jurisdictions across the U.S. and the world. There are currently court cases pending against them in California and New York.
Court documents allege that the Khrapunovs have deep ties to Trump's former adviser Felix Sater, a Russian-born businessman with a criminal history who claims to have been a CIA informant. In 2013, Sater's development company Bayrock helped the Khrapunovs purchase three condos in Trump Tower Soho and quickly resell the properties.
Financial analysts say it's likely the purchases were used to launder money.
It is unclear whether Trump was aware of the purchase or of the origin of the funds used to buy the condos. But Giuliani, Trump's longtime friend and associate, must have been aware that the Khrapunov's money had a dubious provenance. Years earlier, Giuliani's law firm helped establish a company in the Netherlands through which some of the couple's money was funneled.
On October 22, the New York City-based human rights organization Avaazfiled a complaint asking Dutch courts to investigate two companies that were set up in the Netherlands to launder some of the Khrapunovs' stolen funds.
The companies are Bayrock B.V., the Dutch subsidiary of Sater's former employer Bayrock Group LLC, and KazBay B.V., another company Bayrock Group opened for the Khrapunovs.
KazBay B.V. was registered in 2007 with the assistance of Giuliani's then-law firm Bracewell & Giuliani LLP.
"Rudy Giuliani's law firm was involved in setting up one of the companies, and there are a bunch of overlapping connections between that company and the other companies connected to the Khrapunovs, like the Switzerland-based company Helvetica Capital S.A.," Emma Ruby-Sachs, deputy director of Avaaz, told Newsweek.
"One of the concrete connections is that $1.5 million went into KazBay from Bayrock and Helvetica. We also know that the biggest overlap is in the stakeholders and individuals used to set up these companies, and we know there is a connection between this fraud and Felix Sater," Ruby-Sachs added.
Sater, a longtime adviser of President Trump who attempted to help him set up a Trump Tower in Moscow, is named as a beneficiary in the complaint. Giuliani is personally named over a dozen times in the complaint's footnotes.
It was not the first time Giuliani and his firm had dealt with Kazakhstan. Bracewell & Giuliani LLP had an office in the country as early as 1997, the same year Khrapunov became mayor of Almaty. Giuliani's firm used its office in Kazakhstan to collect donations from U.S. expats for the former mayor's failed presidential bid in 2008. During the campaign in 2007, Giuliani threw a fundraising event in Almaty. It's unclear if he ever traveled to the country personally.
Ten years later, Giuliani has been working for Trump, but he has refused to give up his lucrative contracts with foreigners. In June, he traveled to Paris to speak at the annual conference of the Mujahedin-e-Khalq (MeK), an Iranian opposition group that the U.S. government previously listed as a foreign terrorist organization. People familiar with the matter told Newsweek that the MeK often pays speakers five-figure sums.
But experts say the former mayor has placed a specific emphasis on cultivating ties with the former Soviet Union, and that he has made numerous trips to the region, including some since Trump took office.
"In 2004, Giuliani took a trip to Russia and met with Foreign Minister Sergey Lavrov and Moscow's then-Mayor Yury Luzhkov, known for his corruption and dealings with Russian organized crime officials, and he unexpectedly made his way to a steel plant near the Kazakh border. Magnitogorsk Iron and Steel Works was flush with cash and looking for acquisitions in the U.S., and some speculated that Giuliani was eyeing a role as the middleman," Lautman explained to Newsweek.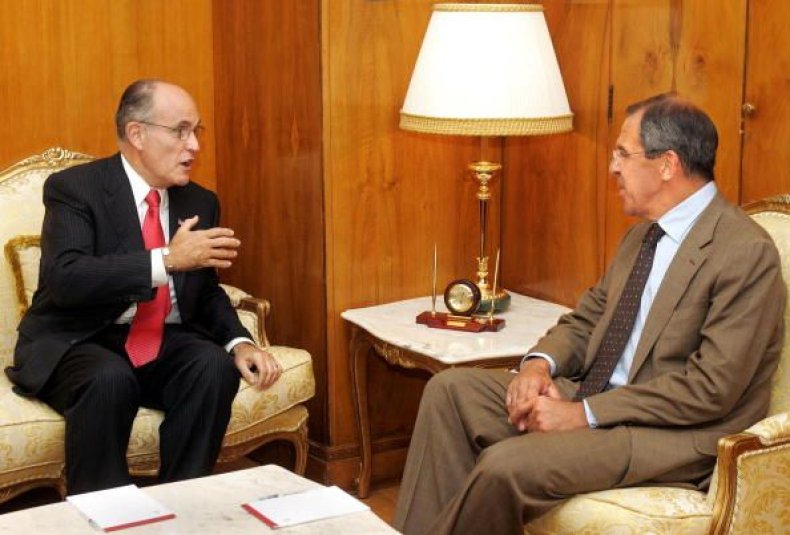 Many of Giuliani's trips to the region were organized with the assistance of a murky consulting firm called Tri Global Strategic Ventures. According to the company's website, several people on the company's board have links to the Russian government, including Ara Abramyan, the Armenian businessman who invited Giuliani to Armenia last month.
Tri Global Strategic Ventures did not return requests for comment from Newsweek. A phone number for the company's alleged spokesman Vitaly Pruss led to the voice mailbox of an employee who identified herself as Veronica, but neither Abramyan nor Veronica returned Newsweek's calls.
Last year, Tri Global Strategic Ventures organized a trip for Giuliani to the Ukrainian city of Kharkiv, where he met with Kharkiv Mayor Hennadiy Kernes and the oligarch Pavel Fuchs, both of whom were loyal to the Pro-Putin regime of former Ukrainian President Viktor Yanukovych.
Fuchs, who made his fortune in Moscow's real estate industry, allegedly played a role in the failed attempts to establish a Trump Tower in Moscow around 2008. He is also reportedly under investigation in Ukraine for allegedly attempting to purchase $160 million of the frozen assets of Yanukovych, who fled Ukraine for Russia in 2014 after being ousted by a pro-Western social movement.
The website for Tri Global Strategic Ventures is peppered with pictures of Moscow's St. Basil's Cathedral and of Giuliani attending various meetings. Following Giuliani's 2017 trip to Ukraine, which was one of a handful of meetings with Ukrainians that Giuliani and his representatives held in the last year, the company published a press release claiming that "the meeting between the official delegation from the City of Kharkiv, Ukraine and former New York Mayor Rudolph Giuliani and John Huvane, CEO of Giuliani Security & Safety, was a success."
The president's lawyer's company will allegedly help the city of Kharkiv establish a new office for emergency management.
"The most controversial recent event was Giuliani's trip to Armenia last month at the invitation of Ara Abramyan, an oligarch closely linked to Putin. Giuliani spoke on a panel at the event alongside Sergei Glazyev, an official sanctioned by the U.S. who is an extremist and is viewed as a possible eventual successor to Putin," Lautman added.
In an interview with the local press, Giuliani said he was visiting Yerevan, Armenia, as a private citizen and was not representing the U.S. president. Nevertheless, he failed to respond to questions about whether he was paid to appear on the panel with Glazyev, an adviser to Russian President Vladimir Putin who was one of the first people sanctioned by former President Barack Obama for Russia's illegal annexation of the Crimean Peninsula.
"Giuliani also met with Armenia's Defense Minister Davit Tonoyan. But overall, the visit itself seemed to be more about Guiliani's dealings with Russia and Mr. Abramyan than Armenia itself," Grigor Atanesian, an investigative reporter in Armenia, told Newsweek.
During his panel in Armenia last month, Giuliani lectured the audience about Armenia's ability to protect itself from cyberattacks. The event was part of the annual business forum of the Eurasian Economic Union, a Moscow-led economic bloc that includes Armenia, Russia, Belarus, Kyrgyzstan and Kazakhstan.