Rudy Giuliani, President Donald Trump's personal lawyer on Wednesday, suggested that Democratic presidential candidate Joe Biden could have voted up to 5,000 times in Philadelphia, in a state where the former vice president is not registered to vote.
While speaking at a Trump campaign press conference in Philadelphia, Giuliani criticized mail-in ballots and said that, "not a single Republican has been able to look" at any mail-in ballots in the city, suggesting that "they could be from Mars, as far as we're concerned."
"Joe Biden could have voted 50 times, as far as we know, or 5,000 times," Giuliani said during the briefing.
Despite being raised in Scranton, Pennsylvania, the former vice president is not registered to vote in the state. Just last week, Biden and his wife, Dr. Jill Biden were seen voting in their hometown of Wilmington, Delaware, at the Carvel State Office Building.
Giuliani's comments about Biden came during a press briefing that was focused on Trump's campaign pursuing legal action in the 2020 election.
On Wednesday, Trump's campaign filed lawsuits in Michigan and Pennsylvania, seeking to stop the counting of ballots until the president's campaign is provided with "meaningful" access to the opening, sorting and processing of ballots.
During the briefing, the former mayor of New York City also suggested that Trump's campaign was "going to take a very good look at whether we bring this nationally."
"Quite possibly we'll do a national lawsuit and really expose the corruption of the Democrat Party," Giuliani said. "This is beyond anything I've ever seen before."
He continued, "We're going to stick with this. We're going to win this election. We've actually won it. It's just a matter of counting the votes fairly."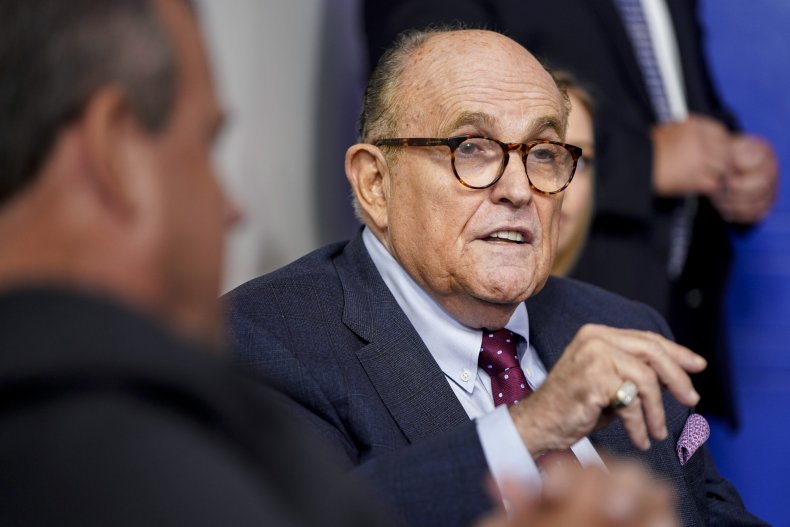 During the briefing, Giuliani was joined by Trump's son Eric Trump, former Florida attorney general Pam Bondi and two senior advisers to the president's campaign, Lara Trump and Corey Lewandowski.
Trump's son was the first to speak during the briefing and said, "We're going to win Pennsylvania, but they're trying to cheat us out of it because they know it's their only path to victory."
"We are going to file a suit in Pennsylvania. It is the last thing that we wanted to do, it's the last thing my father wanted to do. But this is rampant corruption," Eric Trump said. "It can't happen. It's not fair. This isn't democracy."
According to the Associated Press, Trump is currently ahead of Biden by 3.4 points in Pennsylvania. Eighty-six percent of votes had been reported as of Wednesday night, and Biden trailed Trump by over 200,000 votes.
Earlier this week, Trump also criticized the U.S. Supreme Court's decision that allowed Pennsylvania to continue counting ballots three days after the election.
"The Supreme Court decision on voting in Pennsylvania is a VERY dangerous one. It will allow rampant and unchecked cheating and will undermine our entire system of laws," Trump said in a tweet that was later flagged by Twitter as "misleading."
Newsweek reached out to Giuliani for comment but did not receive a response in time for publication.