Giuliani Says Trump Remains 'Very Supportive' of His Efforts to Find Dirt on Biden in Ukraine
President Donald Trump's personal lawyer Rudy Giuliani told CNN in a phone interview that he and Trump are "on the same page" concerning Giuliani's continuing investigation into alleged wrongdoing by Democrats in Ukraine.
"Just in case you think we're on defense, we're not," Giuliani said, implying that Trump has been kept apprised of Giuliani's activities in Ukraine.
Giuliani has claimed to have uncovered evidence of a conspiracy based in Ukraine involving Trump's political rivals, including Hillary Clinton and former Vice President Joe Biden.
"After hundreds of hours & months of research, I have garnered witnesses & documents which reveal the truth behind this impeachment, which includes NO wrongdoing by @realDonaldTrump," Giuliani tweeted Sunday.
Newsweek subscription offers >
When asked what Giuliani had told him about his most recent trip to Ukraine at a roundtable meeting yesterday, Trump said, "Not too much." But Trump expressed that he believed that Giuliani "knows what he's doing."
Newsweek subscription offers >
"He's a great person who loves our country," Trump said of Giuliani. "And he does this out of love, believe me. He does it out of love."
"He sees what goes on," Trump continued. "He sees what's happening. He sees all of the hoax that happens when they talk about impeachment hoax or the Russian collusion delusion."
Newsweek reached out to the White House for comment but did not receive a response in time for publication.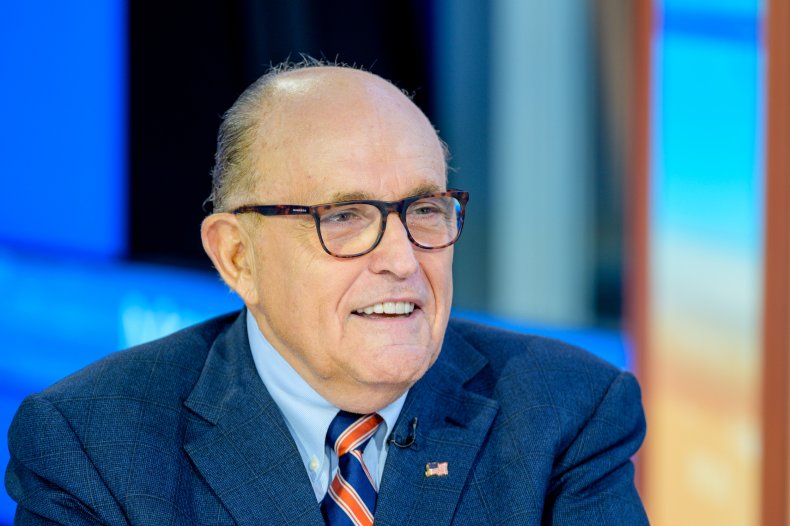 In an interview with Laura Ingraham on Fox News, Giuliani said that people don't understand what has been happening in Ukraine.
"Maybe they don't believe that there was in fact substantial corruption in Ukraine that went on for years and that the President of the United States when he asked for an investigation, was doing his duty as the President of the United States," Giuliani said. "Maybe they buy into some form of the Democratic criticism."
Giuliani then claimed he had uncovered two financial schemes in the billions of dollars involving "money laundering that went on all through the Obama administration."
"The reality is it's a complete defense for the president," Giuliani continued. "When the President of the United States was asking the President of Ukraine to investigate, he was asking him to investigate crimes at the highest levels of both governments that the president of the Ukraine referred to as 'we,' meaning it's our problem. Joint problem. So he's being impeached for doing the right thing as the president of the United States."
Giuliani also admitted to forcing former Ambassador to Ukraine Marie Yovanovitch out of office in an interview with The New Yorker. Ingraham asked Giuliani about his admission in the magazine.
"This hit piece, and it's a hit piece," Ingraham said, "also has you on the record admitting that you forced out Marie Yovanovitch."
"Of course I did," Giuliani responded.
"You said you needed her out of the way," Ingraham continued. "Now you're the president's personal attorney. So why did you need her out of the way?"
"I didn't need her out of the way," Giuliani said. "I forced her out because she's corrupt."
Giuliani also tweeted about Yovanovitch, saying she "needed to be removed for many reasons most critical she was denying visas to Ukrainians who wanted to come to US and explain Dem corruption in Ukraine. She was OBSTRUCTING JUSTICE and that's not the only thing she was doing. She at minimum enabled Ukrainian collusion."
Giuliani Says Trump Remains 'Very Supportive' of His Efforts to Find Dirt on Biden in Ukraine | Politics