Rudy Giuliani Says We Should Ignore Evidence of Trump's Collusion Because 'Truth Isn't Truth'
U.S. president Donald Trump's attorney Rudy Giuliani said in an interview Sunday his client won't be rushed into testifying before special counsel Robert Mueller because "truth isn't truth."
The former New York mayor told NBC's Chuck Todd that Trump's team had not intentionally delayed at potential testimony. He said Mueller takes up to three weeks to respond to emails. But the interview took a turn as Giuliani took a firm stand against being pressured into a meeting.
"What I have to tell you is I am not going to be rushed into having him testify so he gets trapped into perjury," he said. "When you tell me that he should testify because he is going to tell the truth and he shouldn't worry, that's silly because it's somebody's version of the truth. Not the truth."
When Todd quickly pointed out that "truth is truth" and that his response would "become a bad meme online," Giuliani fumed: "No, it isn't truth. Truth isn't truth." He said: "Don't do this to me! Donald Trump says 'I didn't talk about Flynn with Comey.' Comey says 'you did talk about it'—so tell me what the truth is? Which is the truth, maybe you know because you are a genius?"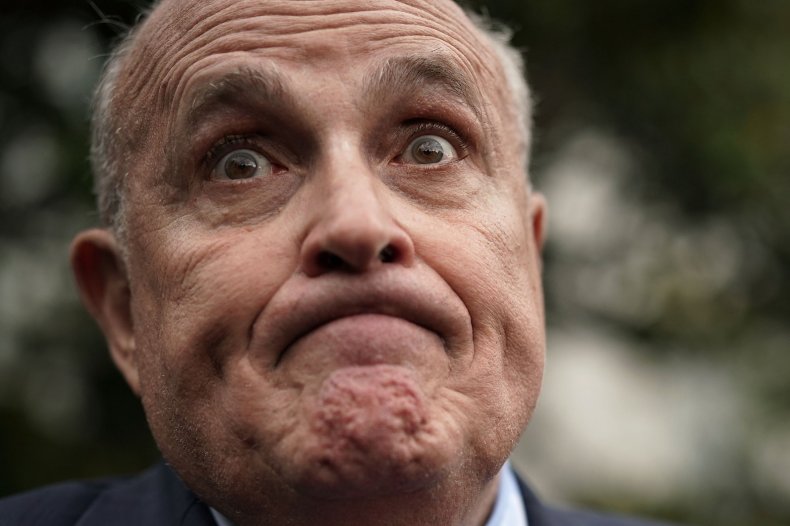 In the same interview, Giuliani told Todd that the infamous Trump Tower meeting between campaign officials and Russian lawyer Natalia Veselnitskaya was not an attempt at collusion.
"The meeting was originally for the purpose of getting information about Clinton," he stated.
"That was the original intention of the meeting, it turned out to be a meeting about another subject and it was not pursued at all," Giuliani added. "Any meeting with regards to getting information on your opponent is something any candidate's staff would take. She didn't represent the Russian government, she was a private citizen. I don't even know if they knew she was Russian."
He said: "The president was not at that meeting, he didn't know about that meeting. He found out about it after and by the time he found out about it, it was nothing. If this is their case for collusion, good luck Mueller." The meeting included Donald Trump Jr., Jared Kushner, Paul Manafort.
Mueller is currently tasked with asking tough questions about possible collusion with Russia as part of a meddling campaign directed towards the presidential election in 2016.
In a series of tweets on Sunday, the president also launched attacks on Mueller's investigation, which has this year resulted in a number of indictments against individuals close to Trump. In a now-common tirade, he blamed the media for reporting on the inquiry, branding it fake news.
"So many lives have been ruined over nothing—McCarthyism at its WORST!" he wrote early Sunday morning. "Yet Mueller & his gang of Dems refuse to look at the real crimes on the other side. No Collusion and No Obstruction, except by Crooked Hillary and the Democrats. All of the resignations and corruption, yet heavily conflicted Mueller refuses to even look in that direction. What about the Brennan, Comey, McCabe, Strzok lies to Congress, or Crooked's Emails!"