Giuliani Slams Fox News Host Over Critical Remarks, Says Lawyers Want Him to Sue for 'Libel'
President Donald Trump's personal attorney Rudy Giuliani this week claimed that his lawyers have encouraged him to sue Fox News host Steve Hilton for accusing him of "trying to enrich himself on the back of his relationship with President Trump."
"I have not taken a penny for representing my friend, President Trump. I am outraged that @SteveHiltonx reported that I was trying to pursue private business deals in Ukraine to 'enrich' myself, when in reality I have made ZERO in Ukraine! Very lazy reporting!", Giuliani tweeted on Monday.
Giuliani went on to add that his lawyers told him Hilton is a "wild card" and that he should "sue him for libel." He then said that without his presence, Hilton would not be covering the Burisma oil scandal, which was "in front of his face" for three years. Giuliani also suggested Hilton should apologize to him for his "maliciousness."
Hilton's remarks, made during the Sunday edition of Fox's The Next Revolution program, criticized the president's advisers for "trying to make money for themselves off Trump."
"You know what, I'm just fed up with the lot of them. Rudy Giuliani was a great mayor and a great leader, but he's turned into an unmitigated and now it seems unethical disaster," said Hilton. "While President Trump has been trying to govern for the American people, all these hangers-on have been trying to make money for themselves off Trump."
Hilton also called Giuliani and others close to Trump with ties to the ongoing Ukraine scandal a "bunch of chancers, grifters and spivs... taking advantage of the president to do dodgy deals in the world's shadiest places."
Hilton's statements were made in response to an article released Wednesday by The Washington Post, which reported that Giuliani had participated in "talks" to set up a potential deal between his company, Giuliani Partners LLC, and Ukrainian Prosecutor General Yuriy Lutsenko to represent Lutsenko in his attempt at recovering assets that were allegedly stolen from Kiev. In return, Giuliani's company would reportedly receive a payment of $200,000.
The negotiations, The Post alleges, took place during the same time period as President Trump's alleged pursuit of information on Joe and Hunter Biden's dealings with the Ukrainian gas company Burisma.
Unnamed sources familiar with Giuliani's Ukrainian dealings told The Post of the existence of a draft retainer agreement, which allegedly set out a $300,000 payment if Giuliani Partners were able to recover the stolen assets.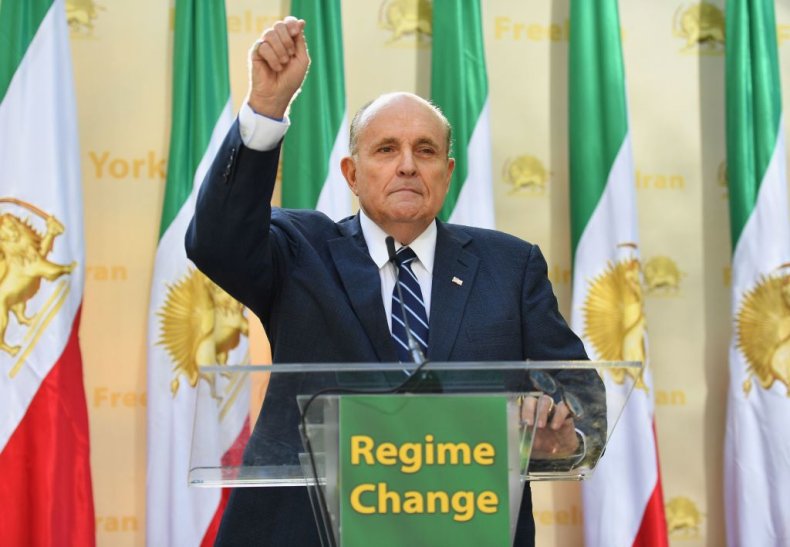 Newsweek reached out to Fox News for comment, but did not hear back by press time.