Giuliani Tells Reporters at Trump's Mar-a-Lago NYE Party That He 'Would Testify' in Senate Impeachment Trial
President Donald Trump's personal attorney Rudy Giuliani, who also served as the 107th Mayor of New York City from 1994 to 2001, told reporters on Tuesday evening that he would testify in Trump's Senate impeachment trial if summoned.
While attending Trump's New Year's Eve celebration at Mar-a-Lago in Florida, Giuliani was asked about his client's upcoming Senate impeachment hearing. "I would testify," he said, adding that he'd "do demonstrations" and would "love to try the case." Despite his remarks, Giuliani has not been floated to be part of the president's defense team.
The House voted to pass both articles of impeachment against Trump—abuse of power and obstruction of Congress—in mid-December. The historic vote made Trump just the third U.S. president to be impeachment by the House. Since then, Democrats and Republicans have battled over the handling of the upcoming Senate trial and whether to summon any witnesses.
Senate Majority Leader Mitch McConnell has recently stated that he will be in "total coordination" with the White House and rejected calls from Democrats for witnesses to appear at the trial. Senator Lindsey Graham, who's chair of the Senate Judiciary Committee, echoed his sentiments earlier this month by vowing to kill the ongoing impeachment proceedings when it reaches the Senate. "I am trying to give a pretty clear signal I have made up my mind. I'm not trying to pretend to be a fair juror here," Graham said.
Newsweek subscription offers >
In apparent retaliation, House Speaker Nancy Pelosi indicated that she will hold off from passing the articles to the Senate until Republicans consent to a fair trial.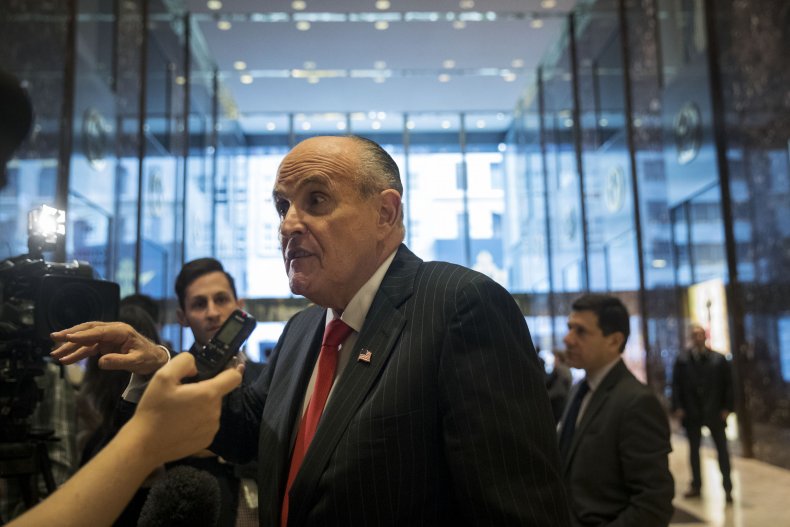 Despite Republicans' intentions to push through a fast acquittal, Democrats have been aggressively pursuing testimony from administration officials. Giuliani has been a key figure throughout the impeachment proceedings, which were sparked by a July phone call between Trump and Ukrainian President Volodymyr Zelenskiy. During the controversial call, the U.S. president pressed his foreign counterpart to investigate the family of former Vice President Joe Biden.
Democrats believe Giuliani assisted Trump in executing Ukraine shadow foreign policy and would likely be interested in his cooperation. The president's attorney admitted he traveled to Ukraine in December to meet with officials to find new information pertaining to the impeachment inquiry and Biden. Upon his return, he said he would brief Trump and members of the GOP about his findings.
Although Republicans in Congress have mostly backed McConnell over impeachment, Maine Senator Susan Collins on Monday became the second in the party to criticize his comments about being in "total coordination" with the Trump administration. Her remarks came one week after Republican Senator Lisa Murkowski from Alaska called McConnell's comments "inappropriate."
"It is inappropriate, in my judgment, for senators on either side of the aisle to prejudge the evidence before they have heard what is presented to us," she said, "because each of us will take an oath, an oath that I take very seriously to render impartial justice. That's what it says, impartial justice."
Giuliani Tells Reporters at Trump's Mar-a-Lago NYE Party That He 'Would Testify' in Senate Impeachment Trial | Politics