Giuliani and Trump Can't Get Stormy Daniels Payment Story Straight: Here's Everything They've Said
Over the course of about 12 hours, President Donald Trump and his new attorney, Rudy Giuliani, sought to clarify who knew what and when of a $130,000 payment made to an adult film actress for her silence about an alleged sexual encounter with the president more than 10 years ago. In doing so, however, they appeared to dramatically shift the Trump team's existing narrative that the president was unaware of the payment to Stormy Daniels, whose legal name is Stephanie Clifford, and that his personal attorney, Michael Cohen, was not reimbursed for making it.
Friends from their days back in New York, where Giuliani was mayor, Trump hired the former federal prosecutor two weeks ago to shore up his personal legal team in the fight against special counsel Robert Mueller's investigation.
Giuliani started taking to the airwaves Wednesday and Thursday to kick-start his public defense of the president. However, during his interviews with various media outlets, Giuliani, and even Trump, appeared to have clashing stories about attorney Michael Cohen's payment to Daniels less than two weeks before the 2016 election.
Here's a timeline of what Cohen, Giuliani and Trump have said about the payment.
Cohen Comes Clean
Amid reports of a non-disclosure agreement or NDA, and payment to Daniels, Cohen confirmed he made the payment out of his own pocket in a statement to The New York Times in February.
"Neither the Trump Organization nor the Trump campaign was a party to the transaction with Ms. Clifford, and neither reimbursed me for the payment, either directly or indirectly," Cohen told The Times. "The payment to Ms. Clifford was lawful, and was not a campaign contribution or a campaign expenditure by anyone."
Trump Issues Flat Denial
While aboard Air Force One, Trump was asked by reporters on April 5 if he knew Cohen had made the payment to Daniels. It was the first time Trump had publicly spoken about the matter.
The president was specifically asked why Cohen had paid Daniels if her claims were false, to which Trump responded: "You'll have to ask Michael Cohen. Michael's my attorney."
Trump then flatly said, "No," when asked if he knew about the payment. He then stated, "No, I don't know," to a question about if he knew where the money to pay Daniels originated.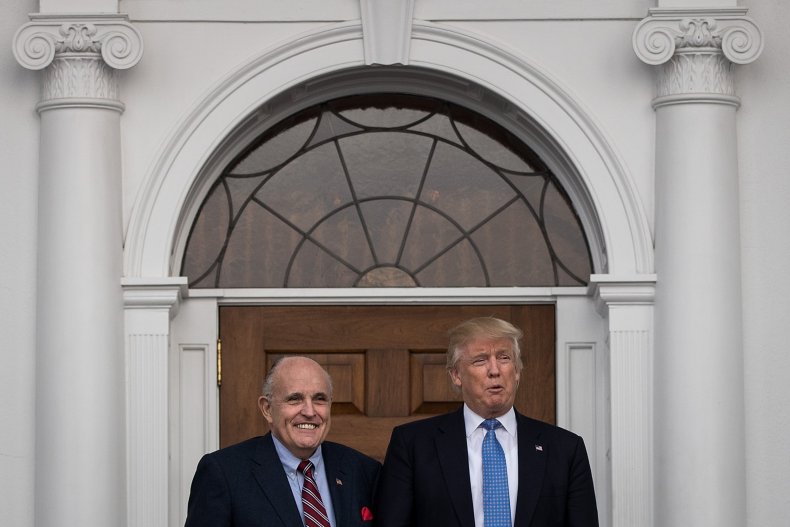 Giuliani Blows Up the Narrative on Hannity
Fast-forward to Wednesday night and Giuliani sat down with Fox News host Sean Hannity for an interview. During the talk, Giuliani confirmed that Trump had actually paid Cohen back but also stated the president did not know what the funds were for.
"The president repaid it,'' Giuliani said. He added that the president "didn't know about the specifics of it, as far as I know. But he did know the general arrangement, that Michael would take care of things like this, like I take care of things like this with my clients. I don't burden them with every single thing that comes along. These are busy people.''
Giuliani Clarifies
Giuliani then followed up with The Washington Post later Wednesday night and clarified that Trump had paid Cohen back in installments over the course of last year.
"The president was always going to make sure he got it back, and enough money to pay the taxes," Giuliani said. "There probably were other things of a personal nature that Michael took care of for which the president would have always trusted him as his lawyer. . . .and that was paid back out of the rest of the money, and Michael earned a fee out of it."
More Details
Giuliani expounded on how and when Cohen was paid by Trump in an interview with BuzzFeed News following his appearance on Hannity. He said Cohen had "complained to some people" about not being reimbursed and that Cohen and Trump had met—when exactly Giuliani said he did not know–to discuss repayment. Giuliani said Trump told Cohen, "We'll cover your expenses," and had agreed to pay Cohen $35,000 a month "out of his personal funds" for a year.
The intention, according to Giuliani, was to have "enough left over" for Cohen to profit. BuzzFeed noted that such an arrangement would mean Trump paid Cohen $420,000.
Fox & Friends
Continuing his media blitz, Giuliani then appeared on Trump's favorite morning show Fox & Friends on Thursday. During the segment, he said the payment to Daniels was not a campaign contribution and was instead an effort to "save" the Trump family and first lady Melania Trump's "reputation."
"If we had to defend this as not being a campaign contribution, I think we could do that," Giuliani said. "This was for personal reasons. This was the president had been hurt, personally, not politically, personally so much. And the first lady, by some of the false allegations, that one more false allegation, six years old. I think he was trying to help the family. For that, the man is being treated like some kind of villain. He was just being a good lawyer. And a good man."
Giuliani added: "It wasn't for the campaign; it was to save their marr—not their marriage as much as their reputation."
Yet in the same interview, Giuliani suggested that the payment helped avoid a negative story for the Trump campaign. "Imagine if that came out on October 15th, 2016, in the middle of the last debate with Hillary Clinton," he said. "Cohen made it go away. He did his job."
Trump Takes to Twitter
Around the same time that Giuliani was on Fox on Thursday morning, Trump issued three tweets in which he explained no campaign funds were used to pay Daniels and that Cohen had "received a monthly retainer." Trump also stated NDAs were "very common among celebrities and people of wealth."