Rudy Giuliani Invokes McCarthyism in Trump Defense, Forgets McCarthy's Right-Hand Man Was Trump's Mentor
Rudy Giuliani, personal attorney to President Donald Trump and the former mayor of New York City, compared impeachment inquiries to tactics used in the Salem witch trials, the Soviet Union and McCarthyism, forgetting that Trump's key mentor, Roy Cohn, was Senator Joseph McCarthy's right-hand-man.
Cohn was McCarthy's chief counsel in the 1950s and helped the senator with his aggressive investigations of suspected communists. After working with McCarthy, Cohn had a long and controversial career in New York City, where he represented Rupert Murdoch, the Catholic Church, Mafia figures and finally Trump.
In a tweet, Giuliani seemed to complain about the anonymous status of the whistleblower and other key figures in the impeachment investigation, dubbing the Democrats' use of their testimony "McCarthy II."
"Ah, the Soviet Union had trials with anonymous, unnamed witnesses. Welcome to McCarthy II," Giuliani said. "Even Salem witch trials didn't use anonymous testimony," he tweeted earlier in the thread.
It didn't take long for people to point out Cohn's connections to Trump.
"Invoking McCarthyism in defense of Trump is factually and historically ignorant," wrote author Morten Overbye in response. "Joseph McCarthy's right-hand man, Roy Cohn, was Trump's most important mentor."
According to the new documentary Where's My Roy Cohn?, Trump approached the lawyer in a New York nightclub when the Trump Organization was being sued for racist housing practices in the '70s.
In the film, Cohn recalls Trump saying, "I've spent two days with these establishment law firms, and they're all telling us, 'Give up, do this, sign a decree and all of that.' I've followed your career and you seem—you're a little bit crazy, like I am, and you stand up to the establishment. Can I come see you?"
Cohn took on the Trump suit, which was later settled, and the two men developed a professional and personal relationship. The lawyer became Trump's "hidden hand," giving the up-and-coming real estate developer advice a dozen times per day in the following years.
As Cohn started to be targeted by federal investigations for perjury, conspiracy and obstruction of justice, Trump distanced himself from the attorney. But early in his term, the president reportedly bellowed "Where's my Roy Cohn?" amid special counsel Robert Mueller's investigation, giving the new biopic its title.
Giuliani has fallen from grace in many progressives' eyes since the early 1990s. In a damning op-ed in The New York Times, a former press secretary for the ex-mayor said Giuliani's questionable dealings with Trump are disappointing former staffers.
"We were proud to live and work in the clean, safe, prosperous city that Rudy ran and that Mayor Michael Bloomberg inherited from him," Ken Frydman wrote in the Times. "'America's Mayor,' as Rudy was called after Sept. 11, is today President Trump's bumbling personal lawyer and henchman, his apologist and defender of the indefensible."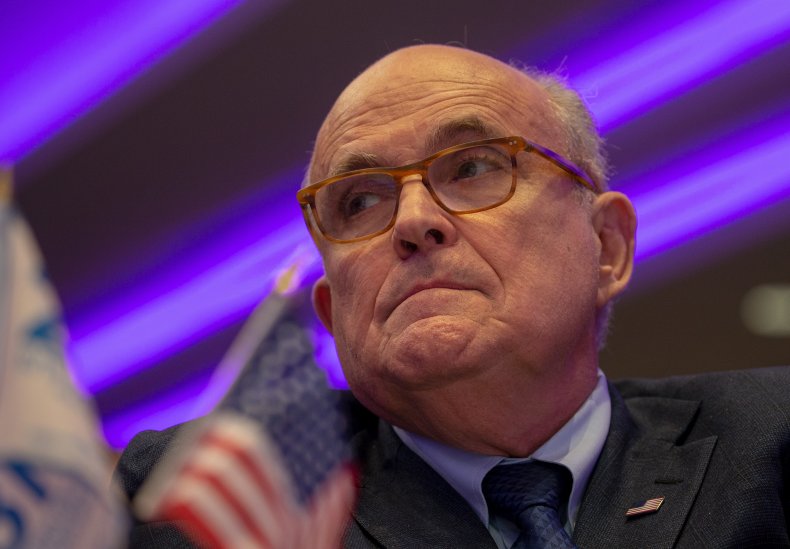 Hours after the State Department blocked a deposition by EU Ambassador Gordan Sondland, who defended Trump's "intentions" on the Ukraine call in a widely circulated text exchange with U.S. diplomat Bill Taylor, Giuliani repeated that he wouldn't cooperate with House investigators.
Senator Lindsey Graham has invited the former mayor to testify before the Senate, but Giuliani has provided mixed responses to the invitation, telling CNN he would have to deal with attorney-client privilege and telling Fox News it would be an "excellent opportunity" to review the Ukrainian evidence.
The whistleblower's complaint said Giuliani was a "central figure" in Trump's request for Ukraine to investigate Joe Biden and his son, and Giuliani has conceded as much.