Giuliani's Lawyer Had to Interject 'He's Joking' After Client Says Trump Won't Betray Him Because He Has 'Insurance'
President Donald Trump's personal lawyer, Rudy Giuliani, said in a phone interview on Thursday that the president will remain loyal to him through the impeachment inquiry, referring to "insurance" he has should the president turn on him.
"He's joking," interjected Giuliani's lawyer, Robert Costello, who was also on the call.
When Giuliani was asked a question about whether he was nervous Trump might "throw him under a bus" during the impeachment process, he responded with "I'm not, but I do have very, very good insurance, so if he does, all my hospital bills will be paid," reports The Guardian.
Giuliani laughed slightly as though it was a joke but he has been central in the impeachment proceedings, which question whether the president tried to pressure the Ukrainian government into investigating former Vice President, Joe Biden.
Giuliani has been a primary person of interest leading up to this week's first public impeachment hearing, with testimony from diplomats consistently pointing at Giuliani, who allegedly led the Trump administration's clandestine effort to pressure the Ukrainians.
The top American diplomat in Ukraine, Bill Taylor, described in testimony how one of his aides had heard Gordon Sondland, the U.S. ambassador to the EU, speaking with Trump on the phone in July.
This led to a short conversation between the aide and Sondland, where the ambassador allegedly said that Trump cared more about investigating Biden than Ukraine, something that "Giuliani was pressing for."
Last month, Sondland told Congress that U.S. diplomats had been instructed by Trump to work through Giuliani to reinforce the threat that Ukraine's access to the White House was contingent on launching investigations into his political rivals.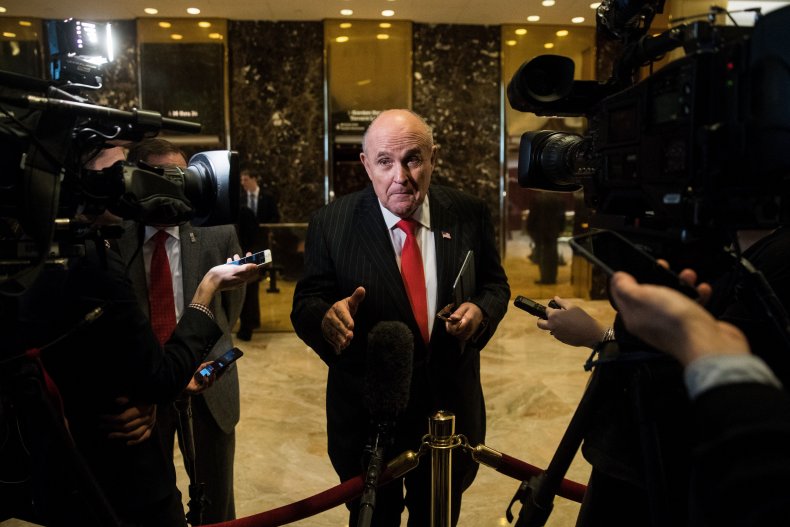 Giuliani criticized the case that Democrats had presented on the first day of impeachment hearing, saying he had no knowledge of the call.
"I'm not sure this is very solid testimony. In court we would call it hearsay, triple hearsay. It would not even be admissible," Giuliani said.
"But if you are asking me flat out had I ever heard of a conversation like that? No."
It's been speculated that Republican lawmakers may try to shield the president by pinning the blame for any alleged wrongdoing on Giuliani. In response to whether he thought Trump would remain loyal to him through so much turmoil, Giuliani said Trump was a "very loyal guy."
The former mayor's own ties to Ukraine go back to 2003. An investigation of his dealings in Ukraine revealed that Giuliani used his relationship with President Trump to expand his business ventures and gain access to high-ranking prosecutors and officials.