Give 'The Daily Show' to Jessica Williams Already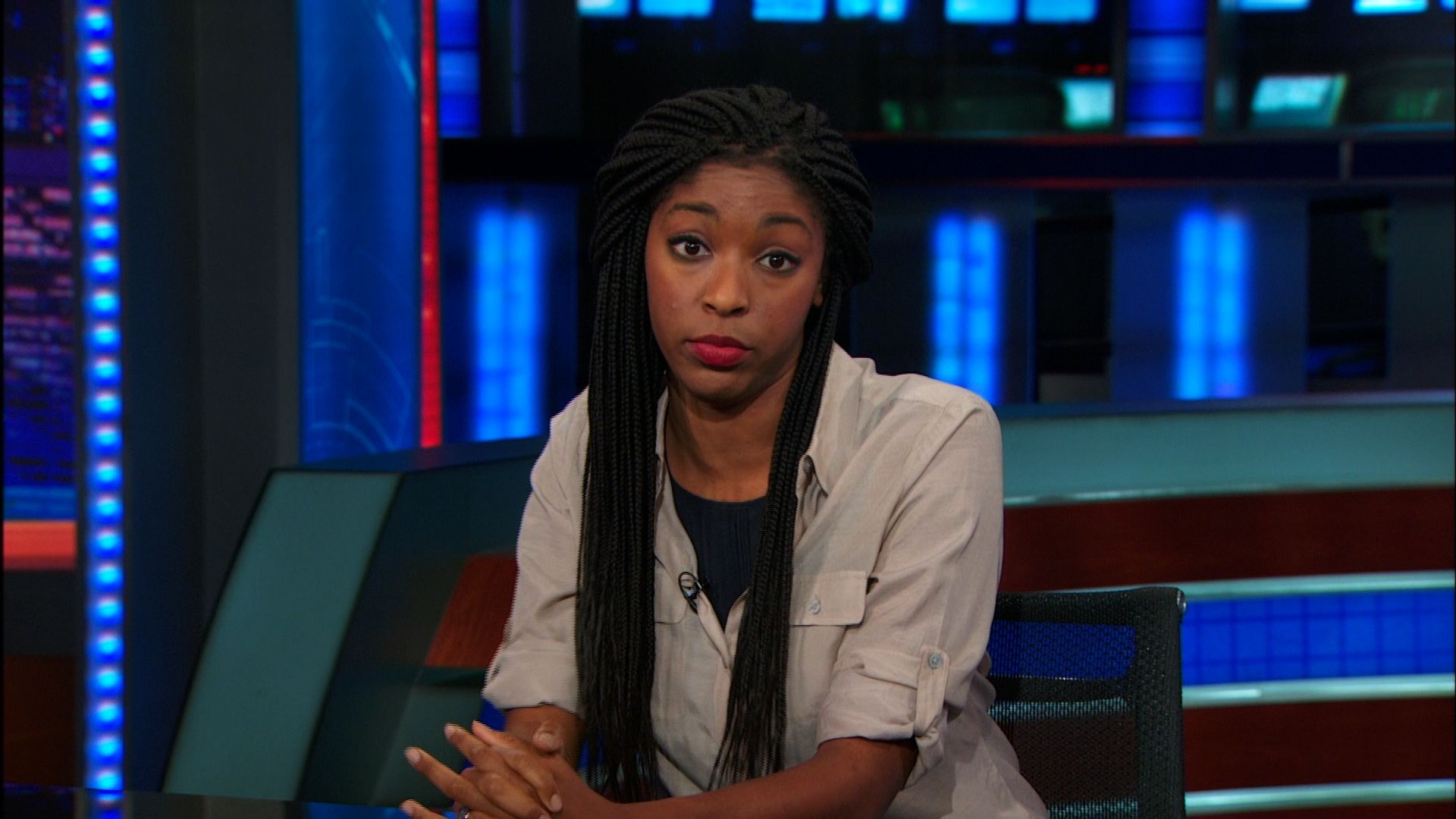 It's a daunting task, replacing a beloved television personality who has hosted Comedy Central's flagship news show longer than its younger viewers have been alive.
Except Daily Show higher-ups don't have to stray far to find Jon Stewart's replacement. Just give the show to correspondent Jessica Williams. Not because she's the most veteran contributor to the show (at 25, she obviously isn't) or has household-name recognition and experience hosting her own show (nope, of course not). Because she's the funniest—and if Comedy Central doesn't bump her up, she may well pull a John Oliver and decamp to another network.
Williams's star power has risen immeasurably since she started on The Daily Show in early 2012, becoming its youngest correspondent ever (she was 22). Her comedic talent is both outrageous and incisive, as are the inventive ways she's taken on topics ranging from the Rob Ford scandal (quite literally asking Toronto citizens if they too are on crack) to stop-and-frisk (suggesting NYPD start profiling white-collar Wall Street types).
But Williams, who has already dabbled in film with a role in the forthcoming People, Places, Things, makes an appealing replacement not because she's so much like Stewart, but because she's so different. Her sharp, aggressive comedy is the effective foil to Stewart's suspended sneer. She's fun—ruthlessly so, however serious the subject matter. Plus, she is a woman of color whose lived experiences help her to tackle the infuriating absurdities of racism and sexism (See: her brilliant segment on tips for Black Friday shopping while black) and whose presence on the show has improved The Daily Show's reputation as a boys' club. (That's not to mention the overwhelmingly white landscape of late-night television.) She's ready, and even if she weren't, neither was Jon Stewart when he took over the still-nascent show in 1999.
Guardian writer Amanda Holpuch floated the idea as early as 2013, when Daily Show heir apparent John Oliver jumped ship for the HBO deal that is now Last Week Tonight With John Oliver. "I think The Daily Show has another obvious heir to the throne: correspondent Jessica Williams," Holpuch told me then, considering the show's future. (Stewart's Daily Show exhaustion was already starting to show—he'd spent that summer on leave to direct the 2014 film Rosewater while Oliver ably filled the host seat.) "She's hilarious, a woman, and young—she started at the show [in 2012] when she was 22 and carries segments with the ease of correspondents nearly twice her age." The show could use a relatively fresh face to compete with Oliver's Last Week Tonight, and under Williams it will continue filling bloggy headlines with words like "Destroyed," "Annihilated" and "Disemboweled."
In its nearly two-decade history, The Daily Show has at its best functioned as a talent factory—for Stewart, obviously, but also for the revolving door of talented correspondents who've deservedly come to prominence under him, including Oliver, Aasif Mandvi and Samantha Bee. No contributor, though, has made a name for herself as swiftly and deservedly as Williams. Just give her the show already.