In a viral video posted earlier this week, a woman is seen refusing to leave a Washington State Papa Murphy's outlet for not wearing a mask when showing up to collect her pizza.
The footage, which has garnered thousands of views, shows a Papa Murphy's employee telling the woman without a face mask that he has the "right to refuse service to anyone."
"You don't need a mask," replied the woman at the counter. "This is the American Disability Act," continued the irate patron who claimed she is exempt from wearing a face covering.
"I have a right to my pizza!" the woman is heard shouting in the footage.
The woman, who ordered online before coming to collect her pie, continued: "I paid you, give me my pizza!"
Papa Murphy's staff reiterated: "I cannot serve you if you don't have a mask."
Papa Murphy's said in an official statement to Newsweek that it is "committed to the health of customers and to the health of our teams, and we are adhering to the CDC's recommended guidelines to discourage the spread of germs including social distancing, facial coverings, hand hygiene, and frequent store sanitation."
The pizza company also said it wanted to help local health officials and government leaders in their efforts to slow the spread of COVID-19. "As required by an order from Washington Governor Jay Inslee, businesses cannot allow customers to enter their premises without face coverings, and other accommodations can be offered for customers who cannot wear masks. For customers with medical conditions that prevent them from wearing a mask, we offer and invite them to utilize our online ordering option and request curbside delivery. Papa Murphy's team members do have the right to refuse services to customers not wearing a facial covering."
The man filming the video said: "You all should call the police."
When the woman gets too close to other customers they get agitated.
"Lady, you are too close to me, you need to back up," said the man filming.
"What Karen, what Karen?" continued the man filming as the woman puts her face directly in to the camera.
"I have a medical disability," the woman claims in a final attempt to get her food. The staff asked her to show the appropriate exemption paperwork for not wearing a mask and for her name, which she refused to provide. The employees offered to give her the pizza outside. Eventually the woman left the store.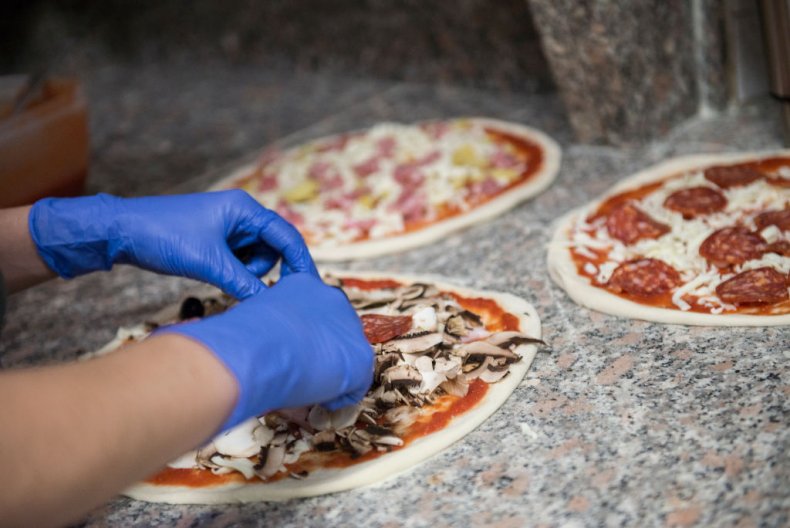 Washington State requires facemarks to be worn in "all public spaces because they are effective in slowing the spread of COVID-19, especially when combined with 6 feet of physical distance," according to the state government website.
Exemptions to the Department of Health face mask order include particular disabilities or health conditions. Those hard of hearing or who are deaf are not required to wear face masks, neither are children under the age of two. People eating in restaurants are not required to wear a face mask.
President Donald Trump pivoted away from his anti-face covering stance on Monday. He tweeted a picture of himself wearing a face mask.
"Many people say that it is Patriotic to wear a face mask when you can't socially distance," he wrote. "There is nobody more Patriotic than me, your favorite President!"
This story has been updated with a quote from Papa Murphy's