GiveSendGo Back Online After Hack, Doxxing of Freedom Convoy Donors
Funding site GiveSendGo is now back online after a reported hack leaked donor info connected to the Freedom Convoy protest in Canada.
In a Twitter post Tuesday, GiveSendGo announced that the site was back up and said that no credit card information had been leaked and no money was stolen in the hack. "GiveSendGo has a dedicated team aggressively focused on identifying these malicious actors and pursuing actions against their cybercrime," the post said.
The crowdfunding website, which describes itself as the "#1 Christian crowdfunding site," has been helping field donations for the Canadian truckers and others protesting COVID-19 mandates and restrictions across the nation. As of Tuesday afternoon, the site had raised more than $9 million of the $16 million goal.
On Sunday night, Daily Dot reporter Mikael Thalen tweeted that the the site was redirecting to the domain GiveSendGone[.]wtf. Users were then shown a video from the Disney film Frozen as a statement criticizing GiveSendGo and the Freedom Convoy scrolled over it, Newsweek reported.
Later, the website displayed a blank white page that said, "Application under maintenance we will be back very soon."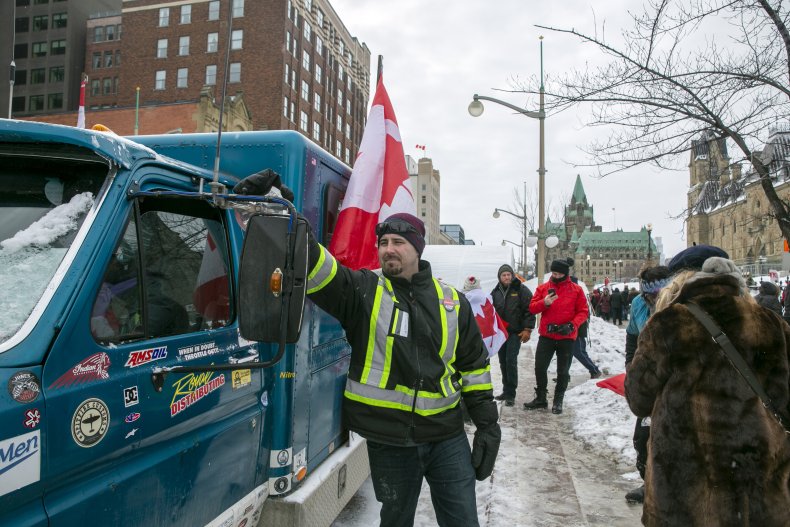 In the Twitter post on Tuesday, GiveSendGo said that their security team "immediately shut down the site to prevent further illegal actions against our site" after the hack.
"We have also performed many security audits to ensure the security of the site before bringing the site back online," the post added.
GiveSendGo did not specify in the post exactly how much donor information had been leaked, but the company did say that there was a "broadcasted breach showing one such actor illegally hacking into GiveSendGo and distributing the names and emails of the donors of the Freedom Convoy campaign." It also said that the "malicious actors" had attempted to prevent site users from being able to raise funds.
"We are in a battle. We didn't expect it to be easy. This has not caused us to be afraid. Instead, it's made it even more evident that we cannot back down," the post said.
Distributed Denial of Secrets, a site that distributes leaked data, said it was given 30 megabytes of donor information that included including names, email addresses, ZIP codes and internet protocol addresses, Reuters reported.
The Verge reported that a copy of the data it obtained contained about 93,000 entries that included names, email addresses, ZIP codes and country or origin. Some of the email addresses came from domains that ended in ".gov," which refers to a government entity.
The U.S. accounted for more than half the donor country entries, the Verge reported.
Newsweek has reached out to GiveSendGo for comment.
Update 2/15/22, 1:10 p.m. ET: This story has been updated with additional information and background.