GiveSendGo Risks Breaking Anti-Terrorism Laws by Funding Truckers' Protests
The crowdfunding website GiveSendGo could reportedly be charged under Canada's federal laws—now that the government has enacted the Emergencies Act—for funding "terrorist groups" should the platform continue to raise money for trucker protesters in the Freedom Convoy.
Billing itself as "the number one Christian crowdfunding site," GiveSendGo has reportedly provided more than 8 million Canadian dollars to anti-vaccine mandate protesters across Canada through their website's fundraiser.
However, problems could be on the horizon for the platform now that Canadian Prime Minister Justin Trudeau has enacted Canada's Emergencies Act for the first time in the country's history. This unprecedented move allows federal officials to use widespread powers in dealing with the protesters.
These emergency powers, which grant police more tools to restore order, range from freezing the bank accounts of protest organizers to levying a number of fines, as well as halting any non-peaceful protests or gatherings.
One particular provision of the Emergencies Act could have ramifications for GiveSendGo.
During a Monday press conference, Finance Minister Chrystia Freeland said the act would expand the country's money-laundering and terrorist financing laws to include crowdfunding platforms, like GiveSendGo, and cryptocurrency transactions.
"The illegal blockades have highlighted the fact that crowdfunding platforms and some of the payment service providers they use are not fully captured under the Proceeds of Crime and Terrorist Financing Act," Freeland said.
Freeland said that under the act, crowdfunding platforms must register with the nation's financial intelligence agency, the Financial Transactions and Reports Analysis Centre of Canada, and report large and suspicious transactions to FINTRAC. The order will cover both personal and corporate accounts.
"We are making these changes because we know that these platforms are being used to support illegal blockades and illegal activity which is damaging the Canadian economy," she said.
"It's all about following the money," Freeland added.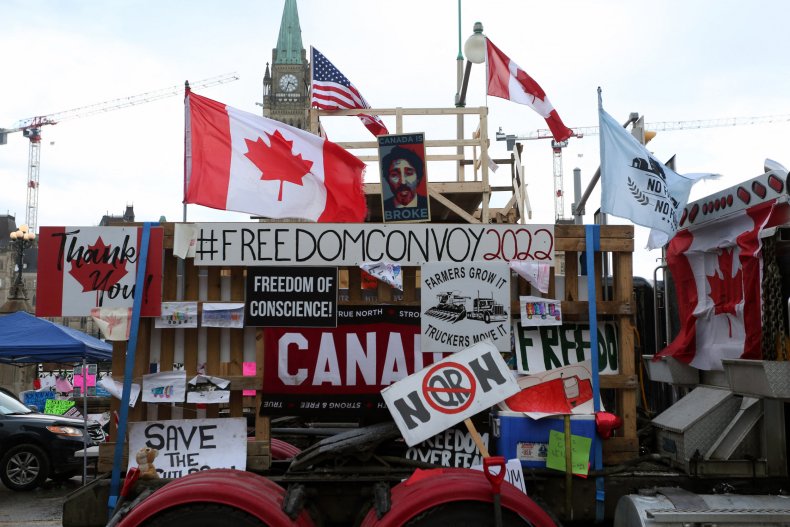 Trudeau took drastic action weeks after protesters across Canada flooded Ottawa and blocked off several border crossings into the U.S., including the Ambassador Bridge in Windsor, Ontario—a key supply link between the two countries.
While provincial officials have made moves to allow police to forcibly remove protesters who are illegally blocking the border, the escalating situation has prompted the prime minister to step in and enact federal powers.
"It is no longer a lawful protest at a disagreement over government policy. It is now an illegal occupation. It's time for people to go home," he said.
Although it is unclear if the order would be used against GiveSendGo, Trudeau has stated that the Emergencies Act will be geographically targeted and will "be used sparingly and as a last resort."
Under the country's criminal code, "it is an offense to knowingly deal with any property or provide or facilitate any financial or related service for any terrorist activity or any terrorist group or 'listed person,'" according to the Toronto-based law firm Osler, Hoskin & Harcourt.
The offense can apply to any person or business, but because Canada's money-laundering and terrorist laws are also contained under the Proceeds of Crime (Money Laundering) and Terrorist Financing Act, "reporting entities" could also be subject to comply.
These entities include financial institutions, credit unions, insurance companies and foreign exchange dealers among others, with crowdfunding platforms now being added to that list under the Emergencies Act.
While these powers had never been enacted before Monday, Trudeau's father, Pierre Elliot Trudeau, used a similar set of laws to declare a state of emergency when he was prime minister in 1970, when militant Quebec separatists kidnapped a British diplomat and a provincial Cabinet minister.
GiveSendGo does not appear to have responded to the implementation of the Emergencies Act. However, in a tweet this past Thursday, the group stated, "Canada has absolutely ZERO jurisdiction over how we manage our funds here at GiveSendGo. All funds for EVERY campaign on GiveSendGo flow directly to the recipients of those campaigns, not least of which is The Freedom Convoy campaign."
The Canadian protesters, meanwhile, have stated that they will not disperse until all COVID restrictions in the country have been lifted.
This is not the first time GiveSendGo has made headlines for fundraising for the Freedom Convoy.
Earlier this week, the platform was possibly hacked by purported counterprotesters, who released the names and information of numerous donors that had contributed to the fundraiser.
A screenshot of the hacked website obtained by The Washington Post reportedly stated: "GiveSendGo has a history of providing a platform for individuals and organized groups to fund hate groups, promote disinformation and insurrection disguised as 'protests'...most of their larger campaigns are, in some way, a continuing threat to democracy."
This caused the GiveSendGo website to go offline. The site went back up on Tuesday morning.
Newsweek has reached out to GiveSendGo for comment, as well as two Canada-based anti-terrorism think tanks: The Mackenzie Institute for the Study of Terrorism and the Canadian Network for Research on Terrorism, Security, and Society.