New York City's police commissioner on Tuesday hailed a fatally shot officer as a three-time hero for having agreed to donate his organs to help the living.
The officer, Wilbert Mora, died Tuesday after being severely wounded by gunfire during an ambush in Harlem on Friday that killed fellow officer Jason Rivera. Both officers were rushed to Harlem Hospital after the shooting. Rivera died on Friday.
New York City Police Commissioner Keechant Sewell took to Twitter to announce Mora's death.
"Wilbert is 3 times a hero," wrote Sewell. "For choosing a life of service. For sacrificing his life to protect others. For giving life even in death through organ donation. Our heads are bowed & our hearts are heavy."
Mora's donated organs are in high demand. There are currently 106,600 men, women and children on a national transplant waiting list, according to the Health Resources and Services Administration. Each day, 17 people die waiting for an organ transplant.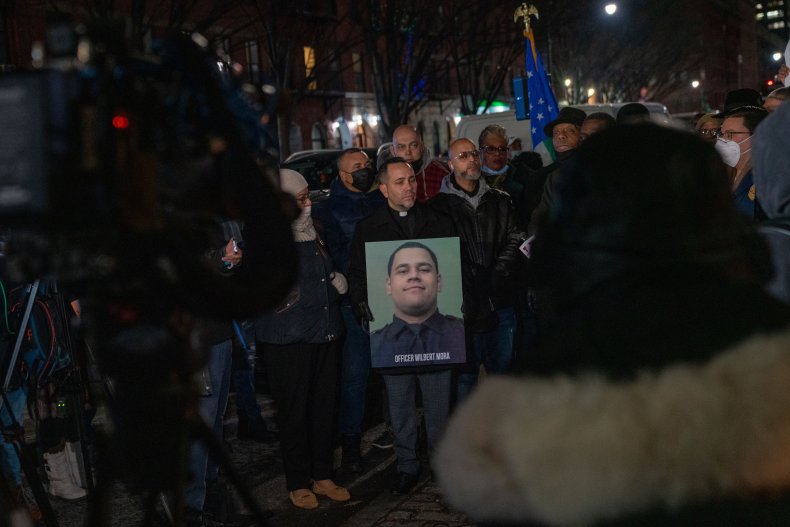 In the New York metropolitan area, there are 7,587 people on a waiting list and nearly 9,000 for the entire state, according to LiveOnNY, the organization that handles organ procurement for the region.
"LiveOnNY expresses our deepest condolences to the Mora family and the NYPD," the organization said on Twitter Tuesday. "We are honored to have worked with the Mora family to help their loved one give the gift of life."
The fatal shooting occurred after three officers responded to a service call related to a domestic dispute between a mother and her son in an apartment. After officers entered the apartment, LaShawn McNeil emerged from a back bedroom and opened fire using a .45-caliber Glock handgun on the officers, according to police.
Both Mora, 27, and Rivera, 22, were struck by the gunfire. The third officer returned fire, killing McNeil, according to police.
New York Mayor Eric Adams had earlier ordered flags to be flown at half-mast out of respect for Rivera. He marked the news of Mora's death by ordering flags to remain at half-mast.
"To his family, loved ones, and brothers and sisters in the NYPD: Your city is standing with you today and always," Adams said on Twitter.
Following the shooting on Friday, Adams said at a press conference that firearms were still making their way into New York City despite having some of the country's strictest gun laws.
Adams on Monday released his "Blueprint to End Gun Violence." The plan calls on police to "fight crime with targeted, precision policing that removes guns from our streets," while expanding the Crisis Management System, which seeks to mediate street conflicts before they become violent.