Giving Tuesday 2019: What is Giving Tuesday, When is Giving Tuesday, Donation Matches by Facebook, PayPal, Lush and More
Today (December 3) is Giving Tuesday, which brings together people across the world to donate to nonprofits and charitable causes. Newsweek has rounded up the ways that Americans can make their donations go further.
What is Giving Tuesday?
According to GivingTuesday.org, the day was created in 2012 as a way to encourage people to do something good. Each year, nonprofits, small businesses, brands, schools and religious organizations in the U.S. and across the world participate in the day, either through donation incentives or through local community chapters.
Companies Participating in Giving Tuesday 2019
Facebook: The technology company is matching up to $7 million in eligible donations made on its social network during Giving Tuesday. Users can start a fundraiser or donate to a nonprofit that they care about.
Facebook's match for GivingTuesday 2019 begins at 8:00 a.m. ET / 5:00 a.m. PT on Tuesday, December 3, 2019. Terms and conditions apply such as:
Donations are matched dollar for dollar on a first-come, first-served basis until $7,000,000 in eligible donations are made on Facebook
Any U.S-based 501(c)(3) nonprofit eligible to receive donations on Facebook can be matched
Facebook will match up to a total of $100,000 per nonprofit organization
Each donor can have up to $20,000 in eligible donations matched on GivingTuesday
Facebook covers processing fees so that when users donate using Facebook's payments platform to a nonprofit organization, 100 percent of the donation goes to support the cause
Lush Cosmetics: On Giving Tuesday, the company is matching all purchases (up to $150,000) to have double the impact on its Charity Pot Lotion, the company told Newsweek. The first $150,000 from the sale of the lotion will be added to its Charity Pot fund to be given to grassroots organizations working to support environmental justice, human rights and animal protection.
The second $150,000 being matched by Lush will be distributed to five charities working towards climate action including Retreet, The Sunrise Movement, Aliados, Climate Action Network Canada and Amazon Watch.
T-Mobile: The mobile network is asking customers, employees and fans to help donate up to five million meals to people in need through Feeding America. According to the company, T-Mobile customers can give up to five meals by saving any of the deals in the T-Mobile Tuesdays app on December 3. For every deal saved, T-Mobile will donate a meal to the charity. Further, every time anyone tweets with #GivingOnUs, T-Mobile will contribute 10 meals to Feeding America.
Paypal: According to GivingTuesday.org, the company will add 10 percent up to a total of $600,000 when their customers support the causes that are part of the Paypal Giving Fund starting at 6:00 a.m. local time on December 3.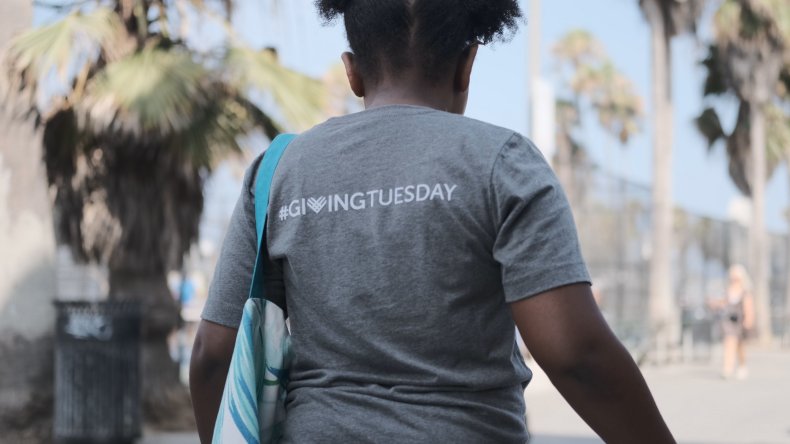 Nike: In collaboration with KhloeKares, Nike is hosting an in-store experience at its LA Pico store. Customers can pack Kare Bags, filled with toiletry items and personal messages, which will be distributed to clients of LA Mission.
eBay: The online marketplace will place $1 in a "#HolidayJargon Jar" every time a major brand uses a holiday buzzword in its Twitter posts, and then donate the money to charity, according to GivingTuesday.org. The cap on the total is $50,000.
Fossil: The brand is encouraging fans to Make Time for Good by completing challenges and sharing on social media. Fossil will donate $1 to DoSomething for every #MakeTimeForGood post, according to GivingTuesday.org.