What is Giving Tuesday? How to Celebrate and Take Part
After some have spent days on holiday shopping or treating themselves to the deals from stores with Black Friday and Cyber Monday discounts, Tuesday marked the seventh annual Day of Giving.
The day is always celebrated on the Tuesday after Thanksgiving in the United States and it's a day for giving back in whatever way individuals can. The day is an effort to encourage those to donate their time, money, resources and more to their communities to help give back.
"#GivingTuesday is a global day of giving fueled by the power of social media and collaboration," the organization says. The day is popular on social media and likely filled the feeds of many people Tuesday morning when they opened their preferred social media.
The day is celebrated internationally though and is meant to begin a season of giving around the holidays and as the end of the year approaches. Last year more than $300 million was raised online alone in more than 150 countries.
But it's about more than donations in the form of money. "This November 27, join the movement and give - whether it's some of your time, a donation, gift or the power of your voice in your local community," said the website.
There are events around the day as well and those looking to get involved can find organizations and nonprofits that are taking part in the day on the Giving Tuesday website. Those looking to be involved can search their city and state to find the organizations participating Tuesday.
Celebrities and companies often agree to match the donations made during Giving Tuesday up to a certain amount to offer an incentive for those debating whether they want to give.
Facebook is going to match all the donations made on the social media platform Tuesday up to $7 million to 501(c)(3) nonprofits. As long as the money is donated to a U.S. nonprofit on the platform Facebook will match it and won't take any cut of the money, according to its donation information site. In 2017 there was $45 million shared and more than 470,000 donations made in all. Those who wish to participate should check the Facebook donation website for more information.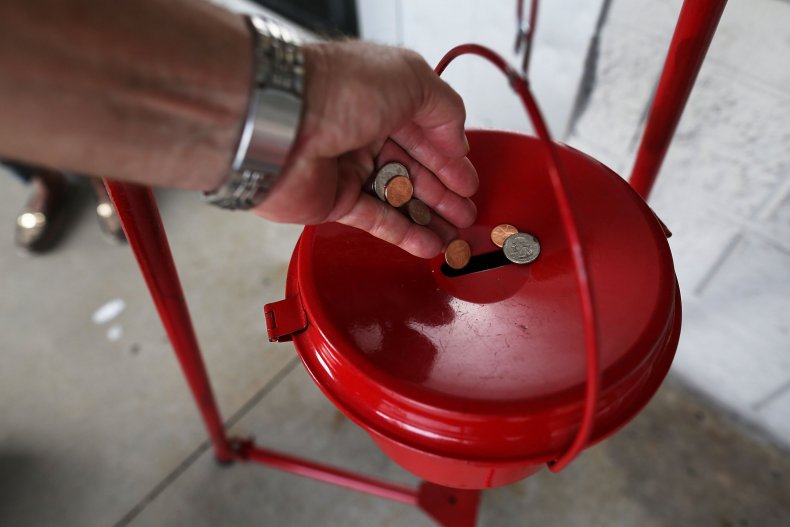 What is Giving Tuesday? How to Celebrate and Take Part | U.S.