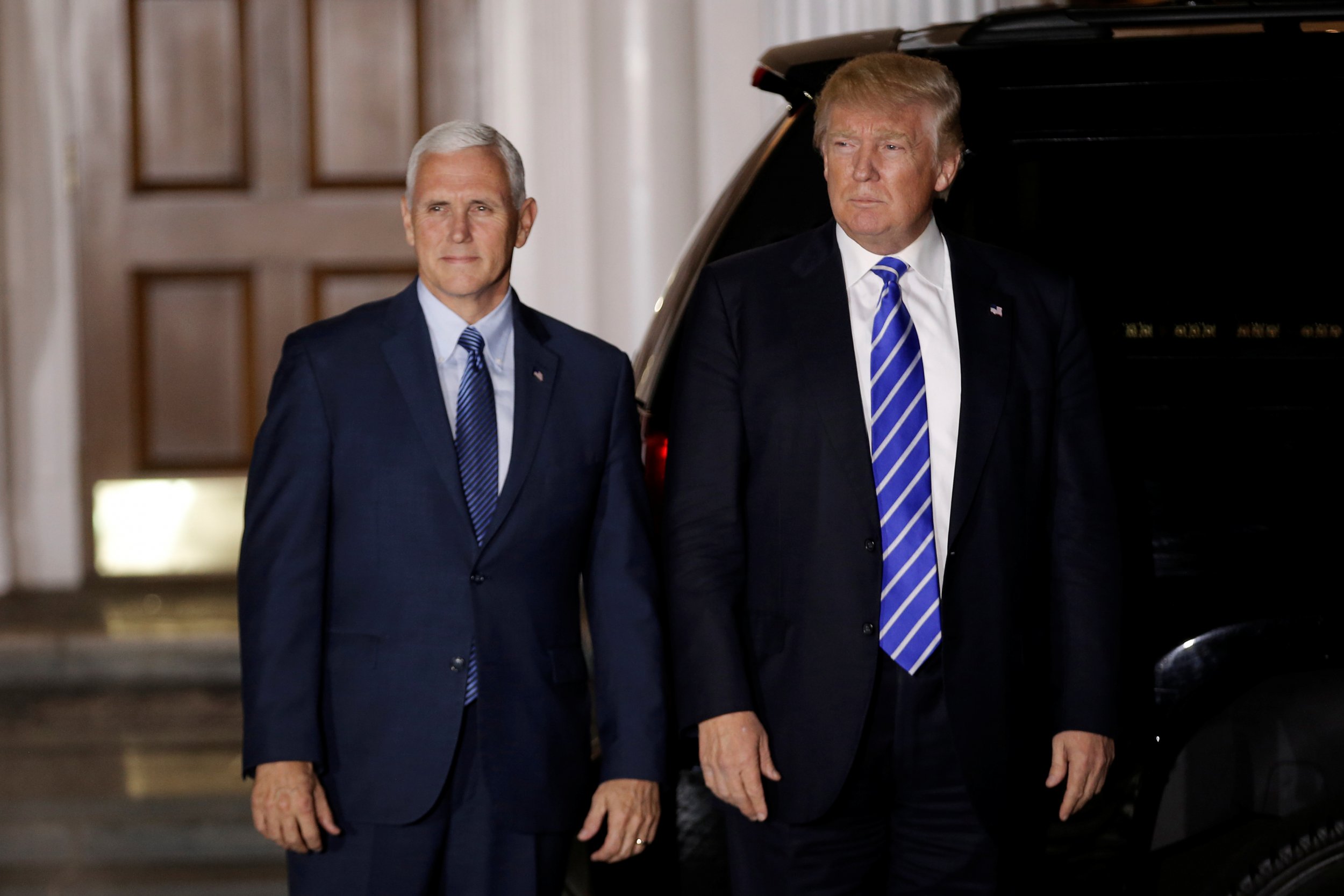 GLAAD has launched a new "Trump Accountability Project," the nonprofit announced on Thursday. An ongoing effort, it will track the discriminatory and hateful statements and stances of President-elect Donald Trump and others selected, or being considered for, roles in his administration. Though GLAAD is an LGBTQ media advocacy organization, it will catalog not only anti-LGBTQ remarks, but also comments targeting women, immigrants, Muslims and other communities and ideas.
"I think we're in a different place. We have an LGBTQ community, among other communities, that feel that we are living in a new America," Sarah Kate Ellis, the president and CEO of GLAAD, tells Newsweek. "We have had quite a bit of progress over the past years, and there are concerns that some of the progress is going to be rolled back." The project is "an opportunity to shine a light on what is being said and how it could affect the progress that we've made."
Related: LGBT hotlines report spike in calls after Trump win
The Trump Accountability Project was conceived in the immediate aftermath of the election and cemented after Trump's 60 Minutes interview, in which he made statements on LGBTQ issues that differed from things he had said in the past, Ellis says. "We convened and decided that as we started to see possible cabinet members and people that were surrounding Donald Trump," she says, "We realized that we really needed to create a resource for the media that allowed them to understand where these people actually stood."
The project website already includes pages about Trump as well as Vice President-elect Mike Pence; Steve Bannon, who will be Trump's chief strategist; future chief of staff Reince Priebus; Betsy DeVos, Trump's nominee for secretary of education; attorney general nominee Jeff Sessions; and others. Trump's page, for example, is comprised of sections titled "on LGBTQ equality," "on race/religion/national origin," "a history of attacking women," "on climate change," "on civil liberties" and "on vaccinations."
Related: The people and organizations denouncing Stephen Bannon
These include entries like:
Compared gay people to golfers who use "unattractive" putters: "It's like in golf," he said. "A lot of people—I don't want this to sound trivial—but a lot of people are switching to these really long putters, very unattractive," said Trump. "It's weird. You see these great players with these really long putters, because they can't sink three-footers anymore. And, I hate it. I am a traditionalist. I have so many fabulous friends who happen to be gay, but I am a traditionalist."

Said of Mexican immigrants: "When Mexico sends its people, they're not sending the best. They're not sending you, they're sending people that have lots of problems and they're bringing those problems with us. They're bringing drugs. They're bringing crime. They're rapists… And some, I assume, are good people."

Tweeted: "If Hillary Clinton can't satisfy her husband what makes her think she can satisfy America?"

Claimed: "The concept of global warming was created by and for the Chinese in order to make U.S. manufacturing non-competitive."

Suggested Americans who burn a flag should serve a year in jail and/or lose their citizenship

Claimed: "Healthy young child goes to doctor, gets pumped with massive shot of many vaccines, doesn't feel good and changes - AUTISM. Many such cases!"
"What's really interesting about this is this is all material created by the people we're reporting on," Ellis says. "This is what they're saying in interviews, what they're tweeting out, whatever it might be, whatever forum or platform they might use."
The project is meant to serve as a resource for journalists and other members of the media, but the simple, readable web pages seem to be designed with a broader audience in mind. Ellis confirms that as the project grows, GLAAD will be turning more to social media and other avenues to provide information directly the public.
TAP is based on the "Commentator Accountability Project," which GLAAD launched in March 2012. The previous effort focused on identifying anti-LGBT activists and putting their remarks in context. Accountability, GLAAD noted in its announcement of CAP nearly five years ago, "does not necessarily mean keeping these people out of the media. But if a reporter is interviewing someone who insinuates that his or her political opponent is controlled by the devil, it's the reporter's journalistic responsibility to put that person's opinion in perspective."
In other words, the project was about pointing out, and subsequently helping, the media to point out, the biases of certain commentators and to put into context any remarks they might offer. The Trump Accountability Project transposes that format onto the President-elect and members of his incoming administration and expands on it to log hate and bias related to a whole slew of categories and communities.
Related: Muslim-American leaders react to Donald Trump's election
TAP is the first project to launch out of a "rapid-response newsroom" GLAAD plans to build and staff in the coming months, Ellis explains. The new team will add and update pages in real time as additional roles in the administration are filled and later when Supreme Court nominees are discussed and confirmed. Another function of this newsroom, Ellis says, will be to track anti-LGBTQ bills on the federal and state levels to help local media report on these developments.
"First and foremost the thing I woke up thinking about on November 9 were our youth and the message that this sent, especially to LGBTQ youth," Ellis says. "And what a different culture and America we woke up in."
Like the media organizations for which it provides resources, GLAAD will have to adapt to this new America and build on the organization's current set of tools and methods to pursue its mission.
"For us it's going to be a lot about holding the media accountable, which is our lane," says Ellis. It's important for GLAAD to work not only with national media, but also "at the hyper local level in small towns across the country, so that the true stories of LGBTQ people are being told and therefore hearts and minds are being changed," Ellis adds. "That's our job. It's just that now with this administration coming into power, it's going to be a bigger job."
Read more from Newsweek.com:
- Trump transition: President-elect celebrates Carrier job-saving deal
- Trump transition: Steve Mnuchin, Wilbur Ross, Elaine Chao picked for Cabinet
- Newsweek's Foreign Service: Women in Trump's America
- Susan Rice reviews LGBT progress at home and abroad under Obama