See The Northern Lights From a Hotel Built on the Edge of a Glacier
Jutting out over the Holandsfjorden fjord, Norway's Svart Hotel is being billed as a paragon of sustainability and cutting-edge design.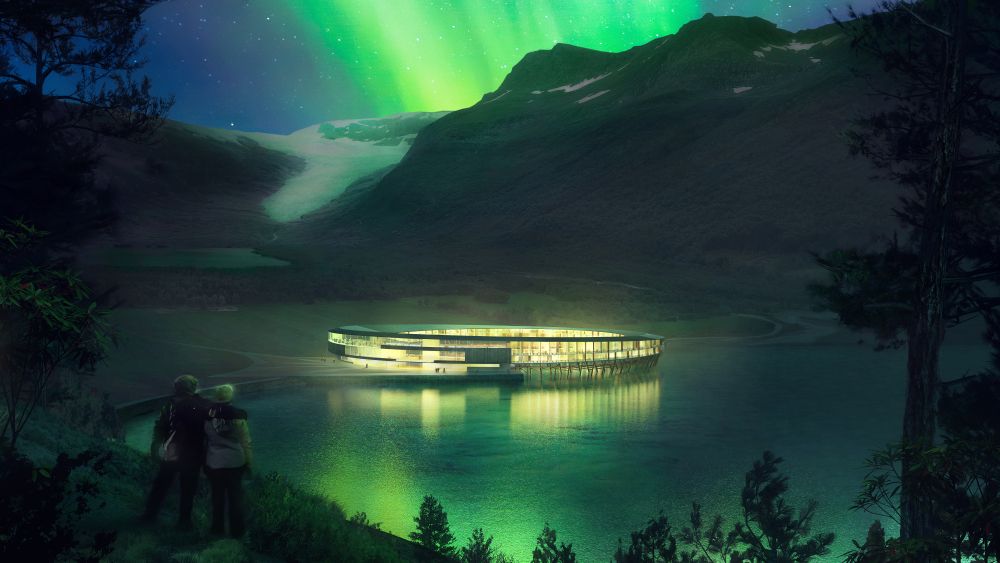 A new hotel under construction in Norway will offer guests staggering 360-degree views of the Northern Lights.
Slated to open in 2021, the ring-shaped Svart Hotel is only accessibly by sea and will partly rest on stilts jutting out of the Holandsfjorden fjord, at the base of the Svartisen glacier. (Svart means "black" in Norwegian—a reference to the glacier's dark-blue ice.)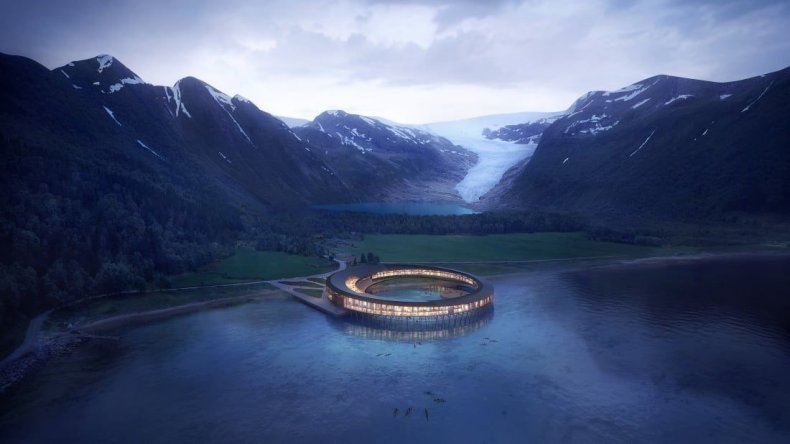 A collaboration between Arctic Adventure of Norway and architecture firm Snøhetta, the unique venue combines pioneering sustainability, cutting-edge design and traditional Norwegian culture. The shape, for example, was inspired by the rorbu cabins used by local fishermen and fiskehjell, A-shaped huts used to dry fish.
Developers promise Svart will be entirely sustainable and energy efficient, the first "energy positive" hotel above the Arctic Circle: It will consume 85 percent less energy than comparable hotels but, over the course of several decades, will actually generate more energy (via solar panels and geothermal wells) than it took to build and operate.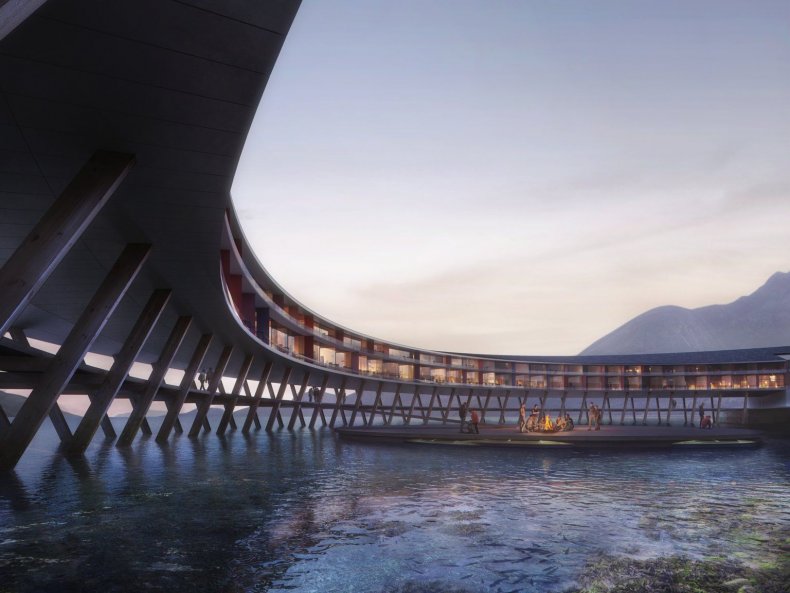 Architectural elements will help keep energy costs low: Terraces outside guests' rooms will provide shade when the sun is high, reducing the need for air conditioning. And during the arctic winters, the angled windows will trap low sun rays and keep the building naturally warm.
"Building in such a precious environment comes with some clear obligations in terms of preserving the natural beauty and the fauna and flora of the site," Snøhetta's Kjetil Trædal Thorsen said in 2018. "It was important for us to design a sustainable building that will leave a minimal environmental footprint on this beautiful Northern nature."
Not surprisingly, there's also an emphasis on experiencing nature, with hiking, ice-climbing, night-fishing, excursions to see the watching Aurora Borealis and "yoga in the midnight sun," according to the Svart website. (Guests will also able to launch kayaks from a deck under the hotel rooms.) A platform running through the support poles will serve as a boardwalk in the summer and boat storage in winter.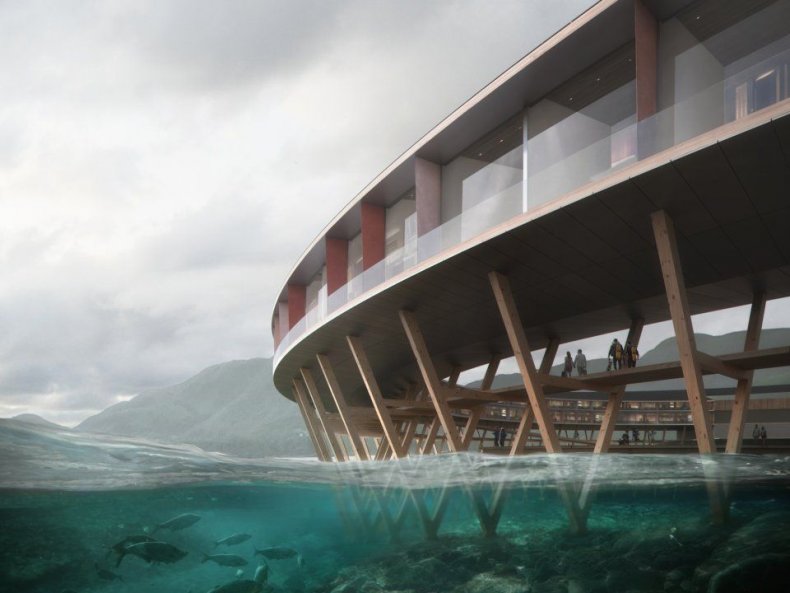 Hotelier Adrian Zecha, who will operate Svart with fellow industry veteran Jonathan Breene, says he was attracted by "the integrity of the design honoring the site through innovation, the use of traditional building characteristics and the true passion to create something spectacular."
The venture comes at a time when Northern Europe is seeing the effects of climage change first-hand, with ancient glaciers shrinking at an alarming pace. "Building an energy positive and low-impact hotel is an essential factor to create a sustainable tourist destination respecting the unique features of the [area]," Thorsen added, "the rare plant species, the clean waters and the blue ice of the Svartisen glacier."