Glamping: Camping on the Ritz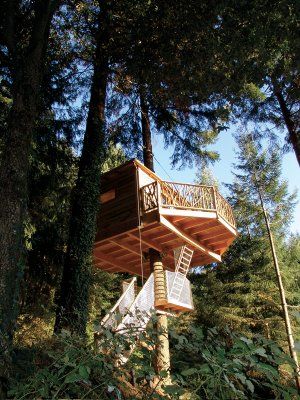 It's not easy luring the safari crowd to spots where luxury hotels are rarely on offer. Enter glamorous camping—called "glamping" by some—which has been a cornerstone of the African safari circuit since the turn of the century. Five-star tent accommodations set the standard with raised floors, in-tent bathrooms, and gourmet meals to take the edge off traditional camping—and protect visitors from hungry animals and poisonous reptiles and insects.
Now the trend is spreading all the way to upstate New York, where adventurous travelers can rent a re-tooled Airstream designed by Kate Pierson from the B-52s, and Europe, where high-end campsites featuring tepees, yurts, and even treehouses are popping up in the most unusual locations.
Treehouses in Spain
You don't have to be a tree hugger to sleep in these houses set high among Douglas-fir and beech trees, but it helps. In-house champagne and a bird's-eye view over the Catalan forest make up for the lack of running water.
cabanesalsarbres.com
Yurts in Portugal
Ecofriendly types can hunker down in the Algarve in a felt-and-canvas Mongolian tent, complete with an open roof and wood-burning stove. If the yurt is booked—or you require a kitchenette—head to the old-fashioned gypsy van.
eco-lodgebrejeira.com