'Glamping' COVID Trend Prices Out Tent Campers at National Park: Officials
Community leaders in the Richmondshire district of England are raising an alarm about "glamping" sites in the Yorkshire Dales National Park. They said the luxury developments are pricing out tent campers and less affluent visitors, threatening a tradition of accessibility to the historic attraction.
An international glamping trend exploded during the pandemic, with people seeking fresh air, physical distance and stress relief as the world shut down. The outdoor travel industry continued to grow in 2021, and companies have competed to provide luxurious amenities, unique experiences and the most souped-up version of camping. Alyssa Ravasio, founder of the U.S. outdoor stay marketplace HipCamp, told Travel Weekly: "We are now in the position where we need to create the supply as the bookings come in."
In a meeting between planning committee members for the Yorkshire Dales National Park Authority, chair John Amsden said that the staycation fad in England had produced a similar effect on Yorkshire Dales, according to The Guardian. "Camping sites have changed from being camping sites," he said, "they are more like holiday parks."
Amsden said that pandemic demand led to a significant increase in applications for lodges and glamping sites. Since the owners of Bainbridge Ings in Yorkshire Dales National Park made a higher profit margin by building luxury developments, campsites meant for tents were disappearing.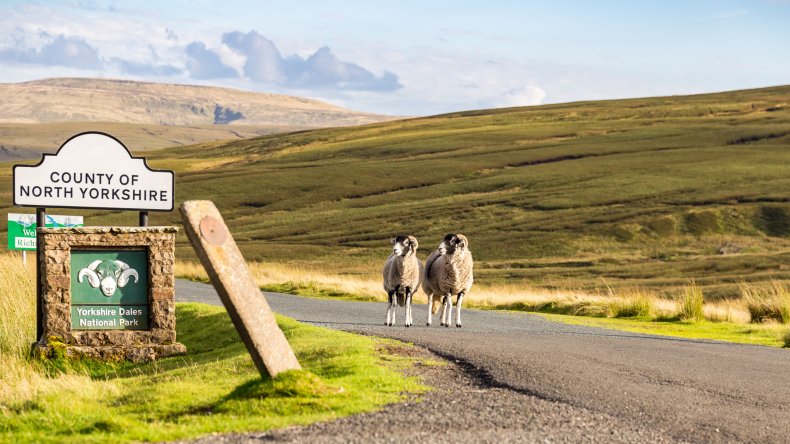 One quarter of Bainbridge Ings—a historic site in Yorkshire Dales—had been designated for tents only, according to the planning committee. Officials had turned down an application to allow caravans and mobile homes in that area. But when the committee examined aerial photographs of the park from 2021, they were dismayed to see that the site's owner had extensively developed the tent-only field, installing tracks for mobile homes.
Bainbridge Ings owner David Khan disputed these allegations, telling Newsweek, "Nothing I have done on my site conflicts with the local plan."
But planning enforcement officer Ian Faircloth claimed that he could not find a single tent in the area when he visited in person. "There is a sign that reads 'no tents allowed on site,'" he said in the meeting.
Committee members also worried that demand for glamping may subside as international travel rebounded, leaving behind empty eyesores in the landscape and high-investment sites that had priced themselves out of the market. "I can see them in five years' time becoming derelict," Amsden said.
Amsden also expressed that camping in tents was an important cultural experience for young people like his daughter, who could go on camping trips because of the low cost.
The planning committee agreed to launch enforcement action against campsite owners for unauthorized changes in the park.
Update 03/02/22, 9:30 a.m. ET: This story has been updated with a comment from Bainbridge Ings owner David Khan.