15-Year-Old Brought Up On Stage Stuns Glastonbury Crowd With Flawless Rap
When UK rapper Dave asked if anyone knew the words to 'Thiago Silva,' superfan Alex Mann knew it was his moment to shine.
Alex Mann lived a rap fan's dream this weekend: Mann, 15, was at the Glastonbury Festival in Somerset, England, when UK rapper Dave pulled him on stage to help perform his 2016 track "Thiago Silva."
Before a crowd of tens of thousands, Mann rapped the song's rapid-fire lyrics perfectly.
Dave's collaboration with AJ Tracey about Paris Saint-Germain soccer star Thiago Silva was released in 2016. On Sunday, he asked if anyone was "sober enough to be able to sing these lyrics along with me."
Standing near the front of the stage Mann, clad in a Thiago Silva jersey, got his attention and was brought up on stage. While Dave (a.k.a. David Orobosa Omoregie) probably expected to do most of the work, Mann quickly proved he had skills, rapping the lyrics flawlessly as the crowd chanted his name.
"I thought he might be joking so I thought I'd better get up as quickly as possible," he told The Guardian. "I'm not sure what was going through my head. I was so nervous. I thought: 'What if I mess up?' But then I went on stage and performed and it felt so good."
The teen said the 21-year-old hip-hop star was very supportive: "When I was on stage, he looked at me and said that if I got stuck and didn't know the lyrics I could look him in the eyes and he would help."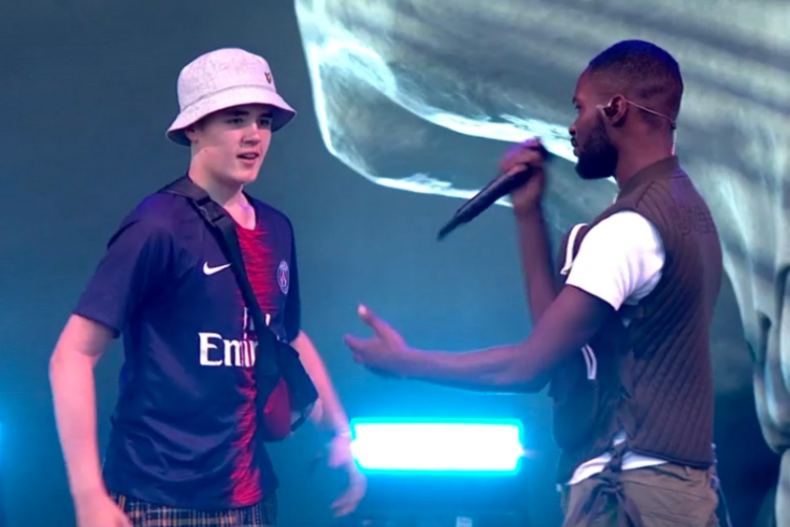 But Mann didn't need the assist.
"I've listened to the song plenty of times, to be fair, but I was worried when I went on stage. I didn't think I would know all the lyrics but I did."
Mann was also surprised how much love the crowd gave him: "I walked off stage and the security guards took me back down and it was just amazing. The way security brought me back down was in front of everyone and I was walking past people who were screaming my name. I had the best time of my life."
Not bad for the 15-year-old's first time at Glastonbury.
A clip of Mann's performance went viral on Twitter, and has been shared over 42,000 times to date. One of those shares came from Silva himself—shocking Dave, who jokingly tweeted he could quit the business after Thiago Silva recognized his song.
The 34-year-old Brazilian center back asked fans to help him find Mann, who replied to his tweet an hour later.
Mann told The Guardian he hasn't spoken to Silva yet, as they're in different time zones: "I'm not really sure what I will say to him. I really like him as a player, so I'll probably just say that."
Dave has also kept in touch with Mann, offering assistance if the teen felt overwhelmed by all the attention.