Glastonbury Supports Embattled British Steel Industry With Stainless Steel Pint Cup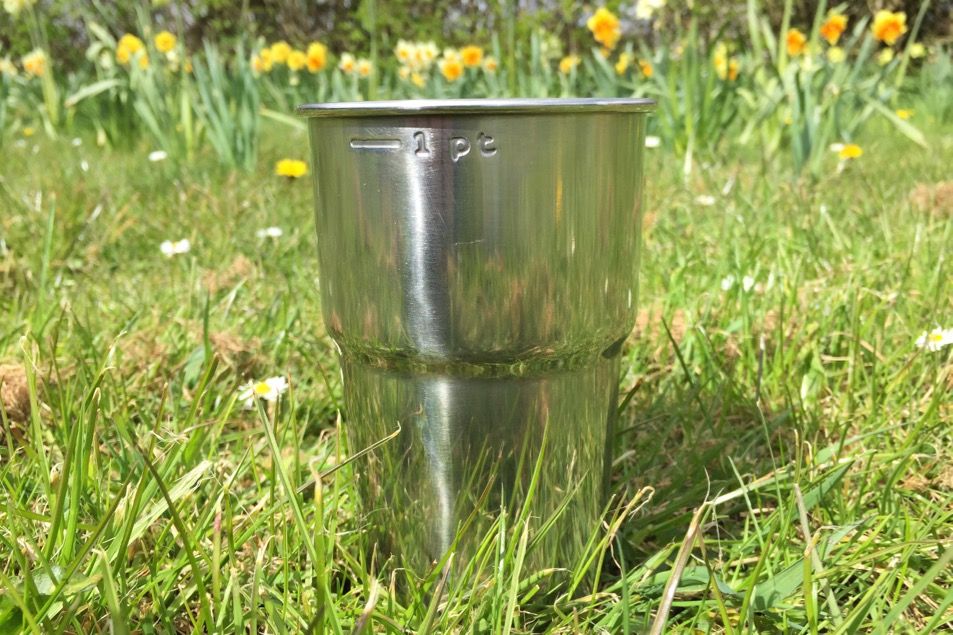 Music fans at the Glastonbury Festival this year will be able to support the British steel industry while reducing the amount of waste with the introduction of a sustainable, recycled stainless steel pint cup.
Over 200,000 of the custom-built cups will be in circulation in 10 major bars across the Somerset site, with customers paying a £5 deposit when they buy their first pint. When revellers need a refill, they will be able to swap their cup for a fresh one.
The cups are being tried out as part of organizers' efforts to reduce the amount of waste produced on the site. Developed by Glogg, based in Sheffield, and made in Birmingham, the cups are made of 80 percent recycled British stainless steel.
Over the last few months, the British steel industry has been in crisis—grabbing the news headlines for all the wrong reasons.
The announcement by India's Tata Steel that it plans to sell its U.K. steel business, putting thousands of jobs at risk, is the latest blow to an industry that has seen a succession of job cuts.
At the start of this year, Tata, which currently employs 15,000 in the U.K., announced plans for 1,050 job cuts, on top of the 1,200 it axed in October 2015 and the 720 it cut in summer 2015.
Other firms have played their part in what amounts to an industry-wide cull. In October 2015, Thailand's SSI announced it was closing down its Redcar works with the loss of 2,200 jobs, then parts of Caparo Industries' steel operations went into administration putting 1,700 jobs potentially at risk.
The steel industry says it has been hit by a combination of factors: high U.K. energy prices, the extra cost of climate change policies, and competition from China.
Glastonbury's Green Initiatives and Sustainability Coordinator Lucy Smith said: "Everybody said we couldn't do it with something on the scale of Glastonbury and it has been a major fight to get this scheme off the ground, dealing with everything from weights and measures to crushability tests.
"But for us, it's part of the reusable revolution. It's very similar to paying 5p for a carrier bag. We think people will take to it. The pints are made by APS in Birmingham, and it was a significant part of the project to have them made with British stainless steel."
Festival organizer Michael Eavis said: "I'm told the cup initiative is a bit of a revolution. But for me, the single most important thing was being able to source British stainless steel for the cups from the place where it was invented—Sheffield, and then to take it on to the home of manufacture—Birmingham.
"Week after week, there's a story in the national press about jobs in the U.K. steel industry being put at risk. There's seemingly no end to the negative slide of this critical industry, and if the jobs, skills and infrastructure are lost they won't be replaced."
The 2016 festival will be held from June 22 to 26 at its traditional home of Worthy Farm in Somerset.
Joining headliners Adele, Coldplay and Muse on the bill will be Beck, Foals, LCD Soundsystem, Chvrches, James Blake, PJ Harvey, ZZ Top, New Order, Disclosure, Stormzy and Bring Me The Horizon. Skepta, Ellie Goulding, The 1975, The Last Shadow Puppets, Grimes, Jake Bugg, Fatboy Slim, Guy Garvey, Madness, Wolf Alice and Bat For Lashes will also play live across the weekend.