Glenn Beck Says He's Taking Ivermectin for Second COVID Bout That's 'a Little Disturbing'
Conservative talk radio host Glenn Beck has announced that he is taking ivermectin and other unapproved and unproven COVID-19 treatments due to a second "disturbing" bout of the virus that has gone to his lungs.
Beck said that he was "on all the medications and treatments" during a Wednesday interview on Mark Levin's radio show. The Blaze Media founder and former Fox News personality, who previously recovered from a December 2020 COVID-19 case, greeted Levin by saying that he was feeling "great" despite his second infection.
"I am great, Mark. I am great...despite having COVID and seeing the destruction of our country, I'm great," Beck said. "I mean, I've been doing my show...It's a lighter case but it's now starting to go into my lungs today, a little disturbing. But I'm on all the medications and treatments and everything else, so we'll see."
Levin then asked Beck whether he had been treated with monoclonal antibodies, a therapy that former President Donald Trump received after getting a COVID-19 infection in October 2020. Although monoclonal antibodies can be effective, only one of three leading versions of the therapy works against the currently dominant omicron variant and supplies are very limited.
"No, the monoclonal doesn't seem to be working for the new strain," Beck said after coughing. "But I'm on ivermectin, hydroxychloroquine—what is it, Fluvoxin? I'm on a bunch of different...I mean, my doctors are hitting it really hard."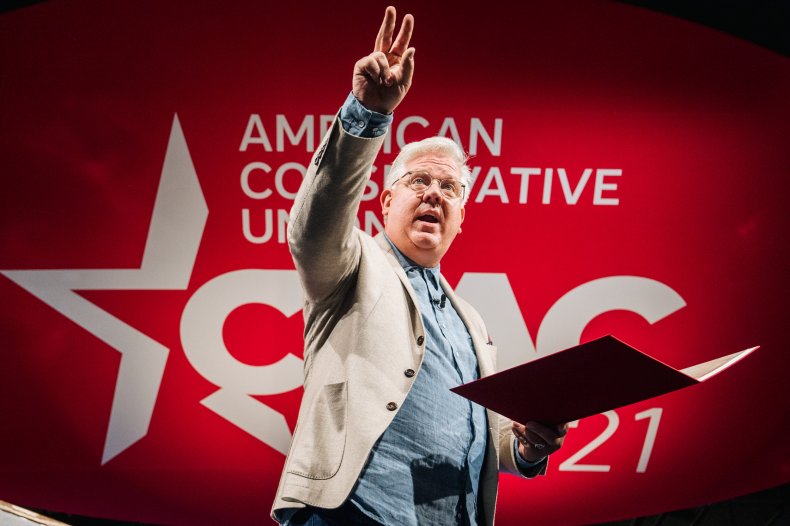 None of the medications Beck mentioned taking have been approved by the Food and Drug Administration (FDA) as treatments for COVID-19, nor has research shown them to be safe and effective as treatments for the virus. Regardless, Beck insisted that "everybody knows" hydroxychloroquine helps to treat the virus that causes COVID-19.
"Everybody knows this," said Beck. "This is basic science, this is basic medicine. That's what those drugs are used for in many cases. And yet, you're treated like you're a moron if you do that. What? I'm going to take a couple aspirin and go home and wait until you put me in the hospital? That's insane."
Beck went on to say that he had been dealing with his most recent COVID-19 bout "for about a week" and was "not concerned" despite the infection reaching his lungs. He said he was "so done with this whole COVID thing."
"Everybody's getting sick because it's very contagious but it's not nearly as deadly," Beck said. "I'm a fatty fat fatso, so you know, that's probably not the best thing...And I've got some other issues, but that's just the way it is. We have got to move on with our lives."
Beck has refused to get vaccinated against COVID-19, reasoning that his past infection made him immune to future infections. During an interview with Fox News host Tucker Carlson in April 2021, Beck said "I"m not going to get a vaccination because I've already had it."
While Beck and others have touted the benefits of natural immunity from previous COVID-19 infections, medical experts have noted that any immunity is temporary and can disappear within months. Natural immunity is also less effective against the Omicron variant due to mutations in the virus.
Newsweek reached out to Blaze Media for comment.