Gloating on Parler over DC Violence as Trump Tries to Calm Mob He Unleashed
Conservatives on the social media platform Parler encouraged demonstrators engaged in Wednesday protests over the certification of the Electoral College votes at the Capitol in Washington, D.C.
Members of Congress were gathered in a joint session to certify the Electoral College presidential victory of President-elect Joe Biden. Some Republicans had previously announced their intent to challenge the certification, backing up President Donald Trump's baseless claims of widespread voting fraud. In an address to attendees of a rally of Trump supporters, Trump encouraged the crowds to go to the capital and "fight like hell."
"We're going to walk down Pennsylvania Avenue," Trump said. "I love Pennsylvania Avenue, and we're going to the Capitol and we're going to try and give—the Democrats are hopeless. They're never voting for anything, not even one vote."
"But we're going to try and give our Republicans, the weak ones, because the strong ones don't need any of our help, we're going to try and give them the kind of pride and boldness that they need to take back our country," Trump added.
Trump supporters breached the Capitol building, forcing the evacuation of Vice President Mike Pence while some members of Congress were asked to shelter in place. Parler users posted words of encouragement to Trump supporters.
Warning: some of the following social media posts include language that some readers may find offensive. Reader discretion is advised.
"Don't f*cking leave," wrote Parler user @NobleLead, encouraging demonstrators to stand their ground.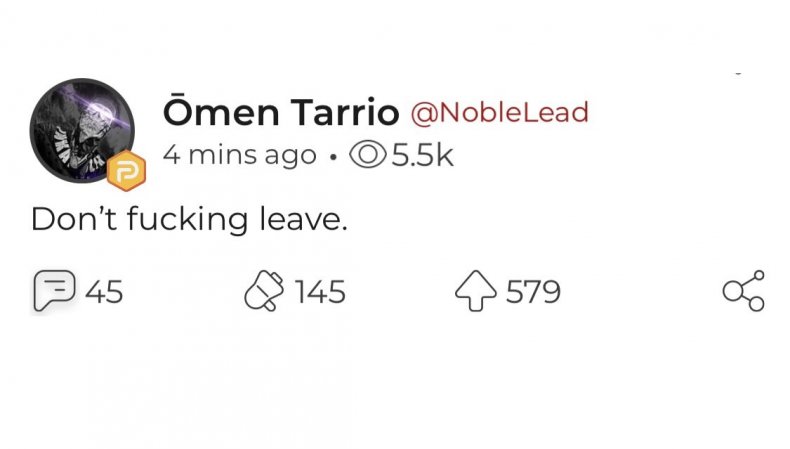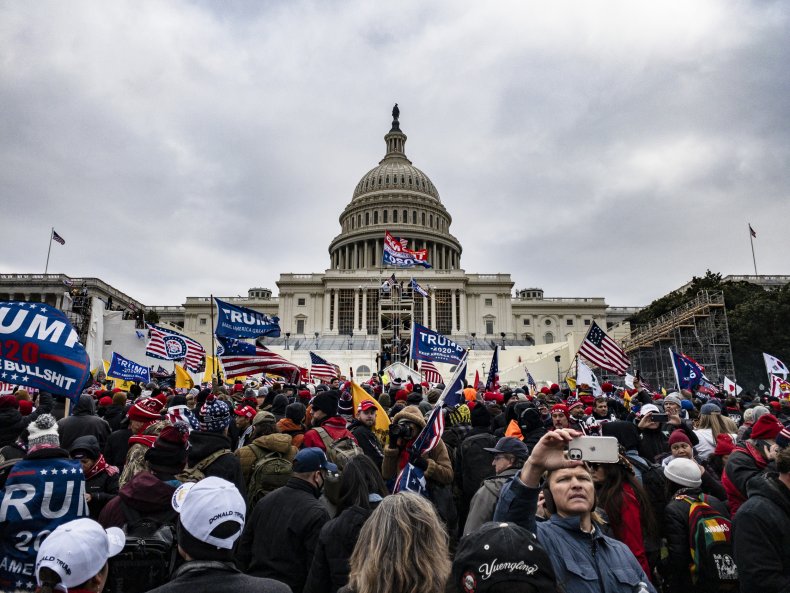 Attorney Lin Wood, who has been involved in filing multiple lawsuits seeking to overturn the results of the presidential election, posted that it was "time to fight."
"The time has come Patriots," Wood wrote on Parler. "This is our time. Time to take back our country. Time to fight for our freedom. Pledge your lives, your fortunes, & your sacred honor. There will not be another chance. Speak TRUTH. Be FEARLESS. Almighty God is with you. TODAY IS OUR DAY."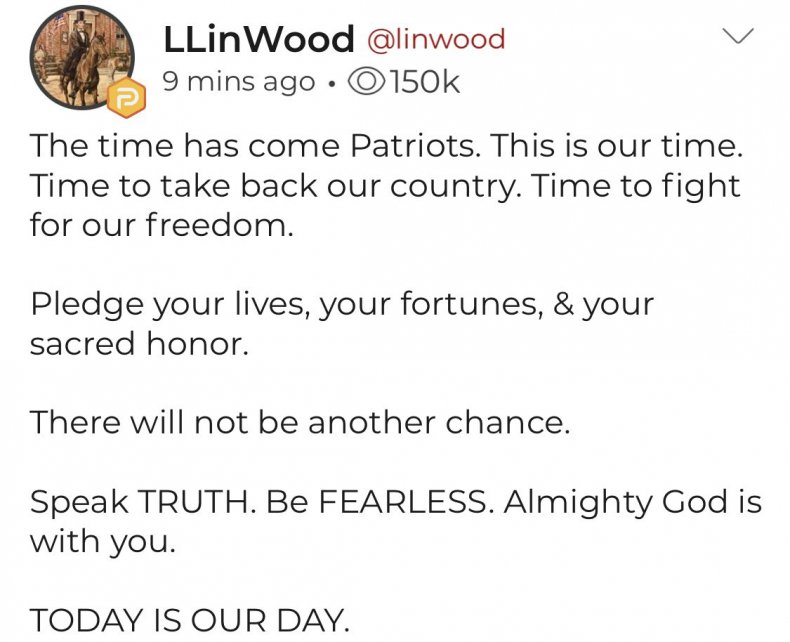 "WE TRIED TO WARN THEM," wrote @KrakenWood. "YOU COULD HAVE PREVENTED THIS"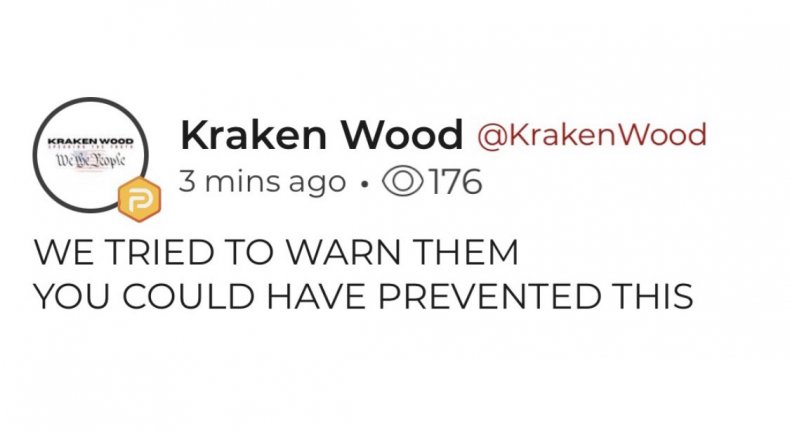 Conservative political commentator Wayne Root called the demonstrations the "biggest rally yet."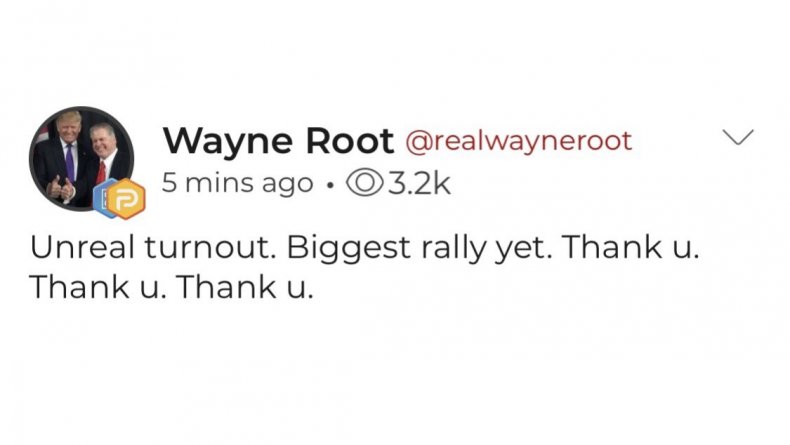 Parler user Joel Fischer alleged that Trump supporters were not the ones behind the protests. "BLM and ANTIFA were instructed to show up dressed as Trump supporters," Fisher wrote, "it is THEY who are starting this violence. Trump's crowd has not reached the capital."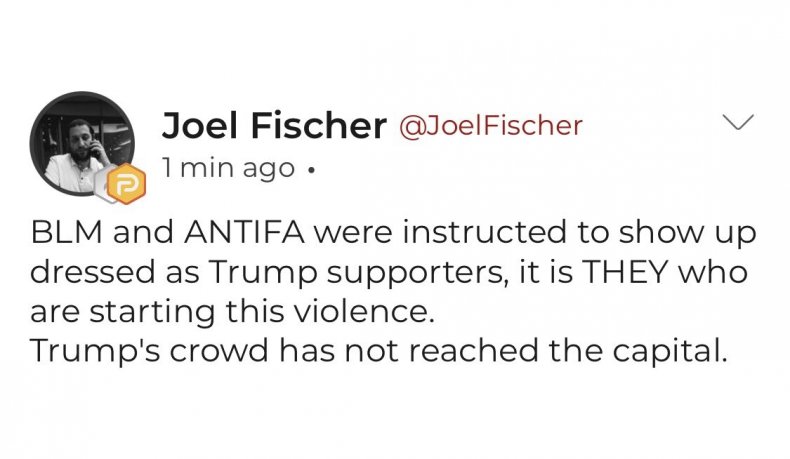 In light of the protests, Washington, D.C. Mayor Muriel Bowser called for a citywide 6:00 p.m. curfew. When Congress will meet to continue the certification of Biden's victory is currently unknown.
In a Wednesday tweet, Trump encouraged the demonstrators to "remain peaceful."
"I am asking for everyone at the U.S. Capitol to remain peaceful. No violence!" Trump tweeted. "Remember, WE are the Party of Law & Order – respect the Law and our great men and women in Blue. Thank you!"
In a video posted to social media, Trump told protesters, "You have to go home now. We have to have peace. We have to have law and order."