It will cost $350 billion per year, over the next 10 years to get the world's 59 poorest countries on track to achieve the United Nations' Global Goals for Sustainable Development, which aim to tackle extreme poverty and climate change, and reduce inequality by 2030.
Global Citizen, an advocacy group that tries to engage millennials, announced today that it has lofty plans to partner with thousands of CEOs, philanthropists and organizations in an attempt to raise the money before October 2020. Their efforts, called Global Goal Live: The Possible Dream, they say will end in 10-hours of live streamed concerts around the globe featuring artists like Alicia Keys, Billie Eilish, Coldplay, Cyndi Lauper, Lizzo, Metallica, Miley Cyrus, Muse, Ozzy Osbourne, Pharrell Williams, Red Hot Chili Peppers and Shawn Mendes.
"When we set about on this campaign we said, in the spirit of Bob Geldoff back in the 1980s, I don't want to lead our troops towards a false sense of success for the sake of vanity, I want to lead everyone off the cliff in the hope that we all fly," Global Citizen CEO Hugh Evans told Newsweek Thursday morning, referencing the organizer of charity super-concert Live Aid in 1985.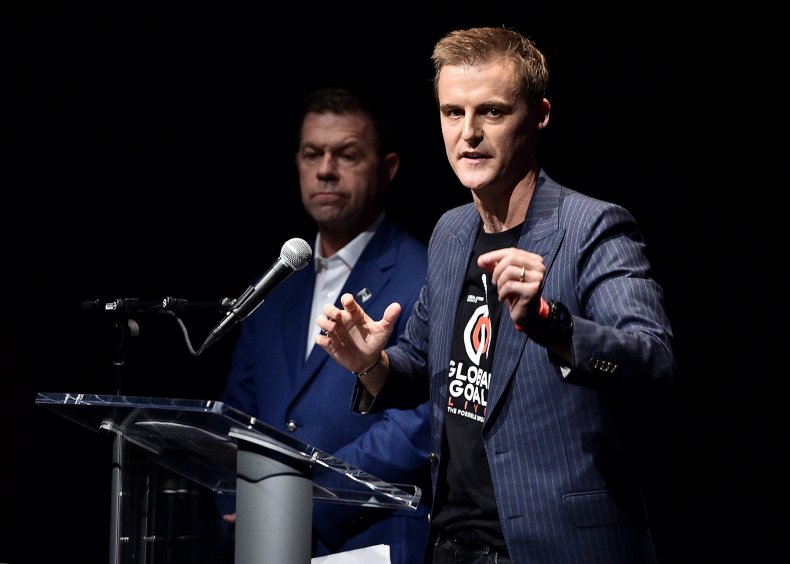 To achieve their goals, the organization is partnering with the United Nations and Teneo, a global CEO advisory firm, to get companies and billionaires to pledge money. Cisco, Delta Air Lines, Johnson & Johnson, P&G, Verizon and a number of other companies have signed on to give and also work to engage other leaders to do the same.
If they break their pledges, Evans says, the network of millennials Global Citizen has harnessed will keep them accountable. "When a world leader steps up on a Global Citizen stage and they say they're going to commit, our job is to make sure they follow through on it. If they don't stay on track, we will call out those world leaders for the commitment that they made publicly," he said. "We call on them in mass, so Global Citizen advocates will tweet them all simultaneously or make so many phone calls that they have to unplug their phone."
The organization's pledge comes at the end of the United Nations General Assembly, where there was a large focus on geopolitical chaos and the dangers of climate change.
The extreme uncertainty of the future, said Rachel Brosnahan, star of the The Marvelous Mrs. Maisel and Global Citizen Ambassador, can lead young people to feel helpless.
"Young people who sometimes feel disillusioned with the state of our world leaders and leaders in the public and private space," she told Newsweek. "This is a way to empower them to take charge of their own futures. Global Citizen calls on world leaders and philanthropists and activists to do the work to make the commitments and then we work together to hold them accountable."
But why would a CEO sign on to give money if they know they'll have to unplug their phones if they fail?
"The vast majority of these CEOs recognize that they have to do something, because the world is going to make them if they don't," said Teneo CEO Declan Kelly. "Over the last 10 years, the average CEO tenure of a Fortune 500 company has been halved because of what's happening around them. We do not have the luxury anymore of pretending that this is something that's happening ethereally outside of us, it's not, it's happening to us as we breathe and walk around everyday."