The Other New Zealand Story That Didn't Get Told This Week: Students Launch Global Climate Change Strike
Hundreds of thousands of students and young people in some 100 countries around the world skipped school on Friday to protest global climate change inaction—with New Zealand, one of the first countries to see the sun everyday, leading the march.
Armed with banners and signs, hordes of school kids, some as young as 5, paraded through the main streets in numerous major cities across Australasia, Asia, Europe, Africa, and America, chanting calls for their government to help reduce global warming before higher temperatures and rising sea levels cause catastrophes. The phenomenon—so immensely far-reaching and on such a global scale—is unprecedented. For most of the young protesters, this was their first foray into political activism. The demonstrations, which starkly illustrated their frustrations with adult apathy, pushed an unsettling message: Save our planet, save our futures.
The strikes are part of the international School Strike 4 Climate campaign—also known in various regions as Fridays for Future, Youth for Climate or Youth Strike 4 Climate—a fast-growing movement of students who are deciding not to attend class to take part in demonstrations demanding immediate and effective climate change action.
These protests started in Europe last summer when Swedish teenager Greta Thunberg began protesting outside her parliament during school hours. Her campaign gained global attention after the 16-year-old student delivered a powerful speech at the United Nations climate summit in December, when she condemned delegates for failing to properly address global warming. Thunberg was nominated for a Nobel Peace Prize earlier this week for her role in igniting the uprising.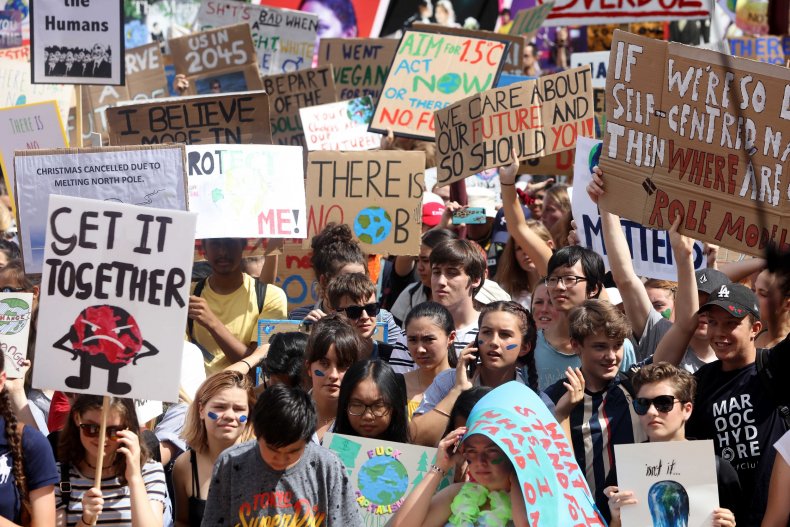 And on Friday, tens of thousands of youth in New Zealand, inspired by Thunberg, led the charge while most of the world was still sleeping. Taking to the streets in city centers from Invercargill to Whangarei, the protestors repeatedly chanted: "What do we want? Climate Justice. When do we want it? Now!"
Sophie MacDonald, a 20-year-old University of Victoria political science student who attended the demonstration in Wellington, told Newsweek there were roughly one to two thousand people campaigning in the country's capital alone, despite warnings that some could be be marked absent from school if they chose to participate.
"I didn't expect so many children to turn up," she said. "Me and my friend got a bit emotional when a massive group of probably 6-year olds walked past us, screaming and yelling with some really hard hitting posters and banners."
In discussing why the climate change issue resonates so deeply with young people, MacDonald said: "It's something that requires effort from everyone in the world to change, rather than just one country or one person. The more you support protests like this, the more awareness there is."
One handmade sign in Wellington read, "Climate change is worse than Voldemort," a reference to the evil wizard hell-bent on destroying humanity in the Harry Potter series. "The climate is changing, why aren't we?" read another in Auckland.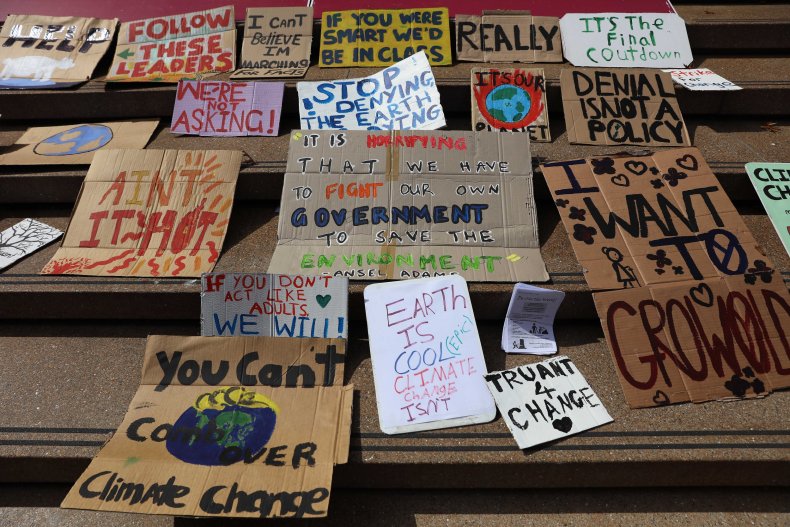 As they reached Wellington's Parliament Lawn, several organizers addressed the crowd with encouraging sentiments, before lawmakers and government officials answered questions in front of a microphone. New Zealand's Climate Change Minister James Shaw assured the demonstrators that the government is dedicated to passing the Zero Carbon Act around June "so that for the first time, we have a legally binding commitment to staying within 1.5 degrees [celsius] of global warming because if we do not, we do not have a future."
"It is time for the talking to stop and it is time for the action to start," he added. "It is real, it is us, it is bad, and we can fix it. So, keep it up. Stay strong. Keep holding us to account. It is only because of you that we are able to do the things that we need to do, this year, to fix this thing."
Prime Minister Jacinda Ardern also made an appearance at the Taranaki protest to address student protestors and share her thoughts about the issue.
"It is the biggest challenge we will tackle globally in my lifetime and in your lifetime," Ardern said, before explaining the government's plans to reach carbon neutrality by 2050. "Not because we want to, because we have to."
The main demands of New Zealand protestors includes a zero carbon act to ensure New Zealand is carbon neutral by 2050 and a commitment to end all fossil fuel extraction, but others around the world vary in what they are calling on their leaders to do. And although coverage of the climate change movement on Friday was largely overshadowed by a tragic terror attack at two mosques in Christchurch, which resulted in the deaths of 50 people and dozens more seriously injured, organizers have vowed more action will follow.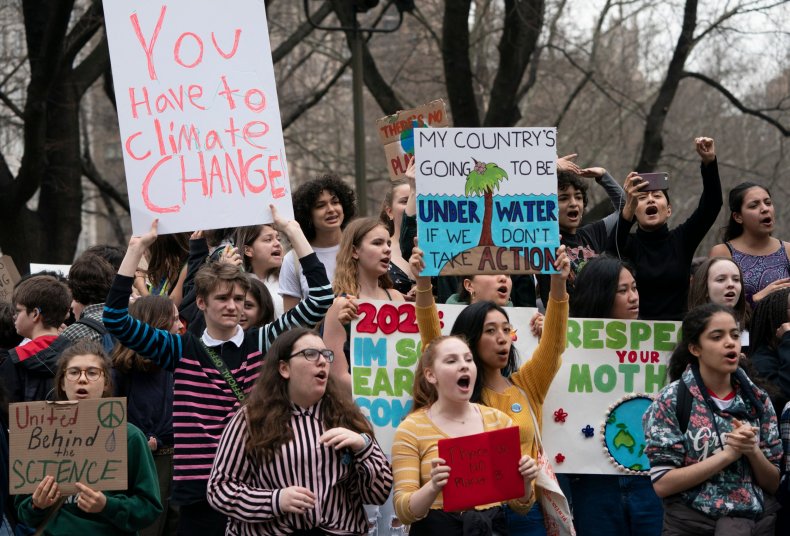 Meanwhile, European pupils were filling up streets and squares in Paris, Madrid, Rome, Brussels and other major cities to take part in the protests, which they called "Fridays for Future." Strikes also erupted across the United States—including in Wisconsin, Washington D.C., and New York—with thousands of students joining their peers around the world to demand greater action on climate change.
American children and teenagers who have organized the strike in their regions called for the implementation of the Green New Deal, championed by Rep. Alexandria Ocasio-Cortez (N.Y.) and some of her Democratic peers who seek to implement a total transition to renewable energy by 2030.
Alexandria Villaseñor, co-leader of the U.S. Youth Climate Strike Movement and the lead organizer of the demonstration in New York on Friday, was inspired by Thunberg's actions to bring the movement to the steps of the American Museum of Natural History.
"This is the first time we are joining in the Friday's for future and full strike for climate movement," the 13-year-old activist told Newsweek. "School striking for climate is an act for direct action and civil disobedience… So striking during school is the best way to put pressure on world leaders and government officials."
At the protest Villaseñor issued a scathing message to her country's leaders.
"The most shameful country of all though, is America. Too many of us don't even believe in climate change," Villaseñor said to a crowd of protestors in New York. "Too many of us don't listen and act on science and facts. To those Americans who deny the truth, we are ashamed of you."
"For humanity to continue to live, we must turn off emissions and keep fossil fuels in the ground. And we must focus on equality and human rights, while we do it."