Global Coronavirus Cases Pass 50,000,000 With 1,250,000 Killed
The worldwide total of coronavirus cases has surged past 50 million, with 1.25 million deaths recorded across the globe, according to Johns Hopkins University.
Europe is once again the epicenter of the pandemic with more than 12.5 million cases and 305,700 deaths. The U.S. has seen just under 10 million people test positive. More than 125,000 cases per day have been recorded three days in a row. The states of North and South Dakota have the highest rates of death per capita.
President-elect Joe Biden has vowed a much more aggressive approach to the pandemic than Donald Trump, who has repeatedly downplayed its gravity. In his victory speech in Wilmington, Delaware on Saturday night, Biden said the "battle to control the virus" will take priority when he takes office.
He vowed to name a group of top scientists to his coronavirus task force as early as Monday, with a plan to ramp up testing and make masks mandatory for Americans when they are around people outside their own household. Biden's 12-person task force will be led by three co-chairs - former surgeon general Vivek Murthy, former Food and Drug Administration commissioner David Kessler and Yale University's Dr. Marcella Nunez-Smith, Axios first reported.
Several countries have seen record numbers of new cases in recent days, including Hungary, which has become the latest EU nation to impose a second nationwide lockdown. Secondary schools, universities, and restaurants will shut and a night-time curfew between 8 pm and 5 am will begin midnight on Tuesday to curb a fast rise in infections, Prime Minister Viktor Orban announced on Facebook.
During the curfew, people are only allowed to leave their homes to travel to and from work. Sports events will be held behind closed doors, and all gatherings are forbidden, Orban said. He said the new lockdown measures, which will last 30 days but may be extended, were needed because "if coronavirus infections rise at the current pace... Hungarian hospitals will not be able to cope with the burden".
In France, 38,619 new cases were recorded on Sunday, far less than Saturday's record increase of 86,852 cases. The health ministry has put the discrepancy down to problems collecting data and warned there could be a correction issued Monday. The country is just over a week into a second lockdown and registered 271 deaths, bringing the total to 40,439.
In the U.K. - which has seen the highest number of deaths in Europe - there were 20,572 new cases and 156 new deaths, bringing the official death toll to 49,044. The latest data from the U.K.'s Office for National Statistics suggest the increase in infections may be stabilizing, with the rate of increase slower than in recent weeks.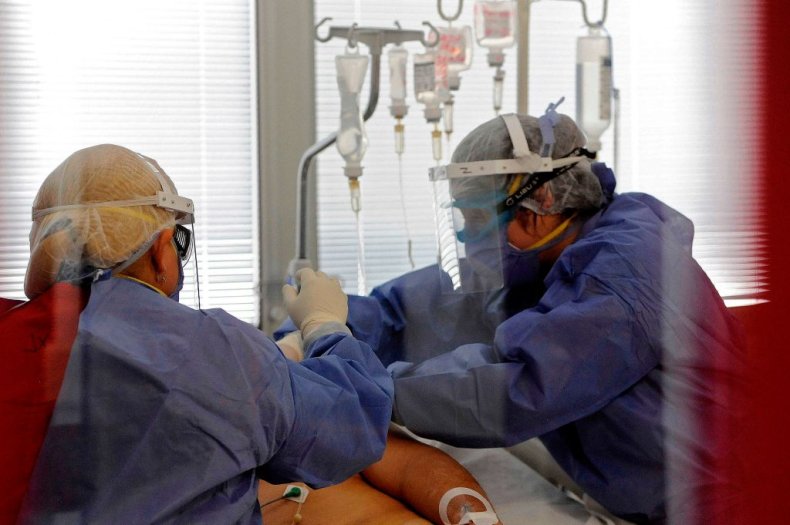 Russia confirmed 21,798 new coronavirus cases on November 9, a new one-day record, and the fourth day in a row where infections passed 20,000, the Moscow Times reports. The country is nearing 2 million cases and has so far confirmed 30,793 deaths.
Switzerland, which has recorded 211,913 cases and 2,772 deaths according to JHU, has not followed its European neighbors into a national lockdown. Instead, it is deploying 200 army reservists who have had four months of training to its hospitals to help with growing numbers of admissions.
While in Japan, gymnasts from four nations competed in Tokyo in an event seen as a trial run for next year's postponed Tokyo Olympics. Competitors were tested daily for the virus and wore masks as they entered the arena, while spectators had their temperatures taken and were misted with disinfectant as they entered.