Global Coronavirus Death Toll Now Exceeds 13,000 As More Than 300,000 Infected Around the World
The COVID-19 pandemic continues, with confirmed cases now surpassing 307,000 globally — with more than 13,000 deaths. More than 93,000 people have recovered to date, according to the latest figures from Johns Hopkins University.
The novel coronavirus, which was first detected in the Chinese city of Wuhan in the country's Hubei province, is reportedly mostly contained in China. Wuhan has not reported any new cases for four days. The country recorded 46 new cases on Saturday, CNN reported, with all but one coming from abroad.
China has almost 81,200 cases and more than 3,200 deaths. More than 72,000 people have recovered.
More First Cases Across the Globe
Six more countries, territories, and areas around the world have reported their first coronavirus cases, according to a report published by the World Health Organization (WHO) on Saturday. They are:
Papua New Guinea
Isle of Man
Timor-Leste
Haiti
Cabo Verde
Zimbabwe
Each reported one imported case, except Haiti, which reported two and the source of the transmissions remained under investigation, according to the WHO report.
The WHO's regional directors for Europe, the Western Pacific, and Africa united in their calls for solidarity to tackle the COVID-19 pandemic effectively.
"COVID-19 is a test of solidarity that we simply cannot afford to fail. It is crucial that we all abide by the principles of international cooperation, collaboration and transparency, and acting on a no regrets basis," Dr. Hans Henri P. Kluge, the WHO regional director for Europe, said.
Dr. Takeshi Kasai, the WHO regional director for the Western Pacific, added, "More than ever, this is a time for international solidarity and cooperation.
"We know Europe's potential to stand together, and I want to reassure you of the commitment among countries in our Region to support Europe in any way possible, just as we appreciate the strong support we are receiving from Europe. In this situation, every European is Asian, and every Asian is European."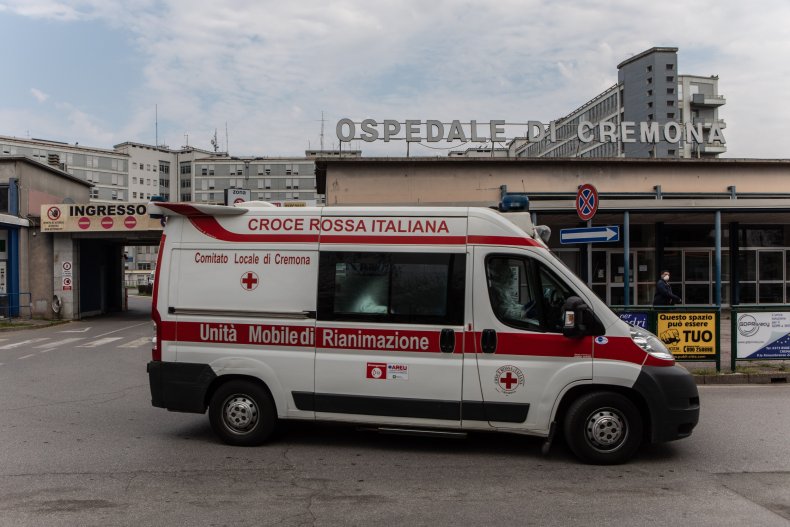 Italy's Worst-Hit Region Announces Stricter Measures
Italy recorded a jump in deaths of almost 800 on Saturday, taking the toll to 4,825
On Thursday, Italy overtook China as the country worst affected by the COVID-19 pandemic
Prime Minister Giuseppe Conte has ordered that all nonessential businesses in the country to close until April 3
Supermarkets, pharmacies, post offices, and banks will remain open, including essential public services like hospitals and transportation
The Italian region of Lombardy, home to the country's financial and fashion capital Milan, has introduced stricter measures in a bid to tackle the spread of the novel coronavirus.
More than 3,000 people have died in Lombardy, which has been under lockdown since March 8.
On Saturday, Lombardy's president Atillio Fontana announced all sport and physical activity outside, including solo activities, are banned as is the use of vending machines. Work on construction sites will stop except those working on hospitals, roads, and railways.
All open-air weekly markets in the region have also been shuttered, BBC News reported.
Italy's Prime Minister Giuseppe Conte called the coronavirus pandemic the "most difficult crisis in our post-war period" on Saturday. His remarks came after Italian officials reported 793 additional deaths, by far the largest single-day rise so far. Across the country, there are 53,578 cases with 4,825 deaths and 6,072 recoveries, according to Johns Hopkins University.
U.S. Has Third Highest Number of Cases
There are a total of 26,747 confirmed cases as of Sunday morning, with at least 340 of those cases have resulted in deaths
New York and Washington state share the brunt of those deaths, with 94 and 76, respectively
The surge in numbers is likely connected to the expanded rollout of testing in the U.S. President Donald Trump announced this week that further steps would be taken to broaden testing services.
New York Governor Andrew Cuomo was among those to warn Americans they would see a surge in numbers in the coming days.
"Why are you seeing the numbers go up? Because you are taking more tests," Cuomo said, according to FOX News. "People see those numbers go up, they get nervous, they panic. 'Look at how many more people have the virus.' That's not how many more people have the virus, you're just taking more tests so you're finding more positives."
U.K. Prime Minister Warns Brits Not to Visit Mothers
Brits have been warned by U.K. Prime Minister Boris Johnson that the spread of the coronavirus is "accelerating"
Schools across the U.K. have been closed in a bid to slow the spread of the coronavirus, with exceptions to accommodate the children of "key workers" and vulnerable children
Restaurants, bars, and cafes were also told to close, except when serving takeout food, and the country's gyms, nightclubs, cinemas, and theaters were also told to shut their doors
Johnson also warned Brits to avoiding visiting their mothers as the country celebrates Mother's Day on Sunday.
"This time, the best thing is to ring her, video call her, Skype her, but to avoid any unnecessary physical contact or proximity," he said in a message to the country, according to BBC News. "And why? Because if your mother is elderly or vulnerable, then I am afraid all the statistics show that she is much more likely to die from coronavirus, or COVID-19. We cannot disguise or sugar-coat the threat."
Johnson warned the country's statistics were "stark" and the U.K.'s National Health Service could be "overwhelmed" if Brits to not follow social distancing guidelines.
The number of coronavirus cases in the U.K. has topped 5,000 and 234 people have died. Sixty-seven people have recovered.
He said the UK is only "two or three" weeks behind Italy, adding that he recognized the government was imposing measures "never seen before either in peace or war" — but said they were essential.
India Observes 14-Hour Curfew
Indian Prime Minister Narendra Modi last week asked Indians to observe a self-imposed curfew from 7 a.m. to 5 p.m. local time on Sunday

Modi said the curfew, which was not mandatory, would test the country's ability to halt the spread of the coronavirus

He asked Indians to stand by windows and on balconies at 5 p.m. and clap or ring bells to show their appreciation for the country's health and sanitation workers

India has 332 confirmed cases of coronavirus; four people have died and 27 have recovered
Modi wrote on Twitter Sunday, "In a few minutes from now, the #JantaCurfew commences. Let us all be a part of this curfew, which will add tremendous strength to the fight against COVID-19 menace."
He added, "The steps we take now will help in the times to come. Stay indoors and stay healthy."
Australia Announces Nationwide Shutdown
Australian Prime Minister Scott Morrison has announced drastic new measures to curb the spread of coronavirus in the country
All licensed clubs, bars, theaters, cinemas, casinos, nightclubs, and places of worship will close from 12 p.m. on Monday local time; restaurants are limited to takeout service only
Schools remain open, but Morrison said parents can keep their children at home if they choose
Australia has 1,071 confirmed cases of coronavirus and seven deaths; 26 people have recovered
"Social distancing, keeping the healthy physical distance between individuals is our biggest weapon in fighting this virus," Morrison said, according to Australian broadcaster ABC. "Saving lives. We need all Australians to be following that advice and observing the limits put in place for gatherings indoors and outdoors. The failure of the public to do that will put people at risk."
The measures came after massive crowds flouted social distancing guidelines and headed to Sydney's Bondi Beach at the weekend.
Data on COVID-19 cases is from Johns Hopkins University unless otherwise stated.
The graphic below, provided by Statista, illustrates the recovery curve compared to the infection curve of the virus.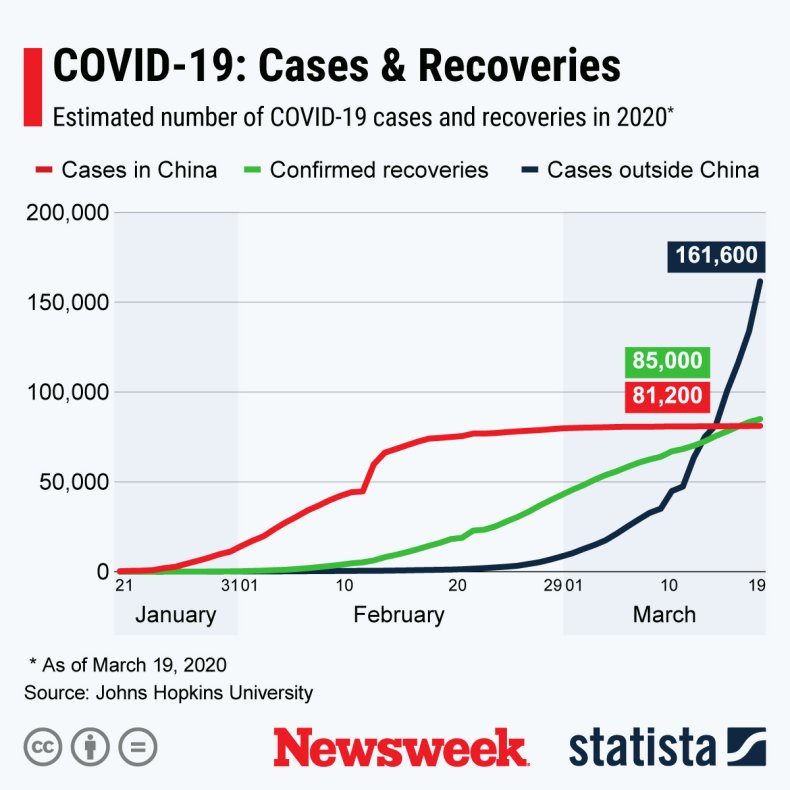 World Health Organization advice for avoiding spread of coronavirus disease (COVID-19)
Hygiene advice
Clean hands frequently with soap and water, or alcohol-based hand rub.
Wash hands after coughing or sneezing; when caring for the sick; before; during and after food preparation; before eating; after using the toilet; when hands are visibly dirty; and after handling animals or waste.
Maintain at least 1 meter (3 feet) distance from anyone who is coughing or sneezing.Avoid touching your hands, nose and mouth. Do not spit in public.
Cover your mouth and nose with a tissue or bent elbow when coughing or sneezing. Discard the tissue immediately and clean your hands.
Medical advice
If you feel unwell (fever, cough, difficulty breathing) seek medical care early and call local health authorities in advance.
Stay up to date on COVID-19 developments issued by health authorities and follow their guidance.
Mask usage
Healthy individuals only need to wear a mask if taking care of a sick person.
Wear a mask if you are coughing or sneezing. Masks are effective when used in combination with frequent hand cleaning.
Do not touch the mask while wearing it. Clean hands if you touch the mask.
Learn how to properly put on, remove and dispose of masks. Clean hands after disposing of the mask.
Do not reuse single-use masks.