Global Election Monitors Warn 2020 Trump vs. Biden Contest Faces 'Serious Challenges'
The coronavirus pandemic will make this year's U.S. election the most challenging in decades, warns a global election watchdog which will send observers ahead of November's ballot.
With the U.S. an exporter of democratic ideals globally, the probity of November's election will be scrutinized amid unprecedented logistical hurdles such as social distancing at ballot boxes. COVID-19 is also expected to as much as double the number of Americans who usually vote by mail, straining the U.S. Postal Service (USPS) already under fire from President Donald Trump and facing a funding crisis.
The Office for Democratic Institutions and Human Rights (ODIHR) carried out a fact-finding mission ending in June which noted concerns over whether U.S. states could cope with plans to expand access to early and postal voting.
The ODIHR, an arm of the Organization for Security and Cooperation in Europe (OSCE), interviewed people involved in the election process who spoke of their concerns that postal voting could be "a source of potential massive voter fraud," and that "the conduct of these elections will be the most challenging in recent decades."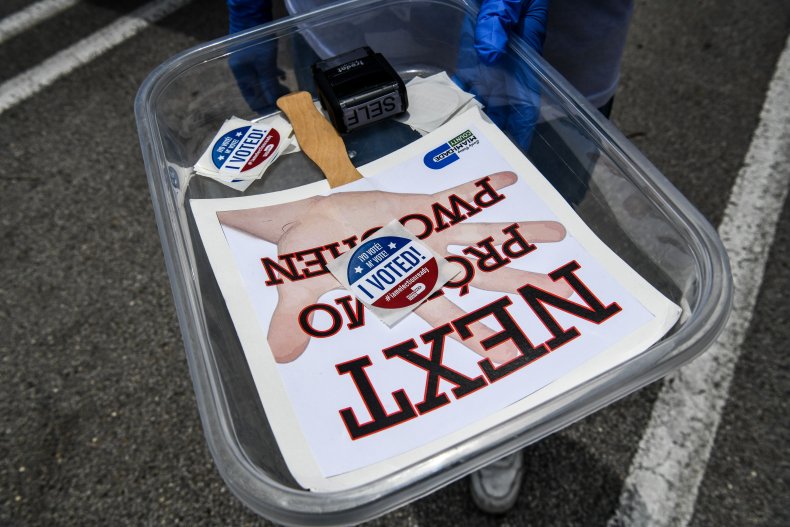 Trump has said without evidence that mail-in voting would cause the "most inaccurate and fraudulent election in history," which has been roundly dismissed by experts.
However the ODIHR report did state that "election officials will face serious challenges prior to and on election day, due to new measures in response to COVID-19 pandemic, and expressed concerns over their ability to overcome them."
This may impact trust in election administration which, "could harm the integrity of election day proceedings, and ultimately cast doubt in the outcome of the elections," concluded the report, which was released last month.
OSCE spokeswoman Katya Andrusz told Newsweek: "We're well aware that holding elections during a pandemic is particularly challenging. The U.S. is a big country and the logistics are huge.
"Public trust is really vital. If there is a high degree of mistrust in any part, either in postal voting, the machines, the legal system, how the administration works, if there is a high degree of doubt in any of this, it can undermine trust in the whole process and that is not healthy for any democracy," she added.
Starting from the end of September, the ODIHR will send a full complement of 100 long-term and 400 short-term observers who are likely join forces with at least one partner organisation, to monitor the poll.
Dame Audrey Glover, a British human rights lawyer who led the ODIHR's U.S. election observation mission in 2016 said she was concerned that pandemic would mean fewer poll workers as well as a lack of capacity of the postal service to handle the flood of ballots.
"There are a lot of postal votes around and then if there are going to be difficulties because the postal system does not have enough staff, you could have a certain amount of confusion."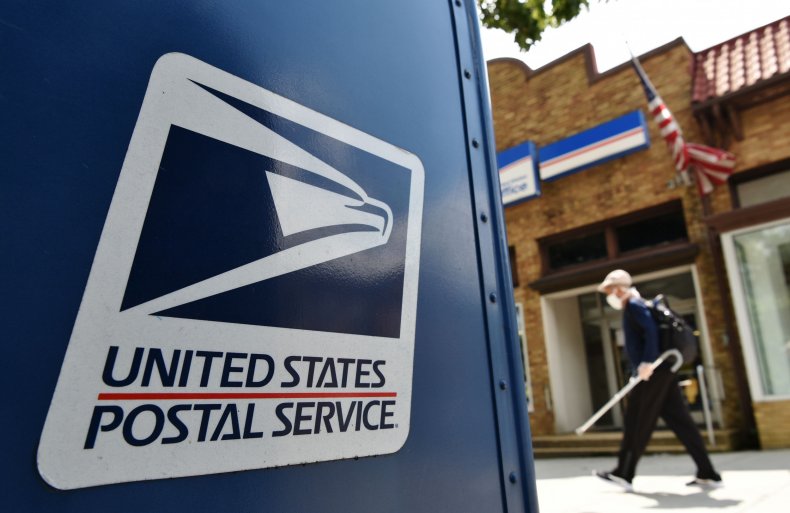 She said that until now there had been great voter faith in election officials, "but it is possible that this time because of the coronavirus, they might not be able to be as effective they would want to be," she told Newsweek.
"The main worry is the distrust in the system as a whole, elections are for the voters—they are the important people—and it is very important they should have confidence in the system," she added.
This week, the USPS warned it might not meet deadlines for delivering last-minute mail ballots and urged people to request ballots at least 15 days before the election, rather than just the four days allowed under some state laws, The New York Times reported.
Meanwhile Democrats have criticized Trump donor and Postmaster General, Louis DeJoy, whom voting rights groups have sued to reverse his reforms that caused backlogs and delays.
The lawsuit, filed in a federal court in Maryland by the Lawyers' Committee for Civil Rights Under Law, accuses DeJoy of "weaponizing the United States Postal Service to disenfranchise Americans who choose to vote by mail," referring to dramatic changes he implemented, such as cutting hours and eliminating overtime, which will make it more difficult for voters to receive and return mail-in ballots on time.
Dejoy said this week he would suspend proposed changes to the USPS until after the election, although union officials say the measures such as the removal of 671 of mail-sorting machines, as reported by CNN, have already hurt the postal service's reputation.
"Attacks on the postal service are seeking to undermine the confidence that voters have and should have the validity of this year's election," said Hannah Fried, the national campaign director for the All Voting is Local Campaign at the Leadership Conference on Civil and Human Rights.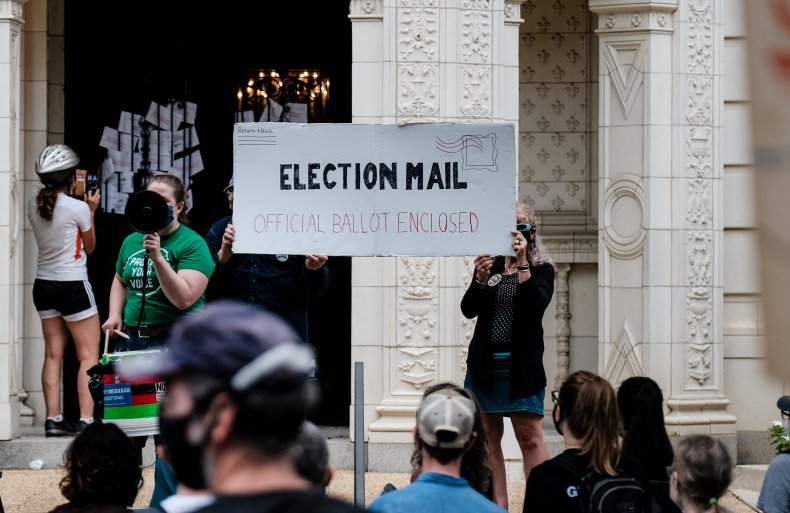 "It is a critical part of the functioning of our democracy and undermining it is a cynical and harmful attack on democratic norms," she told Newsweek.
"What we need to see is more money from Congress, we also need answers as to why we have seen the decommissioning of sorting machines before an election," Fried said.
"We want the Postmaster General to be honest and transparent in his accounting of what is happening at the postal service."
"There needs to be more federal funding for the U.S. postal service and state and local officials need to be doing more to make sure that ballots are getting into voters hands and voters have lots of ways of getting their ballots back," said Fried, whose group works in eight states with the goal of removing discriminatory barriers.
Trump has so far blocked much-needed funding for the postal service to help it deal with the pressures of the coronavirus. His administration has criticized states that have so-called universal mail-in ballot systems, where ballots are sent to all registered voters, rather than only to those registered voters who request them.
Five states, Washington, Utah, Oregon, Hawaii and Colorado, almost exclusively already send mail-in ballots to all registered voters. Because of the pandemic, other states that will follow suit will be California, Vermont, New Jersey, Montana as well as Nevada, which is facing a White House legal challenge to the move.
Brian Amos, professor of political science at Wichita State University, Kansas, said the postal voting process, which has been run effectively in many states for years, should be able to handle the increased numbers of people come November.
"A concerning issue is Trump wanting the result to be called on election night and that's probably not realistic, " he said, telling Newsweek, "It might actually take a couple of days in some of these closer states to be confident about who won."
Absentee ballots or mail-in ballots are more labor intensive because the signature on the envelope has to be checked to match it against the voter registration record.
Amos said: "Absentee balloting has been on the rise over the last 20 years. The end result this year might be just that it takes longer to process ballots and we might have to wait a while.
"On the mail side, that infrastructure is there, it just might be overwhelmed or at least taxed more than it has been in the past," he added.