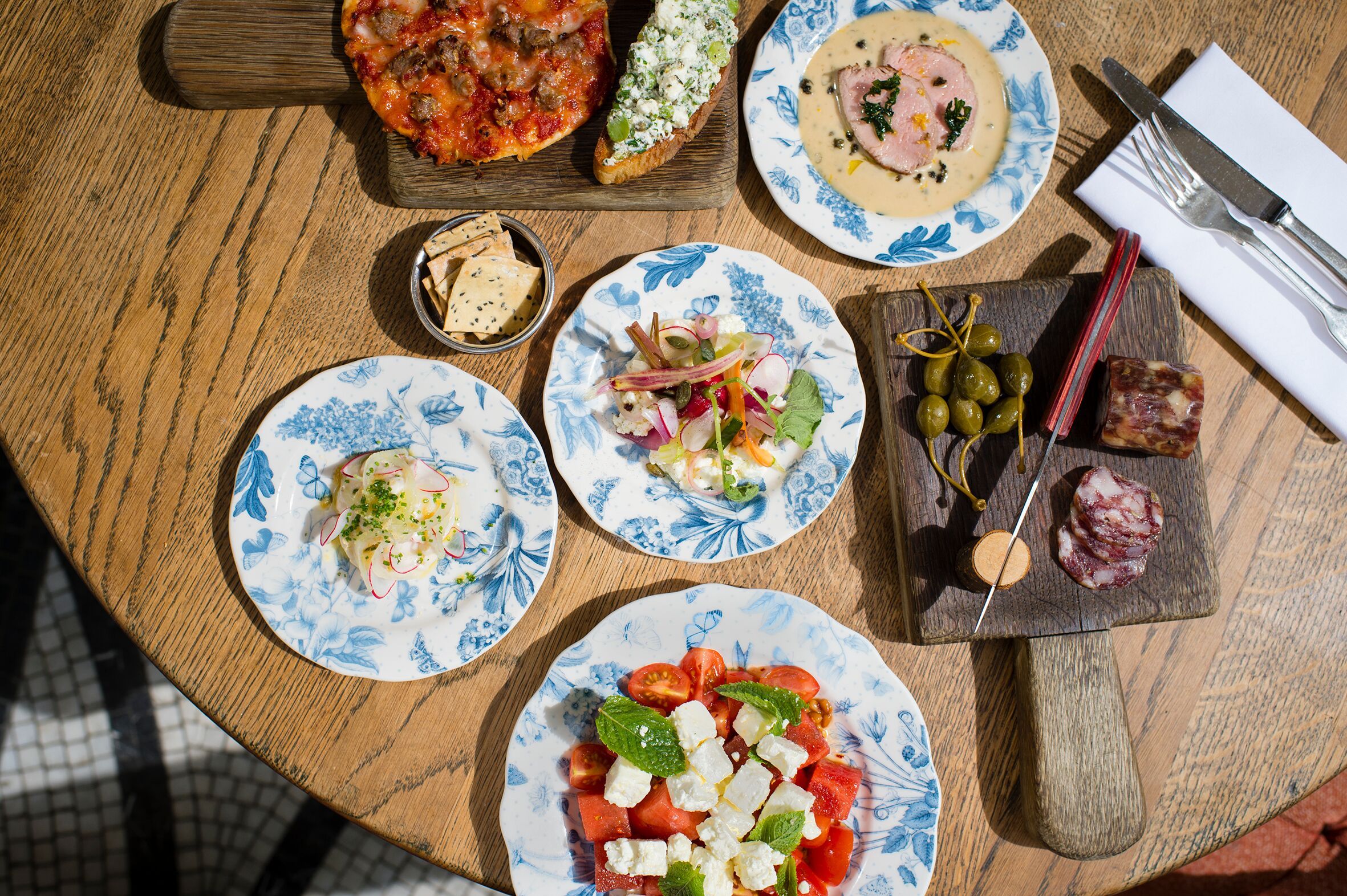 This is an edited excerpt taken from Travel Anywhere (and avoid being a tourist) by Jeralyn Gerba and Pavia Rosati, founders of travel website Fathhttp://fathomaway.comom.
If you travel for the food, you're not alone. Welcome to this happy band of travelers who plan dinner when we're sitting at lunch, who think nothing of driving four hours for that dinner, and, in fact, would plan a whole trip around that meal.
For us, the world's best culinary escapes have to be more than amazing hotels with even better restaurants. Much more. We want unforgettable, meal-of-a-lifetime culinary immersions. The kind of travel experiences where guests can live the farm-to-table life by staying on a working farm or winery and seeing and participating in the steps that lead to those spectacular plates getting to the table. Where activities between meals include foraging expeditions, wine tastings, cooking lessons, and next-level snacking. Where it's no surprise to see someone in chef whites running out of the kitchen to pick a few last-minute vegetables before dinner.
These foodie escapes around the world are pilgrimages for people who truly care about food – and are maybe more than a little obsessed with their palates. Some of these illustrious culinary experiences have a price tag to match, others mix high and low, and a few are downright affordable. All of these special occasions will make you very hungry and leave you very satisfied.
SINGLETHREAD, Healdsburg, California, U.S.A.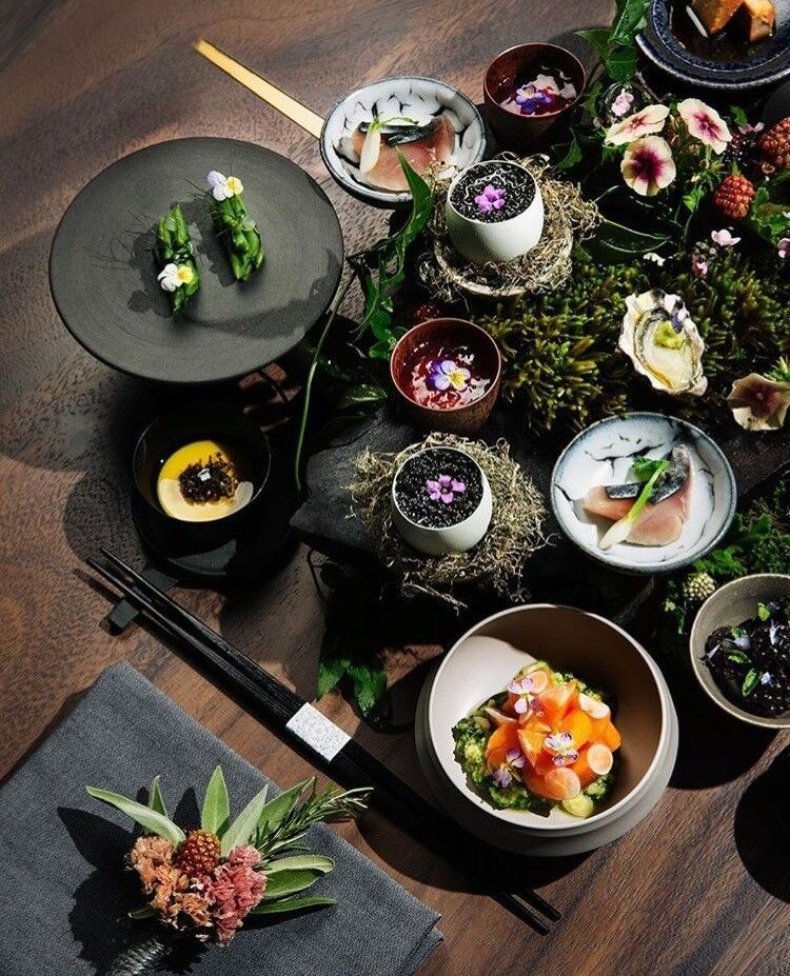 At the junction of Russian River, Dry Creek, and Alexander Valley – three of Sonoma County's principal wine regions – sits Healdsburg, a charming small-town home to some of northern California's best wine and cuisine. Topping the list is SingleThread, a two-Michelin-star farm, restaurant, and inn, where chef Kyle Connaughton and his wife, Katina, are redefining farm-to-table seasonality. Drawing upon ancient Japanese gardening techniques, the 11-course menu, which opens with a dazzling display of amuse-bouches that are at the table when guests are seated, rotates not around four seasons but rather 72 distinct micro-seasons, guaranteeing that the food grown on their 5-acre farm (and on the restaurant's rooftop) is only served at its peak freshness.
The ensuing meal, prepared in and served upon earthenware imported directly from eighth-generation master potters in Japan, is as spectacular as this level of precision, ingenuity, and dedication would lead you to expect. Spend the night upstairs in one of the inn's five well-appointed guest rooms to experience Japanese hospitality, or "omotenashi," at its finest.
House specialty: Whatever's in (micro)season.
LIME WOOD, Lyndhurst, England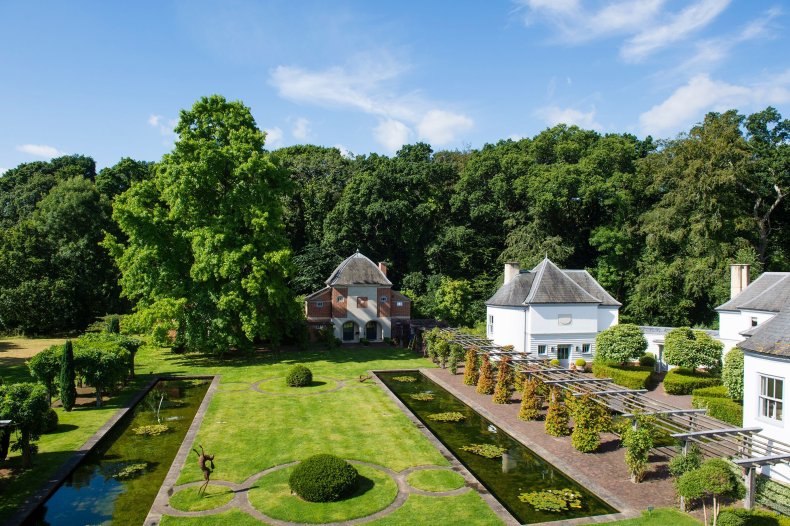 Located two hours outside London, deep in the heart of New Forest, a national park and former royal hunting ground, this 13th-century lodge-turned-resort is the embodiment of every urbanite's dream escape to the British countryside. The on-site restaurant, Hartnett Holder & Co, is led by two of London's most celebrated chefs, Angela Hartnett and Luke Holder.
The menu relies heavily on local ingredients, many foraged from the surrounding woods, resulting in an understated yet refined blend of British and Italian cuisine. The cooking school, HH&Co Backstage, is designed to instruct aspiring chefs of all skill levels in the art of Hartnett and Holder's signature homestyle cooking.
House specialty: The fillings in the pillow-like agnolotti change seasonally to showcase star ingredients sourced nearby – guinea fowl, veal, artichokes, and burrata.
JACKALOPE HOTEL, Merricks North, Victoria, Australia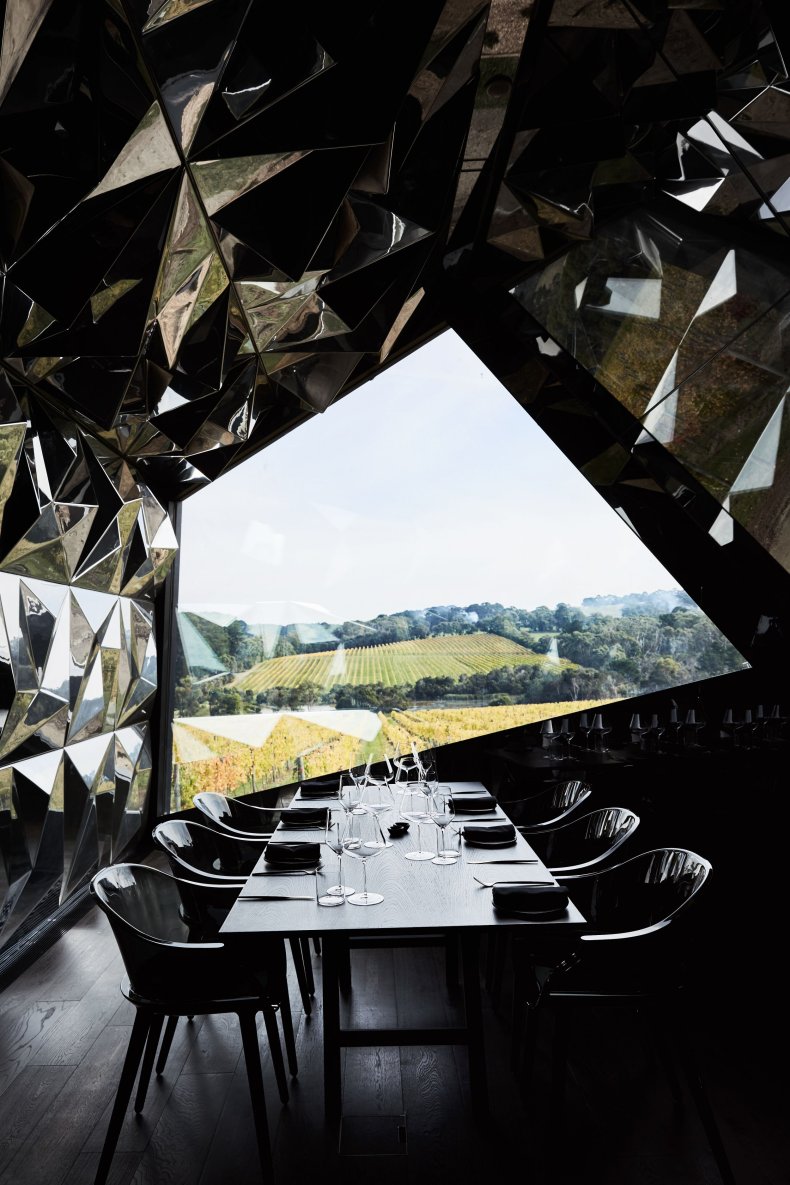 Located in the heart of the Mornington Peninsula wine region an hour south of Melbourne, the 45-room luxury hotel is a veritable food and design destination. Look no further than the surrounding oceanside vineyard, the club-like cocktail bar in an old Edwardian homestead decorated in Rick Owens furniture, and the 23-foot namesake jackalope statue out front – and you'll have an idea why.
There are two farm-to-fork restaurants, multi-course degustation menus that lean heavily on local produce, and gastro excursions like Truffle Trinity, where guests head out to look for black truffles with a local expert and her dog, culminating in a celebratory fungus feast with wine pairings.
House specialty: The ever-changing, five-course tasting menu at Doot Doot Doot is a showstopper, pairing artfully prepared Mornington Peninsula produce with wines from vineyards under 27 acres in size.
BABYLONSTOREN, Franschhoek, South Africa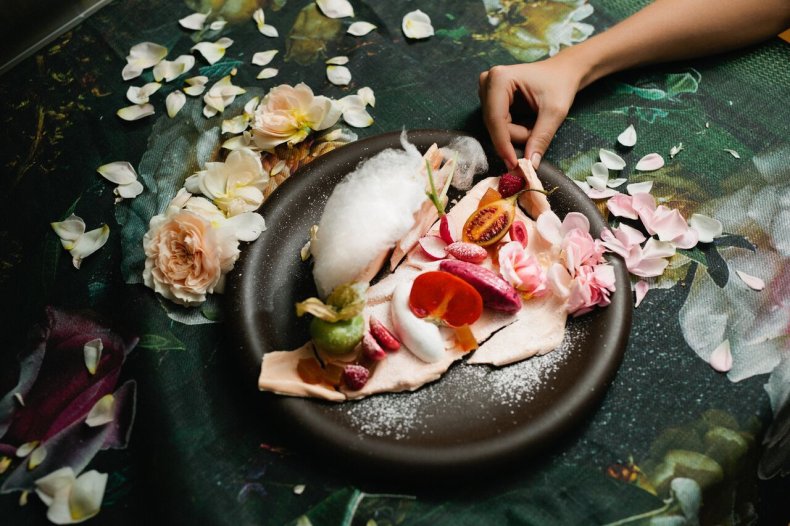 Located an hour outside Cape Town in the Franschhoek wine valley, this farm is one of the oldest and best preserved examples of Cape Dutch farmland. The 8-acre garden at the heart of the farm grows everything from waterblommetjies, edible flowers, to several varieties of prickly pear. The garden's bounties are served in the three restaurants, Babel, Greenhouse, and Bakery, reflecting the farm's "pick, clean, and serve" philosophy. The garden plays host to several hands-on workshops every month, or guests can tour the estate's wine cellar and drink away the day in the tasting room. The suites and cottages, set adjacent to the garden, all feel like part of an elegant, contemporary country home.
House specialty: The green, red, or yellow salad, an assortment of fruits and vegetables (arranged by color) picked from the garden daily.
DON ALFONSO 1890, Sant'Agata sui Due Golfi, Italy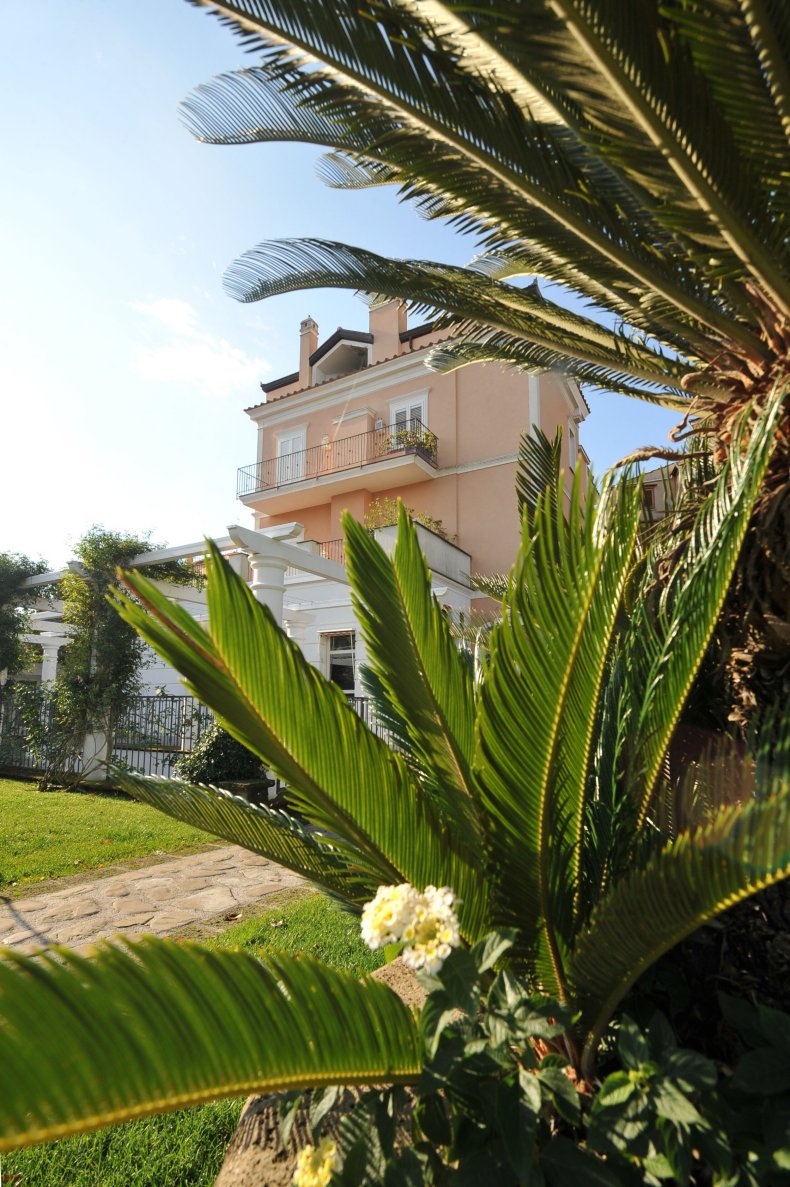 Italians excel at two things above all else: good taste and warm hospitality, and the Iaccarino family are standouts at both. Their Amalfi Coast compound, located in a
town on a hilltop overlooking the Bay of Naples and the Bay of Salerno, is picturesque and charming, with hotel rooms named for herbs and a wine cellar that dates back to the Etruscan era. The only thing more scenic is their vegetable garden on a nearby cliff, which has postcard views of Capri. They'll happily drive you over for a tour – you won't be able to find it otherwise. Save time for a cooking class, because no one should leave without learning to make a Neapolitan pizza.
House specialty: Modern interpretations of classic dishes, wherein cutting-edge techniques and dazzling presentations take fried calamari and zabaglione to new heights.
SERENBE, Chattahoochee Hills, Georgia, U.S.A.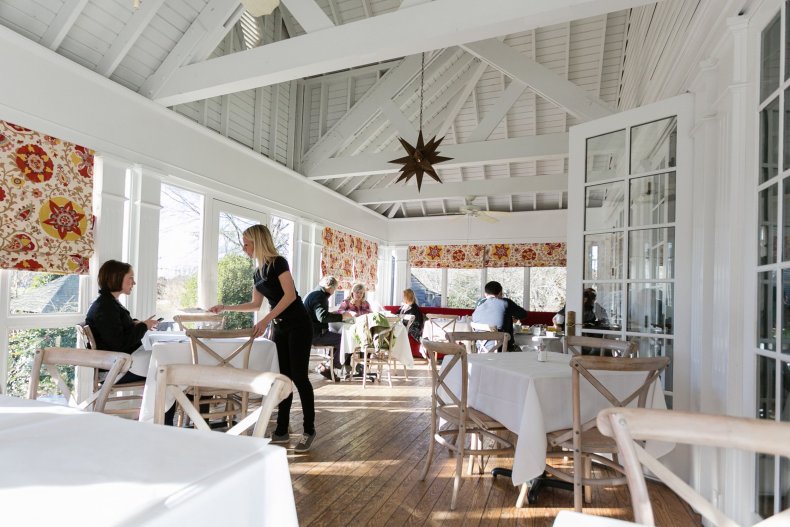 This six-building, 27-room hotel is situated on 60 acres. including a 25-acre organic farm, in Serenbe, a relatively new, progressive, sustainable community on the outskirts of Atlanta that locavores love for its charming, very affordable country-retreat feel. The focus is on regional cuisine – using locally grown, organic ingredients from the restaurant's own garden as well as from Serenbe Farms – which can be sampled in everything from afternoon tea and evening sweets to the full country breakfast, all of which are included in the stay. Chef Brian Moll lives down the road and is known to forage while walking to work at the community's acclaimed restaurant, The Farmhouse.
House specialty: It's the South, so you shouldn't go home without trying the Farmhouse fried chicken, Carolina Gold rice risotto, and bourbon pecan pie.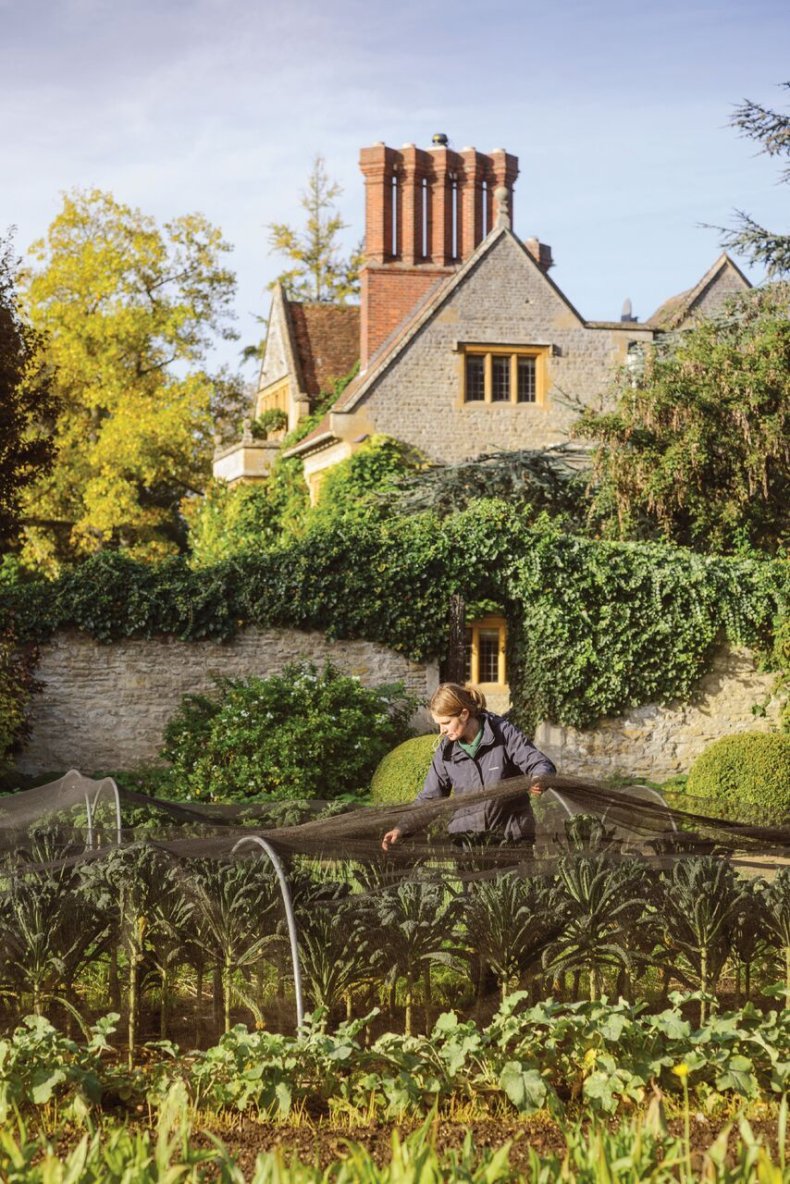 Le Manoir, which recently became a Belmond property, is an OG farm-to-table experience: Ot was at the forefront of locavore before it became an overused buzzword, and has maintained two Michelin stars for over 30 years. A short hop from London, it's a global Eden where the chef and menu are French, one garden is Japanese, the croquet pitch is British, and the pampered guests feel connected to Mother Earth. The 32-room hotel is at once sumptuous and cozy; the meals are refined and fresh. The cookery school offers a wide range of topics (summer dinner party, patisserie, kitchen secrets) in half- and full-day options, for adults as well as children.
House specialty: Everything from the 2-acre garden, which produces varieties of 90 vegetables, more than 70 herbs, 20 different mushrooms, and an orchard of apples, pears, and quince.
This is an edited excerpt taken from Travel Anywhere (and avoid being a tourist) by Jeralyn Gerba and Pavia Rosati, founders of travel website Fathom, published by Hardie Grant Books April 2019, RRP $19.99. Jeralyn Gerba and Pavia Rosati constantly criss-cross the globe in search of the new and the timeless, the celebrated and the undiscovered.