Hunger Levels Drop by a Quarter in Developing Countries, but 'Alarming' Levels Persist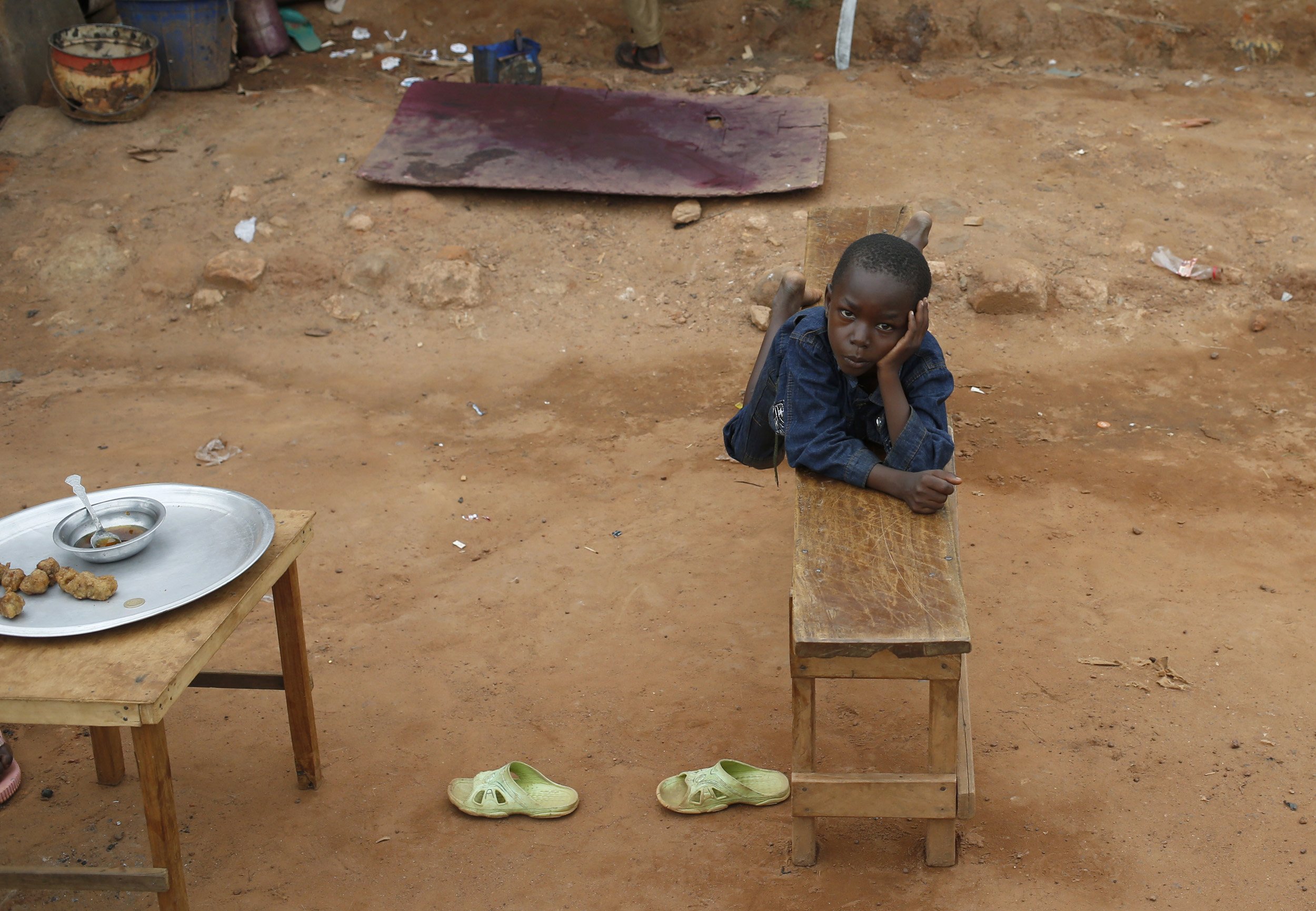 Despite a significant drop over the past 15 years, troubling levels of hunger persist in 52 developing countries and violent conflict is making it worse, according to the new Global Hunger Index.
In 44 countries, levels are hunger are "serious" while in another eight they are "alarming," according to the index, published on Monday by the International Food Policy Research Institute, Welthungerhilfe and Concern Worldwide. The Central African Republic, Chad and Zambia have the highest levels of hunger in the world, according to the report, which surveyed 117 developing and middle-income countries. As data from some of the world's poorest countries wasn't available, global hunger levels might be higher than reported, the authors of the index said.
Klaus von Grebmer, co-author of the report, told Newsweek that overall hunger is falling globally, but Sub-Saharan Africa and South Asia are two regions of major concern. Of the eight countries with alarming hunger levels, half of them—Sierra Leone, Zambia, Chad and the Central African Republic—are in sub-Saharan Africa. Countries are ranked in the index based on four indicators: the undernourished percentage of the population; the percentage of under-5s with wasting; the percentage of under-5s with stunting and under-5 child mortality.
"As always with these averages, we have two problems. Globally, hunger has come down significantly, but there are still countries with serious concern," Von Grebmer says.
One bright spot in the report is that "calamitous famines" that kill more than 1 million people, such as the Ethiopian famine in the mid-1980s, are non-existent. Hunger levels have fallen by 27 percent among developing countries, and nations such as Brazil, Azerbaijan and Peru have seen some of the biggest reductions since 2000. India has higher hunger levels than in North Korea—which ranked 80th and 78th, respectively—even though earlier this year, North Korea said it's facing the worst drought in a century, which could pave the way for another famine.
Saudi Arabia ranks second in the index and is one country that has managed to reduce its hunger levels by more than 50 percent in 15 years. The doubling of Saudi Arabia's GDP between 2000 and 2015 led to the drop, according to the International Food Policy Research Institute, although "inequality is a major concern in Saudi Arabia, and portions of the population still face hunger and poverty," they said.
Still, one out of every nine people worldwide is undernourished and more than one in four children are affected by stunting, according to the report. Countries experiencing or that have recently emerged from conflict are also more likely to have high hunger levels. Afghanistan is included in the report for the first time and its index score of 35.4 points indicates it has "alarming" levels of hunger. More than 6 million people in war-torn Yemen are at risk of starvation, while access to food remains a consistent problem in embattled regions in Syria, according to the World Food Program.
Many of the countries where data was unavailable include those currently embroiled in violent conflict, like Syria, Libya, Sudan and South Sudan. While Von Grebmer could not draw any conclusions from those countries, and says it would be unethical to do so without data, he says it's "common sense that if it was bad last year and if no miracles have happened in between, it still won't be outstandingly positive" this year.
Despite hunger and poverty existing in industrialized countries, the Global Hunger Index does not address it. Some 14 percent of U.S. households were food insecure in 2014, with Mississippi and Arkansas having some the of highest levels, according to Feeding America, a nationwide network of food banks. Between April 2014 and March 2015, more than 1 million people in the U.K. used a food bank, an 18 percent increase on the previous year, according to the Trussell Trust, a U.K.-based nonprofit focused on ending hunger and poverty.
"We have thought about [including hunger data from industrialized countries], but we thought the developing countries are first and the hunger is biggest there," says Von Grebmer.